Pennsylvania produced natural gas is essential to a clean energy future. For natural gas producers, pipeline companies, and processors, there continues to be an unwavering core commitment to safety, environmental conservation, and innovation to more efficiently develop affordable, abundant energy.
Recently, Williams and Range Resources – both of which have a significant employment and operations in the Appalachian Basin – announced innovative environmental sustainability programs.
Williams, which gathers and transports natural gas and natural gas liquids (NGLs) from the Marcellus and Utica Shales to markets across the U.S., announced they will be adding solar power to 48 natural gas processing facilities in 9 states across the country – Pennsylvania included.
Alabama, Colorado, Georgia, Louisiana, New Jersey, North Carolina, Ohio, and Virginia were also identified as installation locations.
The on-site solar farms will produce a combined 350 megawatts (MW) of electric power, with some locations planning to sell excess power generation back to the electricity grid.
Natural gas makes programs such as Williams' feasible. As Alan Armstrong, Chief Executive Officer of Williams Companies, said:
"Natural gas is key to our country's ability to add more renewable energy to the power grid in large volumes — it is a clean, affordable fuel that can quickly provide power when renewable energy sources are producing less due to the variability of sunlight and wind."
The announcement by Williams Companies came at the heels of Range Resources launching a continuous Ambient Air Monitoring Program at a well site in Washington County, Pa.
The Augustine Well Site, located in Cecil Township, has six ambient air monitors in place which will send air quality data to a certified lab for analysis and quality assurance processes. The monitors will measure volatile organic compounds and particulate matter, with the results to be posted monthly on Range's website.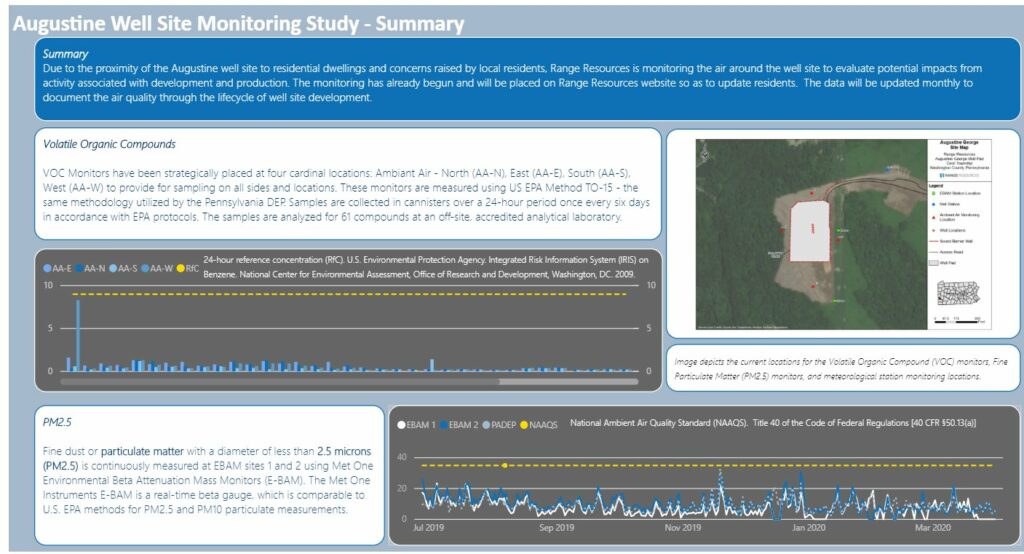 As MSC members continue to safely and responsibly produce Pennsylvania natural gas, state, federal and independent data shows clear environmental benefits.
The U.S. power sector, for example, achieved the Obama Administration's emission targets approximately 11 years earlier than the Clean Power Plan (CPP) intended, new data from the Carbon Tax Center found. While the CPP was never fully implemented, the Carbon Tax Center's data shows that in 2019, the U.S. power sector reduced emissions by 33% compared to 2005 levels. The CPP initiative set a goal of reducing 2005 emission levels by 32% by 2030.
---