Natural gas development is an important local economic driver, job creator, and revenue source for communities, despite the findings of a misleading "report" summarized in a Philadelphia Inquirer column.
Here are 3 fast facts to know about Pa. education and shale development: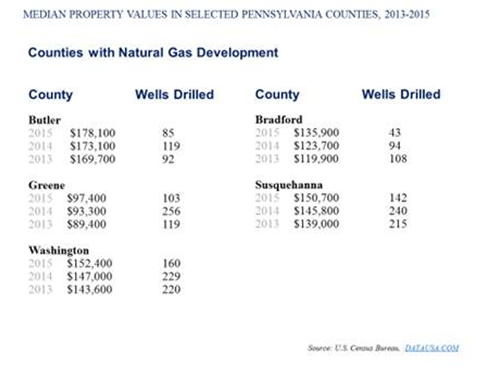 Rising property values: Median property values in the state's top four natural gas-producing counties increased annually between 2013-2015, the study's time period, according to U.S. Census data. In fact, property values in Bradford County increased 13% from 2013-2015 as the number of unconventional wells in the county more than doubled.

Specifically, the market value for a township in the Athens Area School District, Bradford County, increased by $97 million in just three years, according to Pa. DCED data. And they aren't the only district DCED reported as having significant market value gains between 2011-2015:
Franklin Twp., Greene Co. (Central Greene School District): +$77 million
Bridgewater Twp., Susquehanna Co. (Montrose Area School District): +$48.9 million
Fallowfield Twp., Washington Co. (Charleroi Area School District): +$25 million
Support for Pa. Classrooms: Pennsylvania's energy job-creators recognize the importance of having a skilled, advanced local workforce and are dedicated to working with school districts to close the workforce skills gap. Privately-funded programs, such as the Mobile Oilfield Learning Unit (MOLU) and Junior Achievement Careers in Energy support STEM education and expose students to future careers in the industry.

Don Martin, executive director of Pa.'s Intermediate Unit 1 in Washington County, has previously touted the school's 'Fab Lab' – a pilot fabrication laboratory with hands-on learning with high-tech STEM resources – which was funded with support from Chevron. Since the lab was constructed, the results "have been remarkable," Martin said in a column for The Hill.

"Students with special or educational needs, many of whom typically had trouble in group or traditional classroom settings, are active and engaged. One day I watched as a student who was experiencing severe emotional distress in the school hallway immediately calmed down when he was brought to the Lab, where he became curious about the Lab's equipment and wanted to tinker with it, using it as an emotional outlet."
School District Revenues: Schools across the Commonwealth have taken advantage of their properties' natural resources by entering into leases for shale development. These leases, which have generated millions of dollars for districts, provide schools with additional, non-tax revenue resources to upgrade buildings, improve classrooms and create new educational materials.

Here's what school district administrators are saying:
"It helped us at the time because of the number of cuts that were taking place in the state budget." – Brian Jackson, former Superintendent, California Area School District (8/16/14)
"Bentworth School District has been very fortunate. We have not had to furlough any teachers throughout all these cuts. If the lease hadn't been signed, the district definitely would have looked at furlough, raising taxes – all the above." – Scott Martin, Superintendent, Bentworth School District (8/16/14)
"The revenue has helped with our budget, maintenance projects, much needed new roofing and helped create new programs for the students. Without the lease money there were certainly projects that we wouldn't have been able to do. One of the biggest things to come out of the royalties and leasing bonus was the career center addition which we wouldn't have been able to do without the increase in revenue. The career center has been great for these kids we offer programs that they're actually interested in." William Bush, Superintendent, Elk Lake School District (9/26/14)
Pennsylvania's energy industry, which employs tens-of-thousands of hard-working Pennsylvanians, is proud of its deep, long-standing partnership in support of education initiatives. Afterall, thanks to shale development, students across our region are finally able to have a good-paying career while staying in their hometown.
---
Recent Blog Posts