With the promise of supporting more than 15,000 Pa. jobs – including many for highly trained union members – Sunoco Logistics' Mariner East II pipeline received regulatory approval this week, allowing construction to move forward on the critical energy infrastructure project. The $2.5 billion investment links shale development in Western Pa. to Delaware Co.'s Marcus Hook Industrial Complex, and to overseas markets through exports from the terminal there. Its approval was hailed as a "game-changer" for jobs and economic growth by business, labor, and a bipartisan group of elected officials.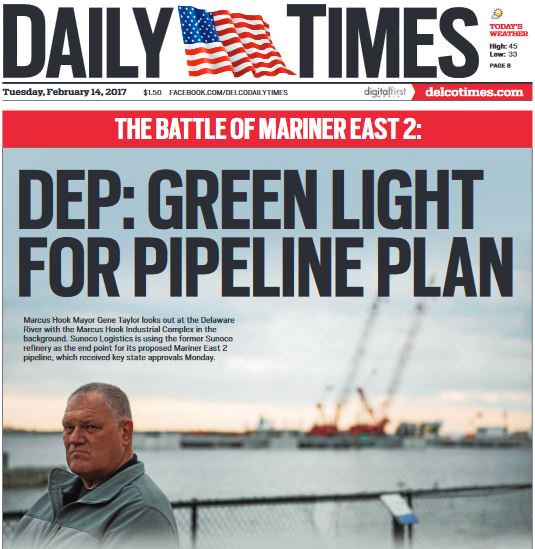 As the Observer-Reporter noted in an editorial, this "investment promises to provide a huge boost to the economy of our area." Philadelphia-based Econsult Solutions wrote in a 2015 economic study of the project that "the Mariner East project will significantly impact the state's economy, from the jobs it will create and support, both temporary and permanent, to the tax revenues generated for the Commonwealth."
What's more, this energy infrastructure project will be built with U.S. manufactured and coated steel, including from Pa.-based Durabond, a company that recently announced plans to re-open a McKeesport steel facility to meet energy industry demand.
In addition to Mariner East II, another critical project, the PennEast pipeline gained a key state environmental approval, as well.
According to a Concentric economic study, PennEast is projected to support more than 12,000 family sustaining jobs and have a $1.6 billion economic impact during construction of the line delivering Pennsylvania natural gas to New Jersey.
Touting the benefits of energy infrastructure expansion in the Tribune-Review, MSC's Dave Spigelmyer called these projects "welcome, positive steps" in "connecting more consumers and manufacturers to our abundant and affordable natural gas supplies."
As these key projects gain approval and move forward, it's an important reminder that Pennsylvanians strongly support expanded energy infrastructure development. According to a National Association of Manufacturers poll released late last year, energy infrastructure projects enjoy broad bipartisan support throughout the Commonwealth as Pa. voters view the development as a way to boost jobs and the economy.
Here's what they're saying about moving Pa. energy infrastructure forward:
Business, Labor Groups Support Pipeline Approval: During the two and a half year process, Sunoco Logistics provided detailed plans to minimize impacts to the environment, protected species and cultural resources, the company said. Mariner 2 will be built and operated to standards that meet or in many cases exceed federal pipeline safety regulations. "It is an energy infrastructure system that is critical to Pa.'s economic future," said [company spokesman Jeff] Shields. "By keeping the natural resources in Pa. for storage, processing and distribution to local, regional and international markets, Mariner East 2 offers Pa. the opportunity to develop its own manufacturing economy rather than sending jobs and investment elsewhere." The announcement was applauded by state Sens. Tom Killion, R-9 of Middletown, and Tom McGarrigle, R-26 of Springfield, labor leaders and members of the Pa. Energy Infrastructure Alliance, a coalition of labor, agriculture, manufacturing and other business interests including the Delaware Co. Chamber of Commerce. …. "It is a game changer for the entire commonwealth, especially Delaware Co.," said McGarrigle. "It will create thousands of labor jobs and hundreds of permanent, family-supporting jobs and has the potential to turn our region into a 21st century 'energy hub.'" (Delaware Co. Daily Times, 2/13/17)
Pa. Grants Final Permits for $2.5B Mariner East Pipeline: The DEP on Monday approved water-crossing and sedimentation permits for the Mariner East 2 pipeline, which would transport natural-gas liquids across Pa. to a terminal in Marcus Hook. The permits are believed to be the final regulatory hurdle for Sunoco Logistics to begin construction of the pipeline. … Sunoco Logistics hailed the project, which it said would create an infrastructure system that is critical to the state's economic future. "Sunoco Logistics can now begin construction throughout Pa. in accordance with the permits, with estimated completion in the third quarter of this year," the company said. "Mariner East 2 will require more than 8,000 construction workers to build the pipeline and related facilities." The Mariner East project links shale-gas producers in western Pa., W.Va. and Ohio to Sunoco's Marcus Hook Industrial Complex, a former refinery site on the Delaware River. The $2.5 billion project was backed by the Corbett and Wolf administrations, along with labor and business interests. (Phila. Inquirer, 2/13/17)
Energy Infrastructure Approval is "Fantastic" News for Pa.'s Economy: When Salem Twp. Supervisor Kerry Jobe learned of the DEP's approval of the 306-mile Mariner East 2 pipeline Monday, he was relieved. "I'm surprised it hasn't happened yet. I thought it would be sooner. We've been a natural gas haven. So people are used to it around here." … State Rep. Eric Nelson thinks the news is "fantastic." "It'll bring jobs and much needed infrastructure to the area. It's a big win for jobs and for the ability to increase (natural) gas prices (for the industry)," Nelson said. (Tribune-Review, 2/13/17)
American-Made Steel to Make-Up Mariner East II: Sunoco Logistics spokesman Jeff Shields said the issued permits enable Sunoco to begin construction throughout Pa., with estimated completion in the third quarter. He said the pipeline, which parallels the already functioning Mariner East 1 pipeline, will require more than 8,000 construction workers. "By keeping these natural resources in Pa. for storage, processing and distribution to local, regional and international markets, Mariner East 2 offers Pa. the opportunity to develop its own manufacturing economy rather than sending jobs and investment elsewhere," he said. … According to Sunoco, the system will be built and operated to standards that meet or exceed federal pipeline safety regulations, using 75,000 tons of steel, all of which will be made in the United States. …  "This is the missing link for the natural gas industry in Western Pa., said Washington Co. Chamber of Commerce President Jeff Kotula. "We'll soon have the safe infrastructure we need to move our energy resources to market." (Observer-Reporter, 2/14/17)
 Watch this video to learn more on how natural gas is 'Moving America Forward.'