Pennsylvania is realizing the manufacturing, consumer savings, and clean-air benefits of domestic natural gas, MSC's David Spigelmyer made clear on this weekend's Our Region's Business program. As Spigelmyer discussed, Pa. manufacturers are creating jobs and planning long-term investments in the Commonwealth to benefit from natural gas.
"New downstream manufacturing industries are taking hold as a result of our abundant natural gas supply. Dura-Bond is restarting a steel facility in McKeesport to build pipe for the Atlantic Coast Pipeline project. And a pulp mill facility in central Pennsylvania is saving 438 jobs because thanks to energy savings from locally produced natural gas."
Click HERE to view the interview online.
Expanding our region's natural gas infrastructure network is critical to generating even more job-creating benefits. Building key pipeline projects creates new manufacturing and power generation opportunities, especially for good-paying union jobs. In fact, labor union members in Virginia rallied yesterday in support of the 600-mile Atlantic Coast Pipeline project that will be built with steel fabricated at Dura-Bond's Steelton, Pa. facility, creating more than 200 "good-paying union jobs."
"I'm out here today because of one four-letter word, the good kind — JOBS," said Va. Building & Construction Trades Council president Matt Yonka. Natural gas is "made here. It's created here. It's created jobs here for our folks. It's all about building America. It's about redoing our infrastructure. It's about creating jobs and that's what this project does."
In addition to natural gas driving a regional manufacturing renaissance, Pa. consumers are directly benefitting through significant energy savings. According to recent Energy Information Administration (EIA) data, electricity prices in our region are now 64% lower than the same period last year as natural gas became our nation's primary power generation source. EIA also reports that natural gas use in power generation will continue to increase, projecting that "annual net additions in natural gas capacity would be at their highest levels since 2005."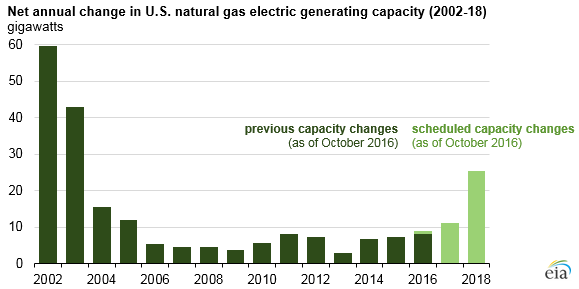 (EIA, 1/30/17)
Thanks to more natural gas being used to meet our growing electricity demands, America leads the world in carbon emission reductions, a fact that Spigelmyer reinforced during Sunday's broadcast.
"Natural gas has delivered a huge reduction in carbon emissions. We're at a 27-year low in the U.S. in carbon dioxide emissions. Why? Because we're burning natural gas in power generation. It's a huge benefit from a climate perspective."
Natural gas is a generational economic and environmental opportunity. But "policies matter," Spigelmyer said, and "we're working hard to make sure Pennsylvania can compete with our neighbors for critical job-creating capital investments."
As the General Assembly begins a new legislative session, connect with the MSC on Facebook and Twitter for more natural gas facts – and ensure your voice is heard.