Natural gas development is energizing American manufacturing growth and driving down energy costs for consumers, according to two new reports from the National Association of Manufacturers (NAM) and the U.S. Energy Information Administration (EIA).
Commissioned by NAM, the new IHS study finds that American natural gas development is helping to create good-paying jobs, and giving U.S. manufacturers the competitive edge in an increasingly competitive global marketplace.
Manufacturers are significant natural gas consumers, relying on the clean-burning fuel source for power generation as well as a key production feedstock. Thanks to domestic natural gas, American manufacturers now have access to an abundant, affordable energy supply that's enabling facility expansions along with new job creations. What's more, the IHS study predicts manufacturing demand for natural gas will continue to grow.
Covestro LLC's president, a manufacturer of advanced polymers and plastics with its North American headquarters in Pittsburgh, echoed the study's findings that natural gas presents American manufacturers with "an energy advantage."
Key report takeaways:
Natural gas access contributed to 9 million jobs economy-wide in 2015.
Shale gas put an extra $1,337 back in the pocket of the average American family.
New natural gas transmission lines meant more than 347,000 jobs, with 60,000 in manufacturing.
Total natural gas demand is poised to increase by 40% over the next decade. Key drivers will be manufacturing and power generation. U.S. supply is expected to increase by 48% over the next decade to meet new demand.
What's more, consumers are directly benefitting from shale development, as EIA reports that "declining energy prices have reduced household energy costs" helping to "lower the cost of living" for families. The report finds that between 2008 and 2014 – the period in which America emerged as a leader in domestic energy production – average annual household energy expenditures fell 14.1% nationwide, including 25.1% for natural gas.
As the New York Times reported in late 2015, "lower energy prices should be particularly helpful to working-class families who spend a high proportion of their incomes on fuels."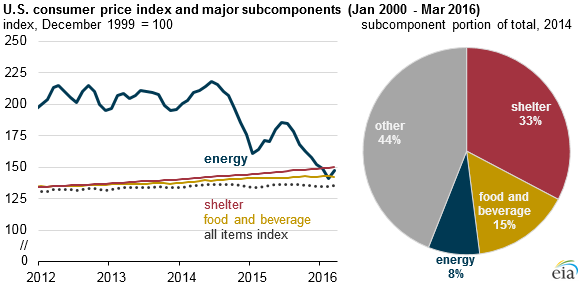 Both reports underscore the importance of modernizing and expanding Pennsylvania's natural gas infrastructure network to connect more end-users –consumers, families, small businesses, manufacturers, power generators – with locally produced, clean-burning natural gas.
For more energy facts, visit the MSC's blog and connect with us Facebook, Twitter, and LinkedIn.