Thanks to shale development, natural gas is becoming an increasingly larger power generation fuel, providing Pennsylvanians with a reliable and affordable energy source, according to a new Pennsylvania Public Utility Commission report that underscores shale's benefits for consumers and regional manufacturers.
According to the "Pennsylvania Gas Outlook Report," 2.8 million Pennsylvania customers rely on natural gas and natural gas accounts for a quarter of Pennsylvania's electric generating capacity. In fact, 38 percent of natural gas deliveries are used to generate electric power – up from 3 percent in 1997.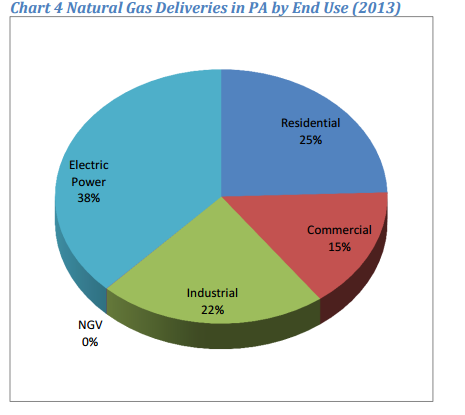 Key takeaways from the PUC's report:
Increase of Natural Gas in Power Generation: Gas deliveries for Pennsylvania electric generation have increased markedly from 3 percent of total deliveries in 1997 to 38 percent in 2013. (p.4)
Residential & Commercial Use: There are approximately 2.8 million natural gas customers in Pennsylvania, with about 2.6 million of these being residential customers. (p.3)
Natural Gas Electric Generation Capacity: By the end of 2013, Pennsylvania had 10,033 megawatts (MWs) of natural gas fired electric generation. … These facilities constitute 24 percent of Pennsylvania's generating capacity. (p.7)
Need for Infrastructure Growth: Additional pipeline helps … stabilize regional prices [and] move the vastly increased Marcellus Shale gas production to consumers. (p.5)
With the growing demand for natural gas, additional pipeline infrastructure is needed to deliver gas to market, bringing "good jobs with good wages for [union] members," according to the Laborers' international Union of North America's (LiUNA) David Horn.
And the increased use of natural gas in power generation is delivering tangible economic benefits for consumers and manufacturers across the region. In fact, according to a recent Harvard Business School report, households are saving $800 annually and, further, shale's energy cost-savings are driving our region's manufacturing resurgence by giving the "U.S. a new competitive advantage." Moreover, the increased use of natural gas as a power generating fuel is resulting in cleaner air, with carbon dioxide emissions at their lowest point in more than 20 years.
Despite shale's significant economic and environmental benefits, some in Harrisburg continue to pursue even higher energy taxes that would make – as the Independent Fiscal Office confirmed – Pennsylvania the highest energy taxed state, directly threatening jobs and shale's generational opportunity.
Become a United Shale Advocate today and join your friends and neighbors in supporting new jobs and a brighter future for Pennsylvania – not even higher energy taxes.