The safe development of clean-burning American natural gas – driven by the Marcellus Shale – continues to shatter records. Our nation's energy outlook has shifted from a position of scarcity and weakness to one of abundance and strength, providing "an economic boost for local families and communities."
As former U.S. energy secretaries Spencer Abraham and Bill Richardson write this week, "U.S. shale gas production has tripled since 2009 levels, and America is now the world's largest producer of natural gas." And these broad-based and shared economic, environmental and national security benefits are cascading across our region.
STRONG JOB CREATION, OPPORTUNITY
Company adding "50 jobs in Blair County as Marcellus Shale is expanding." (WTAJ-TV, 5/15/14)

Shale "will bring 50 new jobs to Blair Co." (Altoona Mirror, 5/16/14)
MORE REVENUE, ESPECIALLY FOR LOCAL GOVT.
Shale impact fees tax revenues will "generate about $220 million annually, with 60 percent going to communities across the state and the rest to environmental programs." (Tribune-Review, 5/15/14)

"The Municipal Authority of Westmoreland Co. has collected more than $6.2 million in natural gas royalties." (Tribune-Review, 5/15/14)
ENVIRONMENTAL INVESTMENTS
"Act 13 impact fee tax revenues to provide more than $7.8 million to support the Growing Greener program for watershed protection and abandoned mine drainage projects." (Pa. DEP release, 5/13/14)

"Cumberland Co. commissioners voted unanimously to distribute an expected $118,000 of the county's share of this year's Marcellus impact fee tax revenues … for municipalities and conservation groups to fund green projects." (PennLive, 5/12/14)
These enormous supplies of locally-produced natural gas are also being leveraged to power our economy – literally. Construction of new natural gas-fired power plants across the Commonwealth – and the nation – are on the upswing.
And yesterday, a ceremony was held in Bradford County at the site of a new 829-megawatt combined-cycle "Liberty" generating station, "the first power plant deliberately sited in the heart of the Marcellus Shale to take advantage of low natural gas prices and transportation costs."
Here's what they're saying:
"Plant expected to contribute up to $5.97 billion to area economy; create 500 jobs": The Panda Liberty power plant will

contribute an estimated $5.97 billion to the area's economy

during construction and the facility's first 10 years of operation. … "We are investing hundreds of millions of dollars here precisely because Gov. Corbett and other Commonwealth officials have been far sighted in developing Pennsylvania's abundant natural resources," added Todd W. Carter, president of Panda Power Funds. "Because of their vision,

Pennsylvania is leading the nation toward economic prosperity and energy independence

." …

Approximately 500 jobs will be created to construct the Liberty power plant

. … The generating station will be able to

supply the power needs of up to 1 million homes in Pennsylvania

. (Panda Power Funds release, 5/15/14)
Shale Creating "Progress and Prosperity": "

This is the first Marcellus gas plant in the Commonwealth

," Bradford Co. Commissioner Doug McClinko said. "This is a terrific day for Bradford County and the Commonwealth of Pennsylvania." … "

We are at the forefront of the American energy revolution

and we are embracing it; a strategy built on this simple phrase, 'energy equals jobs,'" Gov. Corbett said, adding: "It means this facility can support nearly

600 jobs

, it means up to

$5.7 billion in the local economy

, it means

progress and prosperity

for the entire northern tier of Pennsylvania." … State Representative Tina Pickett said, "It's so exciting to see, feel and know what it holds for the future.

This is exciting in providing many jobs and much economic activity

. (Towanda Daily Review, 5/16/14)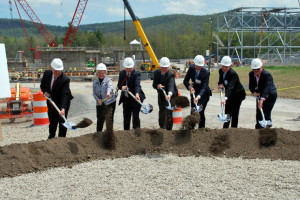 "Historic Day"
Commissioner Doug McLinko; Rep. Tina Pickett; Sen. Gene Yaw; Gov. Tom Corbett; Todd Carter, Panda Power Funds; Barry Nichols, Siemens Energy; William Griffin Jr., Gemma Power Systems. (Morning Times, 5/16/14)
"Pa. Shale Power Plant to Generate Revenue, Clean Energy": The Marcellus Shale power plant is in Bradford County, Pa., but the Governor says its

economic impact will be felt all across the commonwealth

. It's

projected to bring in nearly $1.2 billion dollars to Pennsylvania

during construction and the first ten years. It's also expected

to bring clean natural gas energy to one million homes

. (WICU-TV, 5/15/14)
New Marcellus "Power Plant Brings Pa. Closer to 'Energy Independence'": [Panda Power's Todd] Carter said

the U.S. has spent billions of dollars over the years importing natural gas, but with the Marcellus shale region in Pennsylvania, that would no longer be the case

."I don't want my children or your children to have to worry about getting energy from places that don't like us very much," Carter said. "

For the first time since the 1930s, our country is able to have energy security

." (Rocket Courier, 5/16/14)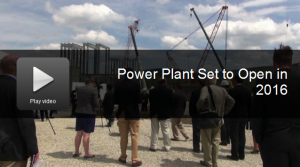 Click here to view WNEP's segment.
"First new Pa. power plant to convert Marcellus gas into electricity": Officials said the plant near Towanda

will provide electricity to one million homes

.

Not only will this power plant produce a lot of energy, but it will also bring many jobs to the area

. There are

currently 500 construction jobs, and many of those workers live in Bradford County

. "

We always want to hire local people

, that's important to us," said Todd Carter from Panda Power Funds. "To me,

it's about jobs, stability and economics in the state, and it's fantastic

," said Barry Nicholls from Siemens Energy Inc. … There is also a similar project in Lycoming county. That power plant is expected to open a few months after the Panda Liberty Generating Station. (WNEP-TV, 5/15/14)
"Pa. will soon get a new power plant and it's a first of its kind": Once complete, the plant will convert Marcellus Shale natural gas into electricity. Gov. Corbett expects the facility to

power 1 million homes with clean energy

. "Why is it the first one of its kind? Because it's going to take the Marcellus Shale natural gas and it's going to produce electricity. Over 800 megawatts of electricity to go into the grid and supply you, the people of Northeastern PA and over into New York, energy," he says. He hopes

the project will put $6 billion into the local economy

. If all goes according to the Governor's plan

nearly 600 jobs will be added

. (WBRE-TV, 5/15/14)
"Construction Commences On Marcellus Shale Power Plant": Construction for the first power plant deliberately located on the Marcellus Shale formation began Thursday. … "

It equals jobs in the field, it equals jobs in building manufacturing plants or power plants like this one, it equals jobs in the waitress working at the lunch counter that probably didn't have that job before

," Gov. Corbett said. He said the plant will help

revive and reinvigorate communities from Towanda to Williamsport

. … Corbett's office said it will

utilize state-of-the-art emissions-control technology

to make it "

one of the cleanest natural gas-fueled power plants in the nation

." The power plant

will neither take nor discharge water into the Susquehanna River

. (WESA/NPR, 5/16/14)