The increasing use of natural gas in power generation continues to drive U.S. greenhouse gas emissions downward, draft U.S. Environmental Protection Agency (EPA) data indicates.
Carbon dioxide emissions fell 8.4% between 2018-2019 "due to increasing electric power generation from natural gas," the EPA said in the 2021 Draft Greenhouse Gas Inventory. This reflects an 11% decline from 1990 levels, and a 33% decline from when the country hit its peak in 2005, according to the draft report.
What's more, natural gas used in the industrial sector – which EPA identifies to include manufacturing, construction, mining, and agriculture – propelled one of the country's most emissions-heavy economic sectors to reduce all greenhouse gas emissions (CO2, CH4, and N2O) by nearly 3% in 2019 compared to 2018, even as energy use rose.
The annual inventory, which has kept track of the nation's emissions data since 1990, recorded that 2019's overall greenhouse gas emissions were down 1.4% compared with 2018 across the United States.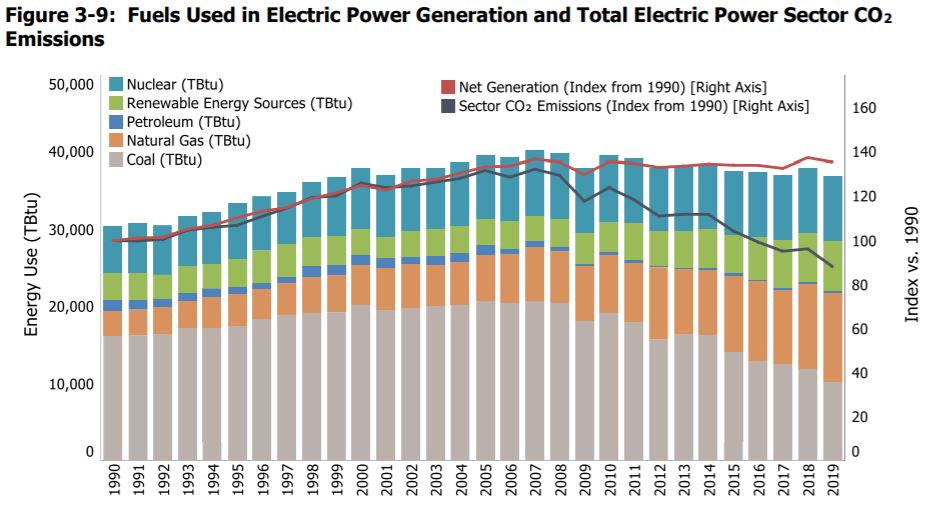 This air quality progress comes as natural gas continues to be a dominant fuel source in the U.S. electric power sector, accounting for roughly 40% of total generating capacity. Moving forward, we can expect to see continued environmental progress as clean, domestic natural gas coupled with renewable energy resources grow in market share.
The federal Energy Information Agency (EIA) highlighted this morning consumption of gas-fueled power by the industrial sector is projected to increase 35%.
And globally, the demand for U.S. liquefied natural gas is breaking records as more countries seek to reduce their emissions.
The positive EPA findings and market projections come during the same time Pennsylvania's natural gas production reached an all-time high in 2020 – further reaffirming shale's ability to reduce environmental impact while at the same time meeting modern energy demand.
Especially as the Biden Administration has made its climate and environment priorities clear, Appalachia natural gas will play an exceedingly integral role in providing Americans with the affordable energy they need, helping achieve ambitious climate targets at a global scale, and strengthening our domestic national security.
As Democratic U.S. Senator Joe Manchin (D-W.Va.), and Chairman of the U.S. Senate Environmental Resources & Energy Committee, recently wrote (twice) to President Biden:
"The U.S. Geological Survey recently estimated there are still 214 trillion cubic feet of undiscovered, technically recoverable continuous resources of natural gas in the Marcellus and Utica shale formations alone. Responsible production of our abundant resources is critical."
"I encourage you to bear in mind the many benefits of responsible domestic natural gas production as you consider any future executive or administrative action, and I look forward to working with you to achieve our shared goals of energy security, economic growth, and global emissions reductions." Manchin wrote.
---