A lack of natural gas infrastructure in certain regions of the country could lead to electric reliability issues in the coming winter months, a new report by the North American Electric Reliability Corp (NERC) concludes.
Despite America becoming the world's top producer of natural gas and oil – which has provided consumers with a steady supply of affordable, on-demand energy – residents in the northeast, southwest, and western regions of the country could still face energy reliability hardships this winter.
"During extreme and prolonged winter conditions, vital natural-gas fuel supplies for electricity generation can be at risk in New England, California and the southwestern United States," NERC concluded in its 2020-2021 Winter Reliability Assessment released last week.
Because these two regions – California and New England – have called for bans on natural gas development and stymied critical infrastructure projects needed to transport energy, among other Green New Deal-type initiatives, they face a high risk of power outages and curtailments, which NERC identifies as a top concern in its assessment.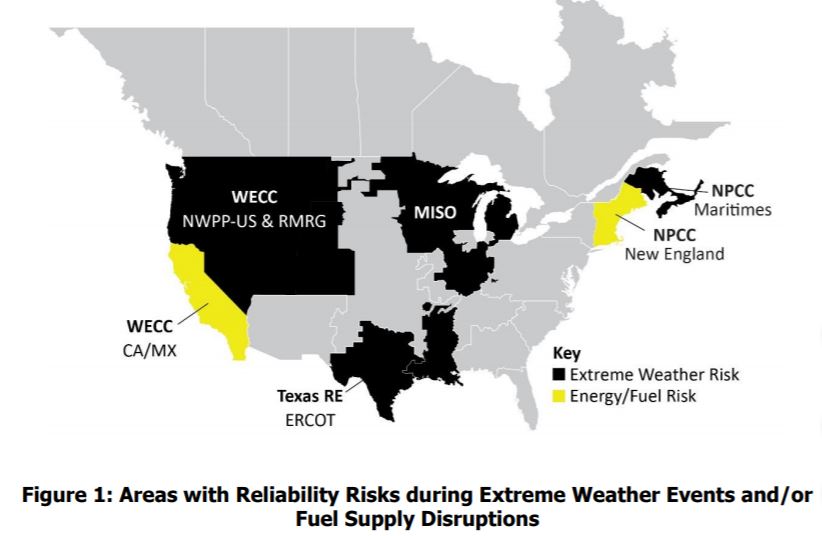 "No American should ever have to worry about access to affordable and reliable energy, especially as we head into the winter season while so many families and communities are confronting COVID-related crisis matters," MSC's Spigelmyer told Delaware Valley Journal.
"Unfortunately, Green New Deal-styled policies in New York, California and elsewhere are making life more difficult for consumers without helping our environment. The common-sense solution to combatting high-priced and unreliable energy, as noted in this new report and countless other independent studies, are competitive policies that increase access to clean and abundant American natural gas. There's no better partner for renewables than the reliability and affordability offered to the grid than Pennsylvania-produced natural gas."
In New England natural gas is relied upon for more than half of ISO-New England's – the regional transmission organization that services Connecticut, Maine, Massachusetts, New Hampshire, Rhode Island, and Vermont – peak demand supply, according to NERC, but "the region lacks sufficient pipeline capacity to supply enough gas for both heat and power generation on the coldest days when demand peaks," Reuters wrote of the report.
As a result of supply constraints, New England was forced to rely on Russian produced liquefied natural gas during the polar vortex. Bostonians could have received affordable natural gas from Pennsylvania, however opposition to pipeline expansions transporting those resources resulted in supply constraints.
California and states in the southwest, on the other hand, rely on natural gas power plants for almost 60% of their peak power demand supply. Yet a lack of adequate storage facilities and related infrastructure, as NERC identified, could leave generators without these critical resources ready at a moment's notice.
Meanwhile in Pennsylvania, consumers here benefit from uninterrupted electricity and some of the most affordable energy prices in the nation because we leverage our supply of natural gas. States like California and New York should look to Pennsylvania, where we're achieving climate progress without sacrificing economic growth or reliable energy.
---