What has been one of the most challenging years is drawing to a close, and while 2020 brought unique, unforeseen challenges, MSC's members never missed a beat in helping our communities; producing, delivering, and generating essential, affordable energy; and advocating for an industry that delivers broadly shared benefits.
There are many accomplishments to be proud of in 2020, and Pennsylvania's natural gas sector is well positioned to start the year strong. Natural gas will be the catalyst for renewed growth, as affordable energy is a direct stimulus for working families – granting U.S. manufacturers a competitive energy advantage to invest, create jobs, and strengthen our economy.
We saw many of these themes on our TV screens this year, especially as small businesses stepped up to share their personal success stories thanks to the investment from shale development. Watch those stories and more in our year in review annual video.
Here's our top 5 highlights from a year that proved the essential nature of reliable, affordable energy and the perseverance of the hard-working men and women who produce and transport natural gas.
MSC Donates Meals to Thank Doctors, Nurses, Hospital Staff: At the onset of the COVID-19 pandemic in early April, the MSC partnered with several member companies to provide more than 2,000 lunches to medical professionals and staff in Southwestern and Northeastern Pa. to show our appreciation for frontline workers. In addition to the members who partnered directly with the MSC, others lent a helping hand through initiatives support neighbors on a local, national and global scale.

"We have the deepest appreciation for the doctors, nurses and support staff working on the front lines in the battle against COVID-19," MSC's Spigelmyer said. "They are true heroes and as they support communities during these challenging times, we wanted to find a way to support them in return, while also helping local restaurants affected by social distancing orders."
Correcting the Record on Attorney General Shapiro's Shale Report: Following Attorney General Josh Shapiro's inaccurate and deeply flawed report on shale gas development, the MSC immediately corrected the record, affirming Pennsylvania's nation-leading, modernized, regulatory framework.

MSC's Spigelmyer: "The tens of thousands of Pennsylvanians who work across the sector – building and union trades, professional engineers, environmental professionals, health and safety experts, as well as exploration and production companies that contract with hydraulic fracturing service providers, midstream companies and countless other Pennsylvania-based small, family-owned businesses – have every reason to place the highest value on regulatory compliance and transparency."
Shale Insight 2020: Nat Gas Drives Economic Growth; Creates Life's Most Essential Products; Key to Sustained Environmental Progress: Natural gas' role in driving environmental and economic progress was an underlying theme throughout the three-day virtual conference, but this year also zeroed-in on how energy policy – and, specifically, natural gas – had been discussed in relation to climate policy conversations on the campaign trail.
In Pennsylvania, Natural Gas is Key: As Presidential candidates Trump and Biden traversed Pennsylvania seeking the state's 20 electoral votes, voters across the Commonwealth were clear: natural gas is important to our communities. From small businesses to elected officials and union leaders, voters are proud Pennsylvania produces the clean natural gas that's moving our economy and environment forward.

But let's be clear: policies matter. To continue realizing the shared benefits safe, responsible natural gas development can deliver, we need pragmatic, commonsense policy leadership from Harrisburg and Washington.

"Just as our elected leaders in Harrisburg worked together as Democrats and Republicans to promote pro-manufacturing, pro-energy and pro-labor legislation, we expect the same efforts from our leaders in Washington, D.C," MSC's Spigelmyer and Steamfitters Local 420's Jim Snell wrote in PennLive back in September.

Eight in 10 Pa. voters recognize the value natural gas and oil provide and believe it will play a large role in America's continued energy needs, according to a new API/Morning Consult survey. What's more, 60% of Pa. voters would be more likely to vote for a candidate who supports access to natural gas an oil produced in the U.S.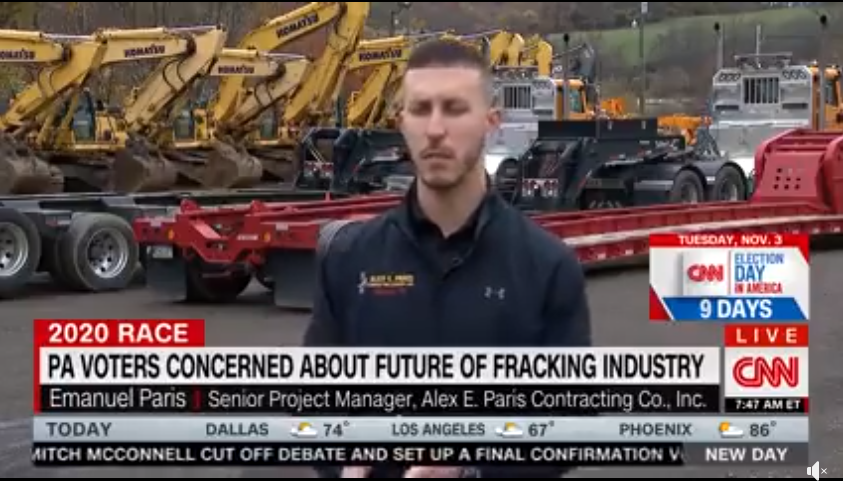 Underscoring the Essential Nature of Pa. Natural Gas: A catalyst for American manufacturing and a driver of clean air progress, Appalachian natural gas can re-shore "made in America" production that directly stimulates local economies and provides quality job opportunities for middle class families. As MSC's Spigelmyer said, "by leveraging the region's natural gas abundance, we're responsibly moving our economy forward, delivering meaningful consumer savings, and making our country more secure, all while protecting and improving the environment we all share."

Supporting communities and reducing costs for consumers, domestic natural gas also helps solve global energy poverty through LNG exports. As the world's top natural gas and oil producing nation, American energy – of which Pennsylvania contributes nearly a quarter to – delivers all things essential to life.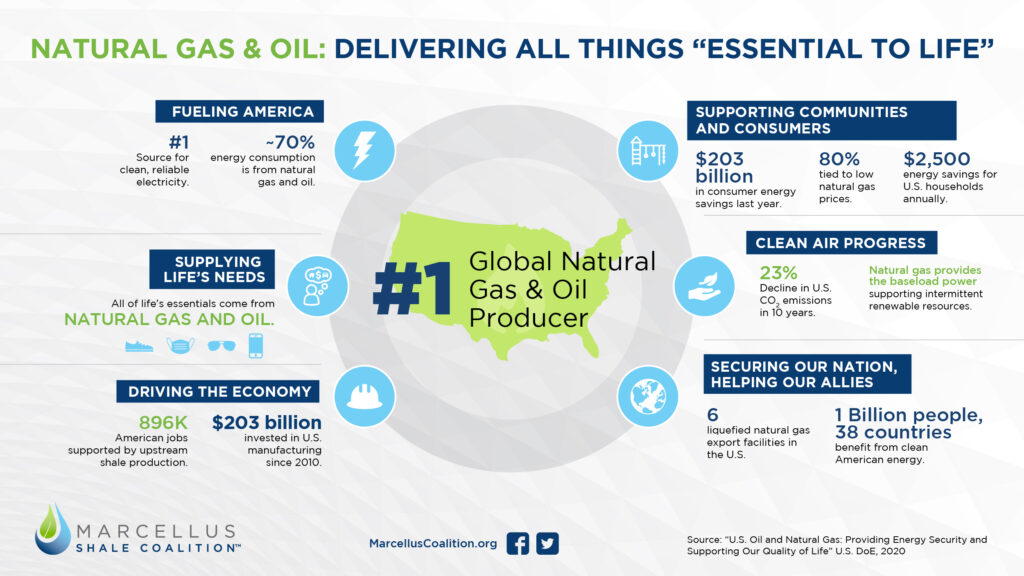 We couldn't limit ourselves to just 5 highlights, so here's a bonus. As we responsibly provide Americans with a safe, reliable energy supply, our industry continues to make collaborative efforts towards greater environmental success. Read more about these important advancements in environmental protection, sustainability, and efficient operations: Natural Gas is the Solution for Environmental Progress.
---