U.S. energy-related carbon emissions and greenhouse gas emissions from large sources fell again in 2019, continuing a decade-long downward trend driven primarily by the shift to clean natural gas, the U.S. Energy Information Administration (EIA) and Environmental Protection Agency conclude in two recently released reports.
Total energy-sector emissions, which include transportation, electric power, industrial and residential uses, declined 3% year-over-year, according to the EIA's report, with 96% of the emission reductions attributable to the changing mix of fuels in electricity generation. Total greenhouse gas emissions, too, from major industrial sources have dropped 14% since 2011, including a 5% year-over-year decline from 2018-2019, EPA data found.
Due to market forces, domestically produced natural gas has become the largest U.S. electricity generator, with more than 1 in 3 electrons produced with the clean fuel. As a result, power sector emissions, the EIA report concluded, have fallen 33 percent since hitting their 2007 peak and are at 1990s-era lows.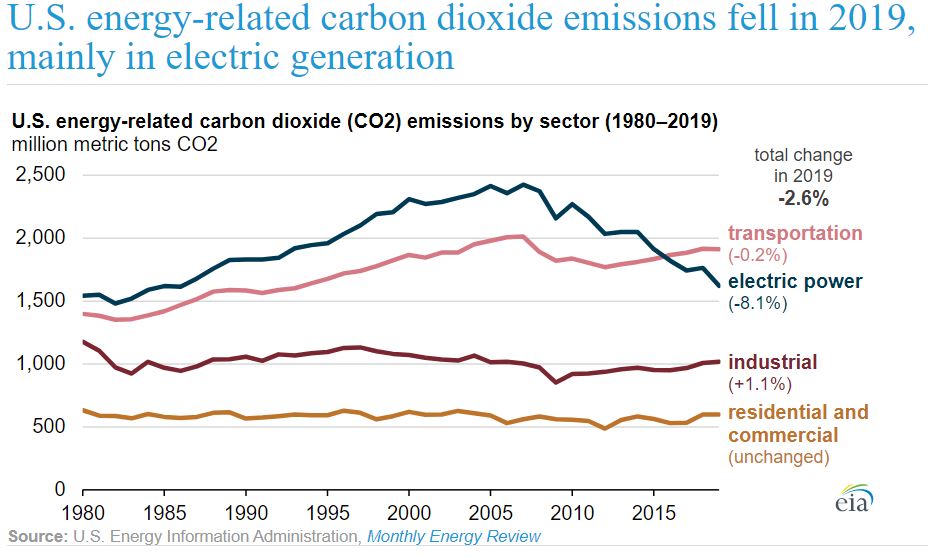 "The drop is consistent with a decade-long downward trend in greenhouse gas releases from large stationary sources, partly propelled by the power sector's ongoing shift away from coal to renewable sources and cleaner-burning natural gas," Bloomberg News reports on the EPA data.
Compared to 2018, total energy-related CO2 emissions were 150 million metric tons lower, which is the equivalent of taking 32 million cars off the road.
Key findings from the EIA report include:
Total energy-related CO2 emissions in 2019 were about 150 million metric tons lower than in 2018.
U.S. energy-related CO2 emissions have fallen 14.5%, since their peak in 2007.
The U.S. electric power sector's emissions have fallen 33% from their peak in 2007
Use of natural gas for power generation rose from 35% to 38% between 2018-2019.
---