Natural gas and oil provide energy security and is essential to America's economic growth, addressing climate change, and creating the products our modern lives depend on, the U.S. Department of Energy (DoE) concluded in a major report released this week.
At the heart of the report, "U.S. Oil and Natural Gas: Providing Energy Security and Supporting Our Quality of Life," is the affirmation that natural gas and oil provides life-changing societal, environmental, and economic benefits unmatched by any other resource or industry. And thanks to technological advancements, industry-led initiatives and both public and private investments, domestic energy companies are producing these critical resources more cleanly and efficiently than ever before.
"As Americans rise to meet new challenges, technological innovation will remain a cornerstone for our country to sustain the domestic energy supply that is so vital to providing our energy security and supporting our quality of life," the report concludes.
In Pennsylvania, the second largest natural gas producing state, voters understand natural gas enables us to achieve significant environmental gains without sacrificing jobs or economic growth.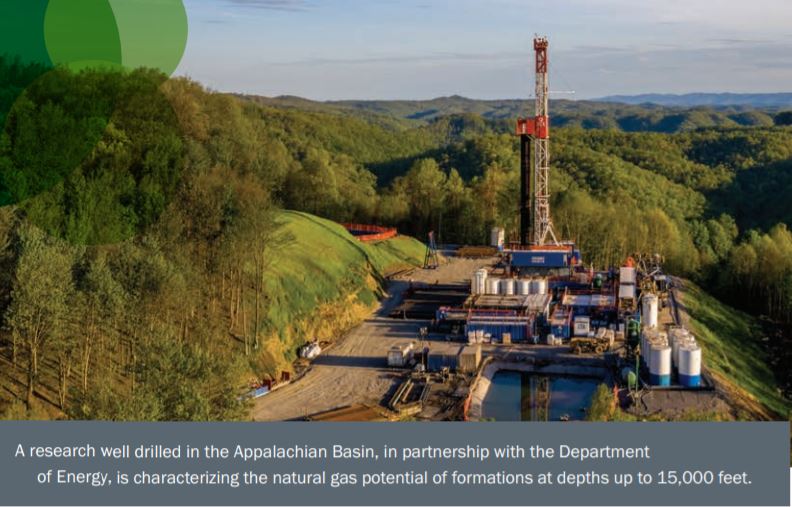 And a new poll by the Progressive Policy Institute confirms just that – Pennsylvania voters, including Democrats, are overwhelmingly opposed (by a 53-point margin) to banning natural gas development, and 57% of voters in the Commonwealth view natural gas as critical to U.S. renewable energy growth.
In brief, here's how natural gas fuels our nation and generates lasting benefits for communities:
Powering America's Economy
"Fossil fuels provide the lion's share of the energy we consume," the report states, "with oil and natural gas comprising the majority of that contribution."
Natural gas and oil together provide more than two-thirds of the energy Americans consume daily, and electric power – of which natural gas is the largest contributor (making up 35%) – supplies most of the energy needed for the nation's top economic sectors: industrial (33%), transportation (28%), residential (21%), and commercial (18%).
"Our robust economy and our energy use are inextricably linked," the report says. And while emission levels naturally rise as an economy grows, America is effectively reducing its environmental impact because of our increased use and embrace of clean-burning natural gas for power generation.
More, energy efficiency practices adopted by operators and consumers are improving the way we produce, transport, and deliver energy to meet consumers' demand.
And although renewable energy sources are gaining market share, natural gas, oil and natural gas liquids are still projected to account for the majority of U.S. energy consumption for at least two more decades, according to the report.
"Renewables and natural gas are highly complementary and should be jointly installed to meet the goals of cutting emissions and ensuring a reliable energy supply," the DoE suggests.
Supplying Modern Life's Needs
"Americans depend on a plentiful supply of affordable, domestically produced energy to not only meet our basic human needs, but also provide the comforts and conveniences we've come to expect in our modern lifestyle."
From toothbrushes to cars, practically everything we touch is derived from natural gas and oil hydrocarbons. The dry natural gas produced in northeastern Pennsylvania, for example, is used to make the fertilizer which has helped increase U.S. crop production and preservation.
Natural gas liquids (NGLs) that come from Pa.'s southwestern regions contain the building blocks needed to produce vital PPE and plastics that have revolutionized the healthcare industry, helped cars become safer, lightweight and more fuel efficient, and make industry supply chains as a whole more resourceful.
Even the renewable energy industry, in fact, is supported by natural gas and oil through the durable plastic that is used to build wind turbines. The DoE also expects plastic-based solar panels to be more widely adopted in the coming years due to their flexibility.
Developing Technology for Low-Carbon Energy
Both industry and governmental pursuit of modern technology has enabled America's shale industry to grow, while also conserving and protecting the environment we all share.
The most recent advances in combining hydraulic fracturing and horizontal drilling technology is attributed to the nation's rise as the world's top natural gas producer, but the deployment of artificial intelligence and real-time feedback systems has also improved the industry by monitoring and executing maintenance repair tasks – making production methods safer and more resourceful.
Operators, too, are leading the way in sustainable business practices by converting to electric drilling rigs – which reduce both emissions and costs – adopting produced water recycling methods, and pledging emission intensity reductions, among other initiatives.
Range Resources, for example, reused 100% of produced water from their operations in 2018, the report highlights, and Southwestern Energy, another top producer in the Appalachian Basin, has recycled nearly all of its fresh water and established a goal to remain "Fresh Water Neutral" as it has in previous years.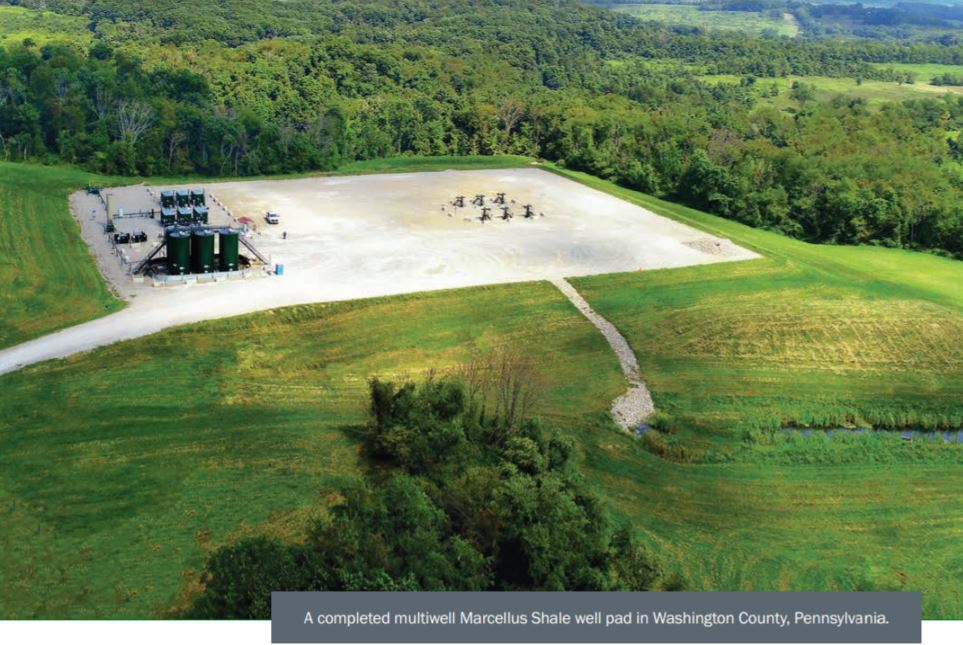 Supporting Consumers, Workers, and Communities
Lower electricity costs saved consumers approximately $203 billion in annual savings last year, which equates to about $2,500 for a household family of four. DoE calculated that 80% of these savings were a direct result of lower natural gas prices.
The local industry also provides critical tax revenue that funds state and local governments, community programs, and environmental conservation efforts. In Pennsylvania's case, the impact tax on natural gas production has generated nearly $2 billion in less than a decade, with funds directly benefitting each of the state's 67 counties.
America's workforce is also improving thanks to energy production, as the natural gas and oil industry supports 896,000 direct and indirect jobs in the U.S., according to the report. These high-paying career opportunities are largely held by members of the local skilled building trades, effectively strengthening the middle class and supporting the overall health of the economy.
Future Growth Opportunities
In addition to the significant benefits Americans have already realized, there are many more opportunities on the horizon so long as investments and support for shale development is continued.
"Increased supplies of affordable shale gas, containing large volumes of ethane and other natural gas liquids, have provided a competitive advantage for chemical manufacturing in the United States, which is projected to create new jobs and supports domestic economic growth."
Appalachia, in particular, is poised to lead this manufacturing resurgence thanks to our abundance of natural gas and close proximity to international trading ports.
In the past decade, DoE estimates 343 chemical manufacturing projects have been completed, placed under construction, or are in the corporate planning stage – representing a $203 billion investment and generating more than 750,000 permanent jobs.
But American energy helps more than just Americans. Increasing domestic liquefied natural gas (LNG) exports means that more countries will benefit from the affordable and reliable fuel source without being tied to less-democratic energy producing nations. And extending our resources to other countries helps our geopolitical ties, further securing our nation.
As the DoE indicates, "the capability to export energy to allies around the world gives the United States an advantage in helping to secure global peace and security."
---