Growth in personal income was mostly higher in shale producing counties from 2016-2018 compared to non-producing areas of the state, according to a new Independent Fiscal Office (IFO) report.
According to the independent, non-partisan agency's analysis, average income per capita growth was 4.4% statewide compared to 4.6-7.5% for the state's top five shale producing counties. Greene County had the highest growth rate in the Commonwealth, with a 7.5% increase.Susquehanna County also made the top five list with a 6.7% growth rate. The trend continues with Washington (6.3%), Bradford (5%) and Lycoming (4.6%) all beating the state average.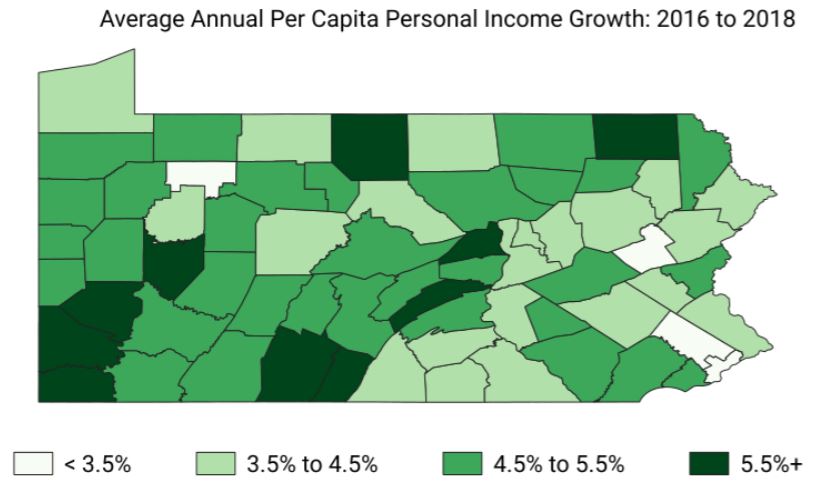 The regions with the most active shale wells fall in line with the trend of higher personal income growth – an economic metric that measures an individual's total earnings, including oil and natural gas royalty payments.
In Pa., royalty payments topped $8.2 billion since 2010, generating hundreds of millions of dollars in added tax revenue to the state, according to the IFO's 2019 analysis. These payments, which landowners receive in return for leasing their minerals for natural gas production, have been "a catalyst for economic growth," MSC President Dave Spigelmyer said late last year.
Pennsylvania's tax on the natural gas industry, the impact fee, is another driver of growth, especially in more rural communities. Since its inception in 2012 under Act 13, the impact fee has generated nearly $2 billion in new revenue that directly benefit municipalities in all 67 counties across the state.
Impact fee revenues, which brought in a record $251.8 million last year, are used to fund a variety of community and environmental initiatives aimed at making Pennsylvania a better place to work and live.
"With the creation of the natural gas impact fees, the board of supervisors was able to lower our property tax mileage and reduce taxes and fees," Cross Creek Township Manager Rachel Warner Welsh said last year.
From residential tax reductions to infrastructure upgrades, impact fee revenues are important for rural communities.
"We'd be lost without the [natural gas] impact fee," Wyoming Co. Commissioner Tom Henry, added. "We've really come to depend on it and use it for the safety of the citizens,"
---