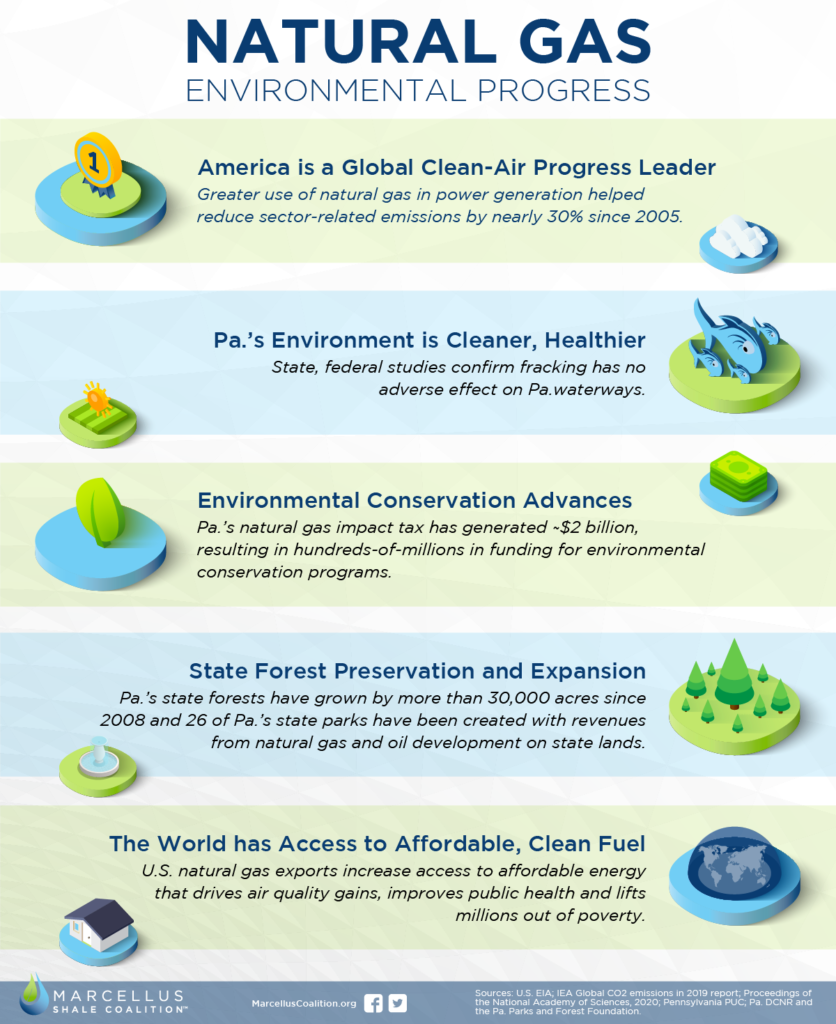 As we celebrate Earth Day's 50th anniversary, we reflect on the environmental gains achieved and the role clean natural gas plays in enabling this progress.
"The nation's second-largest natural gas producing state, with output reaching 6.2 trillion cubic feet in 2018," MSC's Spigelmyer and Laborers' Council of Eastern Pennsylvania's Tony Seiwell write in the Morning Call, "Pennsylvania is at the tip of the spear in realizing these generational environmental benefits."
Here are a few ways the natural gas industry is helping to further state, national, and global environmental goals:
Enhancing Air Quality
Nationwide greenhouse gas emissions have fallen to the lowest point since the early 1990s, making the United States a leader in emission reductions. As more clean natural gas is used in power generation, critical, asthma-inducing air pollutants such as sulfur dioxide, nitrogen oxide, and particulate matter plummeted 74% between 1990 and 2017. What's more, the International Energy Agency credited the U.S. with the largest decline of energy-related CO2 levels last year. In Pennsylvania, emissions have dropped nearly 30% since 2005, according to state data.
Protecting Land, Water, and Air
Pennsylvania's natural gas industry is committed to responsibly producing energy that powers our modern lives. Operating under the strictest environmental standards, the unconventional natural gas producers achieved a 98% regulatory compliance rate last year. Another recent study, in fact, concluded that Marcellus drilling had no impact on streams in Northeastern Pa. Further, the Environmental Protection Agency (EPA) reported that combined methane emissionsfrom U.S. oil and natural gas systems have declined 23.3% since 1990, confirming successful collective industry actions to capture, store, and transport energy.
Expanding Pa. Environmental Initiatives
Funding from oil and natural gas leasing has expanded Pennsylvania's state forest system by more than 30,000 acres since 2008 and 26 state parks have been created with revenue from drilling on state lands. Moreover, Pa.'s tax on natural gas, the impact fee, has generated approximately $2 billion since 2012, with a large portion of those funds supporting environmental conservation efforts.

Achieving Worldwide Environmental Progress
U.S. liquefied natural gas exports increase America's geopolitical standing in the world and provide allies with reliable, affordable energy. Natural gas is also an effective means to alleviate global energy poverty, providing an affordable, reliable and clean fuel for developing nations.

Supporting a Clean Energy Future
Testifying before the U.S. House of Representatives last fall, the MSC's David Spigelmyer highlighted the important role natural gas will play in growing a clean energy economy. As he told lawmakers: "Without a doubt, any conversation about clean energy must be grounded in the partnership that will make its future possible. Supporting a thriving natural gas industry – from production to pipeline deployment to its growth in electric generation – should be a core focus of any public policy discussions aimed at building upon the progress our industry has realized for Pennsylvania and the nation."
As we responsibly provide Americans with a safe, reliable energy supply, our industry continues to make collaborative efforts towards greater environmental success. That is an achievement worth celebrating this Earth Day.
---