For the fourteenth consecutive quarter, Pennsylvania's natural gas output from unconventional drilling has grown, transforming the Commonwealth into the nation's second-largest natural gas producing state, according to new state data.
The Independent Fiscal Office's (IFO) Q4 2019 Natural Gas Production Report puts Pennsylvania's natural gas production at 1,776 Bcf during the fourth quarter of 2019 – representing a 7.6% increase compared to 2018 levels. The state's top producing counties during 2019 were Susquehanna, Washington, Green, Bradford and Lycoming.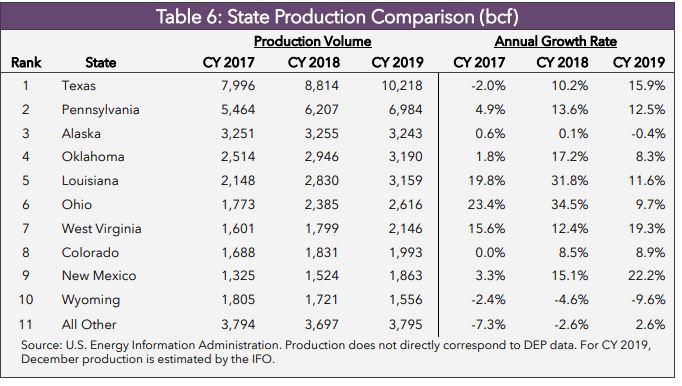 As the above chart demonstrates, nationwide production grew by 10.2% compared to the previous year. This increase is "largely driven by significant gains in Texas and Pennsylvania," the report says. As the nation's second largest producer of the commodity, Pennsylvania produces 20% of total U.S. natural gas, and 32% of total shale gas.
Furthermore, thanks to innovation and technological advancements, Pennsylvania operators are producing more natural gas from the average well, the IFO reports, translating to more efficient operations and less surface disturbance.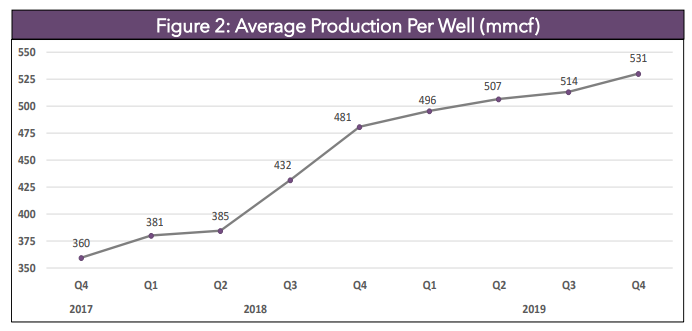 The IFO's report comes at a time when some politicians are proposing to ban the technology that's made America an energy superpower.
But, as Pa.'s House Speaker Mike Turzai told the Philadelphia Inquirer this week, "Pennsylvanians want to continue to grow our economy and recognize that the growth of the natural gas industry has contributed to our recovery from the recession."
Building trade union leaders are also voicing their support, as one has dubbed this conflict as the "blue-collar conundrum" between the Democratic party and U.S. union and building trades:
"Natural gas is the clean, affordable and reliable source needed to get us to [meet current electricity demand] while creating family-supporting jobs," Dennis Martire, vice president of LiUNA's Mid-Atlantic chapter wrote in the Post-Gazette. (2/25/20)
Read what other locally elected officials and union leaders have said in our previous blog: Bipartisan Group of Elected Officials, Union Leaders Share "Fracking" Support
---
Recent Blog Posts