*UPDATE – April 16, 2020*
Greenhouse gas emissions fell 10% nationwide and power sector emissions fell by nearly a third from 2005 and 2018, thanks in large part to the greater use of domestic natural gas, according to newly released data from the Environmental Protection Agency (EPA).
Following up on draft data released in February, the agency released its 2020 Greenhouse Gas Emissions Inventory confirming that the decrease in net emissions of carbon dioxide equivalent occurred even as the economy grew by 25%.
"This report highlights declining emissions trends since 2005, showing that the U.S. is reducing GHG emissions while still being able to grow a robust economy," EPA Administrator Andrew Wheeler said in a statement.
Notably, according to the report, methane emissions from the gas sector have declined by 24%, since 1990, even as the country became the world's top natural gas producer.
---
The U.S. continues to make significant air quality gains thanks to the increased production and use of clean, domestic natural gas, according to draft federal data released today. In its annual draft Greenhouse Gas Emissions Inventory, the EPA reported a 10% decrease in net U.S. greenhouse gas emissions since the 2005 peak.
A clean, domestically sourced fuel, natural gas – combined with increasing reliance on renewable energy sources – is enabling the U.S. to grow its economy while also being a world leader in carbon emission reductions.
EPA's draft data was released on the heels of information from the International Energy Agency, which reported the United States as having the largest decline in energy-related CO2 emissions in 2019.
Here's how:
Carbon Dioxide (CO2): The EPA reports the five major fuel-consuming economic sectors contributing to CO2 emissions are: transportation, electric power, industrial, residential, and commercial. CO2 emissions from electric power generation, which is the nation's top consumer of natural gas, have decreased 27% since 2005 – right as the sector started transitioning to natural gas use. As the chart below demonstrates, total emissions in power generation have decreased substantially as natural gas generation increased.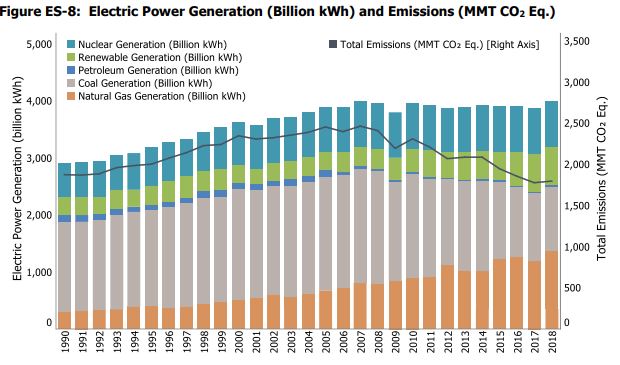 Methane (CH4): As the U.S. continues to produce and use more natural gas, methane emissions from natural gas systems have plummeted 24% since 1990 and 12% since 2005 levels. Much of these gains have been made through industry partnerships, sharing of best practices, and deploying comprehensive leak detection and repair technologies to ensure methane – the product we produce – reaches the end-user. In fact, EPA credits this achievement as "largely due to decreases in emissions from distribution, transmission, and storage" of natural gas.
---
Recent Blog Posts