Governor Wolf's rhetoric doesn't match his policies when it comes to clean, job-creating natural gas. On one hand, Gov. Wolf talks about supporting further development of abundant, low-cost natural gas as key to consumer savings, environmental progress and manufacturing growth. Yet, his policies tell a different story, as higher taxes, unnecessary regulations, and outright bans on natural gas development worsen Pennsylvania's business climate and threaten to choke production.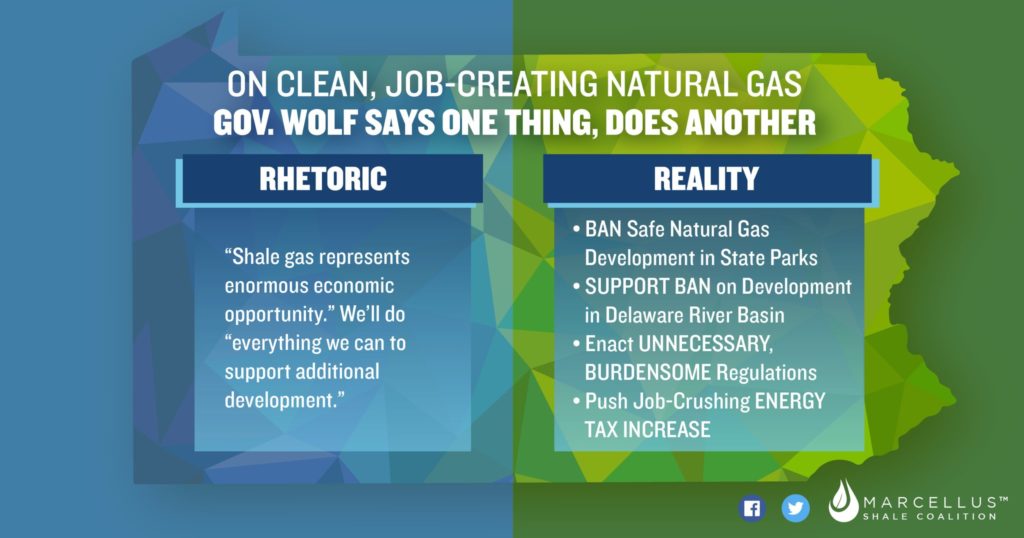 As MSC President Dave Spigelmyer wrote in the Philadelphia Inquirer last week: "If only the governor's policies matched his rhetoric, which continues to threaten the positive progress those resources are enabling for Pennsylvanians."
"Unfortunately, [his] supportive comments far too often are in conflict with the governor's policies – and that's a disappointing reality for so many hard-working Pennsylvanians counting on a manufacturing comeback," Spigelmyer wrote, adding:

"To compete, manufacturers need reliable access to affordable natural gas, but the Wolf administration continues to push misguided policies that choke production and undercut Pennsylvania's ability to attract investment that unlocks our energy resources."
Here are a few ways Gov. Wolf's actions don't align with his verbal support of shale gas development:
He banned new natural gas development in state parks and forests, depriving Pennsylvania taxpayers hundreds of millions of dollars in new revenue.
He supports a ban on safe shale gas development in the Delaware River Basin that amounts to a taking of private property rights.
He continues to pitch higher taxes on natural gas – while ignoring the successful Act 13 impact tax that's generated $1.5 billion and counting for communities and environmental programs.
Just last week, in fact, Gov. Wolf announced a new round of funding aimed to maintain and expand affordable housing and community development efforts in Pennsylvania. It's ironic that the Governor touts state grants funded directly by the natural gas impact fee – a tax on natural gas that he claims doesn't exist in campaign advertisements.
PolitiFact PA fact checked the Governor's latest campaign ad, finding the claims about natural gas taxes to be "Half True."
Here's what you need to know from PolitiFact PA:
"Pennsylvania shale drillers argue that even without a severance tax here, they're far from being free of levies. … Groups like Marcellus Shale Coalition argue of the impact fee that if it looks like a tax and acts like a tax, it's a tax."
"In June 2017, the Pennsylvania Utility Commission said it had collected and distributed 'more than $1.2 billion in impact fees to communities across Pennsylvania' over six years."
"[Governor Wolf is] wrong about Pennsylvania being the only state without a severance tax. It's also misleading to imply that nothing has been done to tap drilling activity for municipal or state gain in Pennsylvania. The result is a lack of context being passed on to viewers and voters."
If Gov. Wolf wants to "ensure that we are doing everything we can to support additional [natural gas] development – and the jobs and economic growth that go with it", he should work to enact pro-growth, pro-Pennsylvania natural gas policies.