Thanks to the expanded use of local, clean natural gas in power generation, the United States "has already come quite far in reducing carbon dioxide emissions," according to a new Carnegie Mellon University report. Analyzing government data, CMU researchers concluded that the U.S. "can meet – or even beat" carbon dioxide emissions reductions outlined in the Paris Climate Agreement, even though the federal Clean Power Plan is not in effect.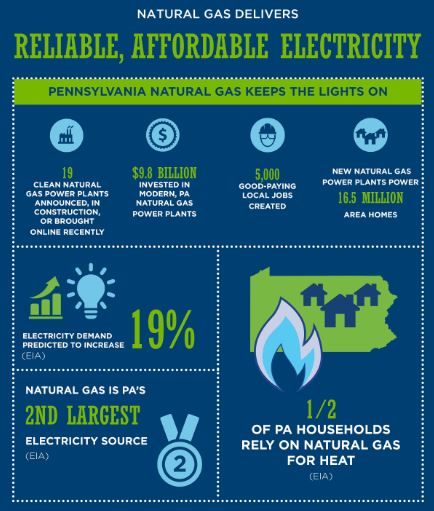 Driven by market forces, the growth of domestic natural gas in power generation has allowed the U.S. to already reach the planned 2025 target under the Clean Power Plan, the authors conclude.
Pennsylvania, as the nation's second largest natural gas producing state, is at the tip of the spear of this important environmental progress. More than a dozen natural gas power plants have been announced, are under construction or were brought online recently in the Commonwealth, able to power 16.5 million homes with clean, domestic energy. Collectively, they represent $9.8 billion of new investment in Pennsylvania, supporting 5,000 good-paying local jobs.
Carnegie Mellon's latest research comes on the heels of a Bloomberg New Energy Finance report concluding that natural gas is the No. 1 producer of U.S. electricity. As a result, power sector emissions have reached their lowest level since 1990.
Hard-working families are directly benefitting. According to the Bloomberg analysis, "consumers devoted a smaller share of their spending towards electricity than at any time ever recorded" as a result of "natural gas becoming increasingly affordable."
In addition, continued growth of domestic oil and gas production is becoming a "key instrument of American foreign policy," a Wall Street Journal columnist writes this week.
As Deputy U.S. Energy Secretary Brouillette said during a recent conference, America is "poised to become a net energy exporter within the next decade. This spells not just energy independence for America, but this spells energy dominance. Complete energy security."
Here's what they're saying about the consumer savings, clean air progress and energy security we're realizing with abundant, domestic natural gas.