As the U.S. emerges as a net natural gas exporter for the first time in 60 years, Pennsylvanians are continuing to realize the benefits of responsible energy production here at home.
According to an updated economic analysis released this week by Philadelphia-based Econsult Solutions, Sunoco's Mariner East 2 pipeline project will create $9 billion in economic benefits for Pennsylvania's economy, support 57,000 jobs and generate $120+ million in new tax revenue for the Commonwealth.
It's easy to see why Paul Mullen, IBEW Local 654's business manager, told the Delaware Co. Daily Times that the energy project has "been a godsend" for local workers and families across the community.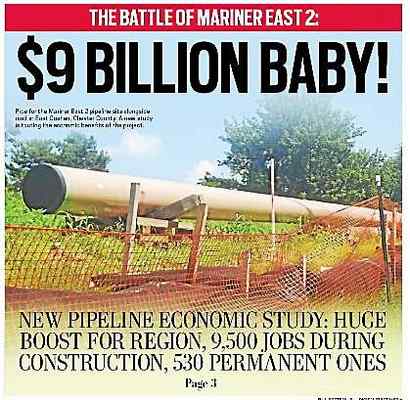 The report's authors highlight the fact that "Pennsylvania has become a leader in the distribution of natural gas liquids, providing a platform for increased business and job opportunities in the region."
Key report findings:
57,000 Jobs: Construction will support 57,070 direct, indirect and induced jobs between 2014-2019 (9,500 jobs annually) with earnings of $2.7 billion impacting multiple industries.

$9.1 Billion Economic Impact: The Mariner East projects is estimated to generate a potential one-time economic impact of nearly $9.1 billion in the Commonwealth.

$122 Million in New Tax Revenues: Construction expenditures will generate estimated one-time tax revenues of $122 million to the Commonwealth over the length of the construction period.

Long-Term Benefits: By 2020 the Mariner East projects, the fractionation facility and the associated improvements at MHIC will produce between $140-$210 million of ongoing annual economic impacts in the Commonwealth, supporting between 360-530 jobs with annual earnings between $30-$45 million.

$7 Million in Tax Revenues for Schools: Local impacts include more than $7 million annually in property taxes to municipalities and a school district in Delaware County. The combined property tax paid to Chichester School District, Marcus Hook Borough and Delaware County is expected to triple once the pipeline is in operation.
Here's what they're saying:
Join the conversation on Twitter using #NatGasWorks and be sure to like the MSC's Facebook page and follow our blog.