Since 2012, Appalachia has driven U.S. natural gas production growth, the federal Energy Information Administration recently reported. Shale gas production across Pennsylvania, Ohio and West Virginia tripled over the past five years, increasing to almost 24 billion cubic feet per day.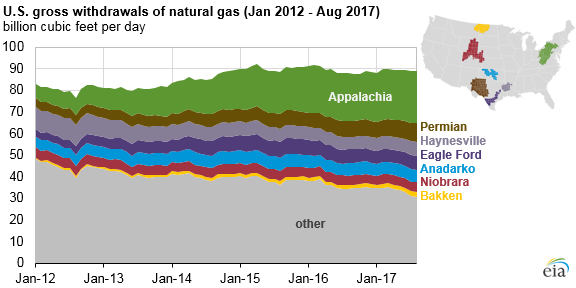 The growth in American energy production is welcome news for working families, small businesses and consumers. In 2016, Pa. consumers realized $16.2 billion in natural gas and electricity savings compared to 2008. According to an MSC analysis of Pa. PUC and federal data, Pa. consumers saved $9.1 billion on natural gas and $7.1 billion on electricity in 2016 thanks to natural gas production in our region.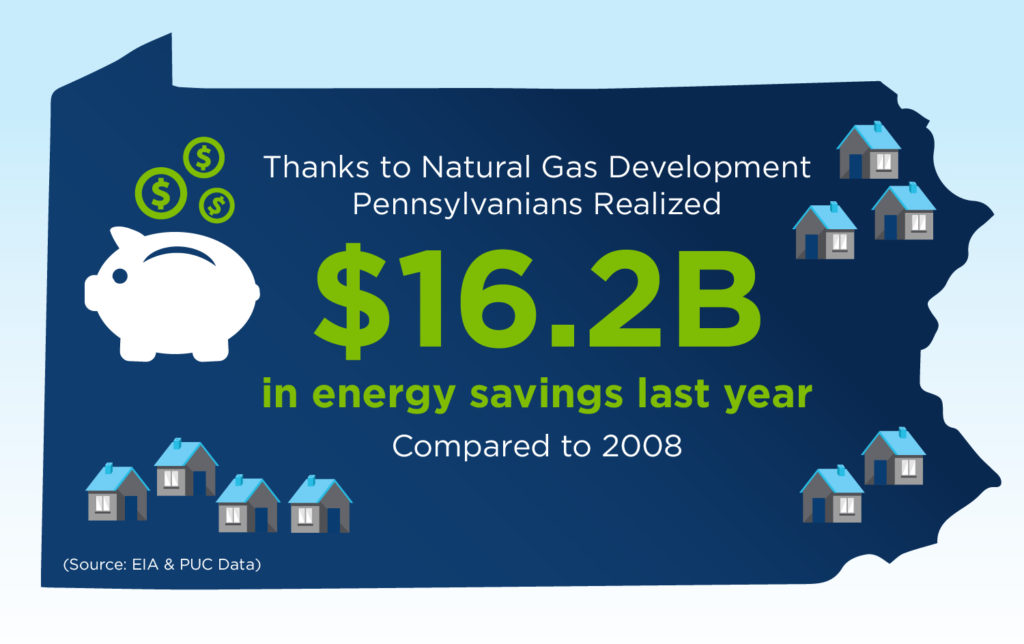 This analysis follows a recent University of Pennsylvania report that found similar consumer benefits tied to shale development.
These consumer energy savings further underscore the need for competitive policies to ensure we maximize the long-term economic and environmental benefits tied to natural gas development. In fact, Pennsylvania's already slipping, as a new analysis from the Fraser Institute, an international think tank, shows the Commonwealth has higher perceived barriers to investment than other energy producing states including Texas, Oklahoma, North Dakota, West Virginia, New Mexico and Arkansas. According to the report, which included responses from more than 300 industry executives and manages, some cited Pennsylvania's tax and regulatory climate as "strong deterrents to investment" or reasons they "would not pursue investment" here.
Here's what they're saving about local, job-creating natural gas development:
Community & Economic Growth
Natural Gas Presents Generational Opportunities for Jobs, Manufacturing: MSC's David Spigelmyer noted that the industry is now migrating to downstream opportunities that are becoming available in the end uses of natural gas products. The response to market opportunities comes at a time when Shell has begun construction of its $6 billion ethane cracker plant in Beaver County, which, when completed in a couple of years, will itself create industrial history as the first cracker plant outside of the Gulf Coast. While Shell's plant will serve the company's customers within a 700-mile radius with plastic pellets for a variety of finished products, the hope is that the region will attract additional crackers and more petrochemical and plastics manufacturers to the region. Spigelmyer cited a recent McKinsey study that identified $60 billion in economic opportunities in the region "if we get the downstream equation right." In addition to the potential of attracting other petrochemical manufacturers in the region, Spiegelmyer noted that there are other many other market opportunities for natural gas, including electricity generation, light- and heavy-duty transportation applications; feedstock for industries; and exports. (Observer-Reporter, 11/28/17)
Lancaster Hospital Turns to Local Natural Gas: Lancaster General Hospital is buying a lot less electricity these days, thanks to its new power plant that runs on natural gas. … Hospital executives say the 6 megawatt power plant will save about $2 million a year while producing only about half of the emissions that stemmed from making PPL's power. And those aren't the only advantages. "We're self-sustaining now in case we lose electric," said John Hartman, senior director of facilities management. … Several other hospitals in the region have built or are building them. … David Major, Reading's director of construction and facilities management, said the system paid for itself in just over three years, and he would "absolutely" do it again. (Lancaster Online, 11/28/17)
Pipeline Project in Susquehanna County on Track: Dozens of construction workers, big trucks, and machinery are all busy working to finish part of a pipeline project in the Forest City area. UGI, the natural gas company, is adding more capacity to its pipeline that runs right along the D&H Rail Trail all the way to Union Dale, and the pipes and equipment connect to the Marcellus Shale gas heading to a new power plant in Jessup. … The rail trail between Forest City and Union Dale has been closed since April. … "In the end, we'll have a much better trail, much better surface than we've had. (We're) looking forward to that," said Lynn Conrad, D&H Rail Trail. According to UGI, the added pipeline is now in the ground. All that's left is to finish a section in Union Dale as weather allows and improve drainage along the rail trail. … Union Dale Mayor Keith Foster says the pipeline project has increased business at Cable's Deli. (WNEP-TV, 12/5/17)
Safe, Responsible Development
Landowners, Lawmakers Take "Swift Stand" Against Proposed Drilling Ban: Local legislators took a swift stand in favor of landowners' rights when the DRBC announced their intention to replace the de facto moratorium on drilling, with a permanent ban. … Ned Lang from the Upper Delaware River Basin Citizen stated "The hypocrisy of the activity of the DRBC is astounding because three of the five state delegates also sit on the SRBC which has allowed for the exploration of natural gas for over a decade." … Jim Barbour from the Susquehanna County Farm Bureau showcased the economic benefits of natural gas drilling. "On a lot of levels, agriculture has improved in our area because of the gas industry," he said. "Also, our infrastructure has changed drastically. We have the best roads now that we have ever had because the gas industry fixes, rebuilds and takes care of our roads." … Earlier in October, the state House of Representatives passed a resolution, sponsored by Rep. Fritz urging the DRBC against considering implementation of the ban. The bill recommends the DRBC follow in the footsteps of the SRBC as a water management agency and it should "abandon any proposed plans to regulate natural gas drilling beyond the already established functions that focus on water quantity and water quality data collection and analysis." (News Eagle, 12/4/17)
Natural Gas Operators Committed to Safety: Our members are committed to operating in the safest and most responsible manner. has some of the most stringent environmental rules in the nation, and natural gas operators have one of the highest environmental compliance rates of any industry in the commonwealth. Despite the headline-grabbing claims of activists, responsible natural gas development has resulted in historic environmental and air quality improvements. What's more, actual air quality monitoring at Pa. well sites continues to confirm that natural gas development is safe. … Our operators' employees live in Pa. and have a vested interest in protecting our air and water resources. Their commitment to environmental excellence has demonstrated that we can produce clean-burning American natural gas that's moving our economy and environment forward and making our nation safer. (Lancaster Online letter, 12/5/17)
Join the conversation on social media by using #NatGasWorks on Twitter, liking us on Facebook, and visiting our blog.