Thanks to natural gas development, the United States has reemerged as a global energy powerhouse and is on track to soon become a net energy exporter. This positive shift, which hasn't been achieved since the Eisenhower administration, further strengthens America's national security as well as our global competitiveness.
While the shale revolution is making America more energy secure, Pennsylvania, a leader in responsible natural gas production, continues to realize the local benefits. In fact, the U.S. energy department reported today that abundant, low-cost natural gas drove down electricity costs in 2016, delivering even more energy savings to American families. According to the report, electricity prices in the northeast region were 64 percent lower than the same period last year as natural gas became the primary source of U.S. power generation.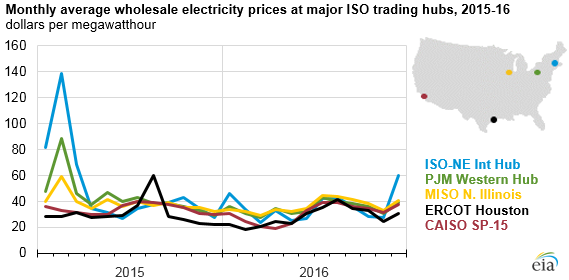 The federal government's latest report comes on the heels of a recent study by University of Chicago economic experts concluding that natural gas development benefits communities – especially throughout Pennsylvania – by driving increases in housing values, wages, tax revenues, and employment.
This important economic, consumer savings and environmental progress was captured in an editorial today from the Washington Post, which makes the case that a ban on hydraulic fracturing is "senseless" and that lawmakers shouldn't "indulge unfounded anti-fracking absolutism."
Our local building trades and laborers – who are critical to the natural gas industry's ongoing success – recognize these benefits as well. For example, a top International Union of Operating Engineers leader recently wrote in the Tribune-Review that policies like even higher energy taxes and burdensome regulations are "reckless" and would "jeopardize jobs and the livelihoods of those who have worked tirelessly to make our nation a global energy leader."
Here's what they're saying.
COMMUNITY BENEFITS
"Editorial: Fracking Shown to Benefit American Families": Just what has the hydraulic fracturing revolution meant to American families? A new study quantifies the benefits of fracking – and they're impressive. … "Fracking isn't just helping to boost the energy security of the United States – it's also raising wages and home prices for people living in shale-rich parts of the country," American Interest writes. "Increased oil and gas production in the US is on average worth a net $1,900 per year to households in the areas where activity is highest, according to the first research to break down the impact of the shale boom on individual areas," the Times reported. … What we do know now, thanks to that study, is how beneficial the fracking revolution has been for American families. (Tyler Morning Telegraph editorial, 1/6/17)
"Study Finds Net Benefit for Fracking Communities": Communities near hydraulic fracturing activity see notable economic benefits according to a recent study published by the Energy Policy Institute at the University of Chicago. The study found shale development at the community level raised the average household price by roughly $1,300 to $1,900 per year, after factoring in quality-of-life costs, driven by a 10 percent increase in employment and a 7 percent increase in average income. The Marcellus Shale area was one of the largest beneficiaries. Housing prices near the nine shale basins analyzed increased by an average of 6 percent, and the Marcellus Shale region saw the second-largest increase in prices at 9 percent. Shale communities saw job growth in natural resources and mining, construction and trade and transportation services. … The authors concluded that fracking is a net positive for the communities. "This data indicates that the average local benefits from hydraulic fracturing outweigh the costs, though this may change as more information about the environmental and health impacts of hydraulic fracturing is revealed," the authors wrote. (Gazette-Mail, 1/10/17)
"New Power Plant Generates Hope for Jobs" in Pa. Community: A new power plant is coming to Birdsboro, bringing with it hopes of jobs and a recharged economy. "I think, personally, this is one of the greatest things to have ever happened to Birdsboro," Council President David Blank Sr. said. The biggest draw Blank cited for the borough is new revenue from property taxes and sewer fees. … Several borough residents said they were optimistic about the potential for new jobs, including those required for the construction and operation of the plant and ancillary services. Blank said he expects the project to generate 250 to 300 construction jobs and 25 to 30 full-time positions. [Chuck Marvin], 72, has lived in Birdsboro for 18 years [and] runs a commercial cleaning company. Marvin said it would be good for the business to add the power plant to their clientele. Kristen Rulli, 40, also said she was happy about the jobs. "I think it's good for our town," she said. "I think it will help the economy, help out the residents and maybe bring in some new life to this town." The $500 million natural gas and steam electric power plant will cover about 30 acres on the site of the former Armorcast factory where Sherman and Patton tanks were produced. … A $30 million assessment would generate $206,000 in additional revenue to the borough. (Reading Eagle, 1/6/17)
"Wrong Approach" to Hike Energy Taxes Even Higher on Pa. Job-Creators: Governor [Tom Wolf] has hinted strongly at creating more revenues by increasing taxes on Marcellus Shale gas companies. We believe that is the wrong approach given the slippery ground on which the industry is resting. They already are paying a steep freight in Pennsylvania, larger than in most other competitive gas industry states. The industry has slumped in the state in recent years but there are indications drilling and production activity are ready to increase in 2017. That would be great news for Pennsylvania's employment situation, given the broad range of businesses that benefit from gas industry activity. Employment creates income which creates significant revenue for the state coffers. This is not the time to hit them with another tariff, courtesy of state government. All that does is stunt the economic payoff of a thriving gas industry. (Williamsport Sun-Gazette editorial, 1/5/17)
For more natural gas facts, visit the MSC's blog and connect with us on Twitter and Facebook.