Support  for energy development and infrastructure growth is "nearly universal" among Pennsylvania voters, according to a new survey released by the National Association of Manufacturers and the Pa. Manufacturers' Association. Specifically, the poll found "84 percent of Pa. voters support increasing energy development in the U.S."
Support for much-needed energy infrastructure development crosses party lines, as more than 92 percent of Republicans and 80 percent of Democrats in the Commonwealth support greater investment in expanding and modernizing Pa.'s energy infrastructure network, the survey found.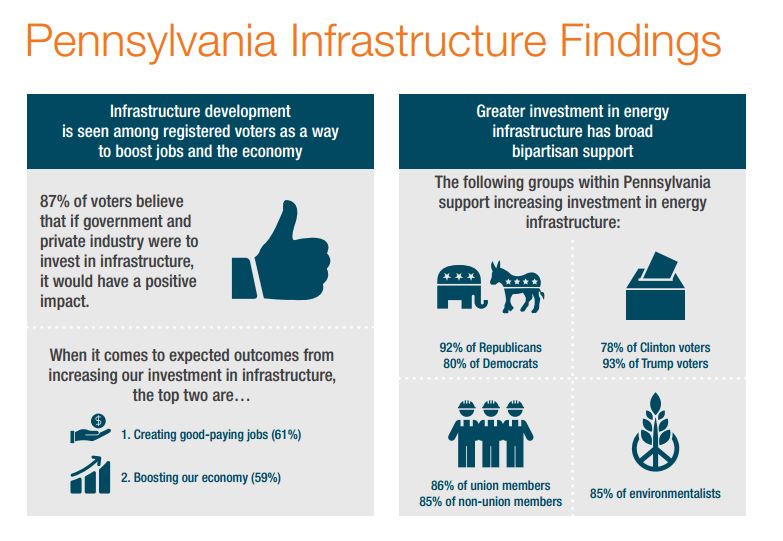 Key Findings:
Overall, 87% of Pa. voters believe if government and private industry were to invest in infrastructure, it would have a positive impact.
The consensus view of voters in Pa. (85%) is to support increasing investment in our energy infrastructure, and 57% strongly support increasing our investment.
The overwhelming view of Pa. voters (84%) is to support increasing energy development in the U.S.
MSC's Dave Spigelmyer echoed these points regarding much-needed energy infrastructure development in a recent Indiana Gazette op-ed, writing that "investing in America's future will pay dividends, especially as the game-changing potential of domestic energy is unleashed."
Here's what they're saying about the broad, overwhelming support for infrastructure development shown in surveys from Pennsylvania, Ohio and Virginia:
INFRASTRUCTURE EXPANSION
"Survey Shows Nearly Universal Support for More Energy Infrastructure in Pa.": Republicans and Democrats in Pa. might not agree on presidential candidates or policy issues, but a new survey has shown almost universal support for additional investment into energy infrastructure. The survey, conducted recently by the National Association of Manufacturers, found that 87 percent of Pa. voters believe public and private investments into energy infrastructure would have a positive effect on the economy. … Overall, more than 80 percent of those surveyed in the three states combined agreed that additional energy infrastructure would have a positive effect on the economy. Additionally, even 86 percent of self-identified environmentalists support the concept. … David Taylor, the president of the Pa. Manufacturers' Association, said in a news release that residents across the state "understand that to be able to produce energy in Pa. and get it to customers, we need reliable infrastructure." "They also understand that our families and communities will be better off when we invest in that infrastructure — from pipelines, ports and power lines to airports, bridges, roads and waterways," Taylor said. "We have a unique, generational opportunity to move the Commonwealth and our nation forward by leveraging our energy resources into much-needed job creation." (Beaver County Times, 12/7/16)
Pennsylvanians "Strongly Support Building of Pipelines": A survey of Pa. residents released Wednesday by the Pa. Manufacturers Association finds broad-based support for investment in infrastructure to help build out the state's natural gas industry and manufacturing. The PMA and the National Association of Manufacturers survey of 500 registered voters between Nov. 28 and Dec. 3 found 87 percent believe government and private industry investment in energy infrastructure will have a positive impact on the state's economy. … "There is overwhelming support for broad-based infrastructure development," said David Taylor, president of the Harrisburg-based Pa. Manufacturers Association. "This is an area that has broad-based support among Republicans and Democrats, city folks, suburban folks, rural folks." Taylor said that energy infrastructure was critical for Pa. to make the most of the bounty of natural gas coming out of the ground in the Marcellus and Utica shales to make it to the critical Northeast markets. "We especially need new energy infrastructure to successfully deploy Pa. energy," Taylor said. Taylor said that new energy infrastructure is critical for Pa. manufacturers, including the billions of dollars of investment by Royal Dutch Shell in the Beaver County petrochemical plant. He said there has to be a way for manufacturers to get the product from the Potter Township cracker to their plants for production. (Business Times, 12/7/16)
"Survey: Cross Section of Commonwealth Wants More Infrastructure, Energy Infrastructure Investment": A survey released Wednesday indicates that Pennsylvanians overwhelmingly want more investment when it comes to infrastructure across the commonwealth and the U.S., including energy infrastructure. … Among the perceived benefits from investments in infrastructure, good-paying jobs topped the list with 61 percent while 59 percent believed it would boost the economy, 43 percent believe it would increase safety, 40 percent believed it would make the U.S. more competitive globally, and 37 percent believed it would ensure a secure and reliable supply of energy, among findings. … "The message in all three of these states remains abundantly clear — creating jobs and invigorating the economy remains the number one issue in these polls, more than double of any other issue," said Ross Eisenberg, vice president of energy and resources policy for NAM. "And investing in energy infrastructure — pipelines, transmission lines, power plants and railroads — is a sure-fire way to create those jobs and boost the economy." … "Pa. is blessed with tremendous energy resources, but lacks adequate infrastructure to get these resources to market," said Eisenberg. "Earlier this year, the NAM estimated that the demand for natural gas will increase over 40 percent over the next decade. …Manufacturers need this infrastructure put in place quickly to remain competitive. We use natural gas as a fuel, and we use it as a feed stock to make other things." "Business and logistics are an important part of our competitiveness," said David Taylor, president of the Pa. Manufacturers Association. "As was noted, we especially need new energy infrastructure to successfully deploy domestic energy, Pa. energy, to reach Pa. industrial, commercial and residential consumers, and also to build export markets." (Towanda Daily Review, 12/8/16)
"Pennsylvanians Strongly Support Additional Infrastructure Development": Pennsylvanians of all stripes – Republicans and Democrats, union members and non-union workers – overwhelmingly support the need for updated and modern infrastructure of all types, according to a recent post-election survey. … The need for infrastructure improvements in the United States was addressed by both Hillary Clinton and Donald Trump while on the campaign trail. … According to Ross Eisenberg, the NAM's vice president of energy and resources policy, the survey found that 87 percent of voters believe that if government and private industry were to invest in infrastructure it would have a positive impact, with 61 percent agreeing that the increase would create good-paying jobs and 59 percent saying it would boost the economy. … Eighty-six percent of union members and 85 percent of non-union voters also gave a thumbs-up to such an initiative, as did 86 percent of those who identified themselves as environmentalists. … Respondents also gave favorable support to all forms of energy, including solar (88 percent); wind (81); natural gas (76); oil (61); coal (52); and nuclear (45). … Where natural gas infrastructure is concerned, he said, "all that the private sector is looking for is permission to build" additional pipelines, adding that the financial side is accounted for. … Pa.'s cheap and abundant natural gas from the Marcellus Shale would be able to supply manufacturers of all types for both their operations and their feedstock needs, but more infrastructure work will need to be done if the industry is to remain competitive and flourish, Taylor said. (Observer-Reporter, 12/7/16)
Natural Gas "Pipeline Project Deserves Support": urgently needs pipelines to move clean-burning natural gas from the shale basins to market. We are home to one of the most substantial shale gas plays in the world, but existing, dated infrastructure is so limited that gas producers in Western Pa. are getting less than half of the free-market price available on the eastern side of the state. Over the last five years, more than $1 billion in tax dollars have returned to the communities in which operators have produced gas through impact fees to ensure that tax revenue benefits the communities that are providing the resource. But our operators can afford to go elsewhere, pay less taxes and get more for their product. Many have heard over the last few years about the Mighty Marcellus, but in nearby Ohio, it's the Utica formation that is driving growth and activity. And with such activity happening just over the border, it's important for Pa. to stay competitive and business friendly. Pipelines, like Sunoco's Mariner East 2, need people. … Without infrastructure projects like Sunoco's Mariner East 2, the future of the industry may shift to nearby states and take the jobs with them. The safest way to transfer gas from our mineral-rich land to the homes they heat, the power plants they supply, the lights they keep on – is in a pipeline. … Local energy costs are kept low because of the industry and our proximity to the gas shale beneath us. (Observer-Reporter letter, 12/5/16)
"Official: Gas Industry Will Thrive Again": The leader of a natural gas drilling trade group predicted a resurgence of the gas industry in Indiana Co., in part because of the change of administration in Washington, but also due to the ongoing construction of a major cross-state gas transmission line through the region. … The Sunoco Logistics Partners' Mariner East 2 pipeline construction project through Burrell, West Wheatfield and East Wheatfield Townships is an example. "It's important not just to gather the gas but to get it into interstate pipelines, and to modernize that infrastructure so we can get to markets here and elsewhere," [MSC's Dave] Spigelmyer said. … Indiana Co. understands it, Spigelmyer said. "They know we can operate pipelines safely and with minimal disruption," Spigelmyer said. "Once they're in the ground, to maintain those lines and operate them safely — it's been tried and tested and it's been done. "I think Indiana Co. has a comfort level with energy development because we've been at the central hub of the wheel for many decades." … "If you have outlets for ethane in the western part of Pa., that creates opportunities for development," Spigelmyer said. "If we have the ability to move ethane to the east, where it's created opportunities at Marcus Hook with revitalization of a petrochemical facility, the pipeline Sunoco is planning to build is absolutely critical for that facility to be successful long term. And it continues the upstream jobs here in the western part of the state because they're not mutually exclusive. You need one to have the other." … "We have approximately a dozen major shale plays here in the U.S. competing for capital and competing for the jobs that this capital produces. So, we need to be a location where investors want to place their dollars. "That means creating an environment that welcomes investment and doesn't stand in its way. "And you have skin in the game," Spigelmyer said. "Today we have the opportunity to generate hundreds of thousands of jobs here in Pa. through affordable energy, to keep our kids at home with family wage-sustaining jobs and making products once again." … "The next five to 10 years is a critical time for maturing our industry and securing our competitive advantage, especially here in Indiana Co.. This region may not be directly in the bull's-eye of production, but there will be wells drilled here and this region will continue to feed the industry with equipment and skilled workers to help make this play an unparalleled success." (Indiana Gazette, 12/3/16)