U.S. natural gas production reached a record high in 2015 and "for the third consecutive year, Pennsylvania saw the largest total gain in annual production," accordingly to recently released federal data. This new data also shows that overall natural gas use reached record levels in 2015, increasing nearly 3% from the previous year.
That increased production and use of affordable, reliable natural gas is welcomed news for Pennsylvania consumers and manufacturers. As MSC's Dave Spigelmyer and Pa. Manufacturers Association's David Taylor wrote in a Beaver County Times column, "the story of manufacturing's comeback is the crown jewel of natural gas development."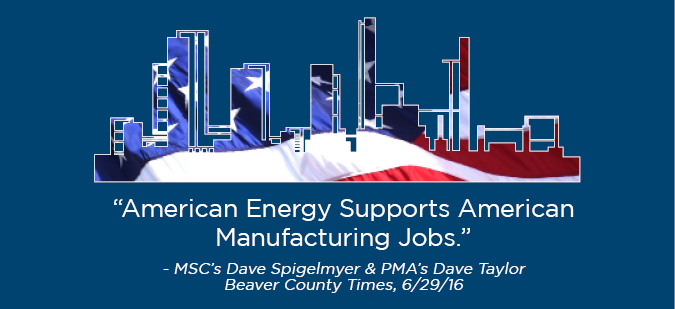 And with Manufacturing Day 2016 coming this Friday, there's no better time to take stock in and reflect upon this important economic progress.
Thanks to shale, Made in the U.S.A. is a reality once again, as abundant natural gas provides affordable energy and low-cost feedstocks for the Commonwealth's manufacturers. Throughout Pennsylvania – and the country – the benefits of this "energy advantage" are leading to the creation of good-paying jobs.
Shell's ethane cracker facility in Beaver Co. will process locally produced natural gas into plastics building blocks. This project will support more than 6,000 construction jobs – a majority among construction and building trades unions – and 600 permanent jobs once complete. In fact, the Tribune-Review reported last week that the Community College of Allegheny Co. recently added welding classes to boost the region's skilled workforce to "prepare for and address the needs of the cracker plant."
The widespread economic benefits of manufacturing's shale-driven comeback are one of many reasons why elected leaders like state Rep. Pam Snyder, among many others, can say that they haven't "seen an opportunity like this in anyone else's lifetime."
Here's what they're saying on shale's directly boost to Pennsylvania manufacturers.
MANUFACTURING REBOUND
"Preparing for and Addressing the Needs of the Cracker Plant is Priority No. 1 for Us": CCAC rebooted its midnight welding course this fall at its West Hills Center in North Fayette, the second time the college has run the course in the past decade. … "This summer, when Shell announced the cracker plant, we knew right away that our welding courses might fill, and sure enough, five weeks before the deadline to register, they filled," Ron Logreco, the assistant dean at CCAC's West Hills center said. … Shell officials said it will take about 6,000 workers to build the plant. Logreco said when construction is at its peak, about 2,000 will be welders. … [Delvin] Colaluca works 9-to-5 doing non-welding tasks in a nonunion steamfitters shop. He hopes the class will get him into the steamfitters union's apprenticeship program to set him up for a job working on the cracker plant. … Chris Reber, president of the CCBC, expects spots in its upcoming welding courses to fill quickly. … The college is developing programs and tweaking existing ones for the cracker plant. "Preparing for and addressing the needs of the cracker plant is priority No. 1 for us," Reber said. … Community college and technical college courses make the students attractive to union apprenticeship programs with either the steamfitters or ironworkers, both of whom are gearing up for the cracker plant, said Jason Fincke, executive director of The Builders Guild of Western Pa.. … Fincke believes welding jobs will be in high demand even after the Shell cracker plant is built. More cracker plants in the region are possible, plus there will be a need for welders as downstream and spin-off companies take off. (Tribune-Review, 9/29/16)
Ethane Cracker Facility to Provide a "Great Opportunity" for "Communities that Have Had a Tough Go of It": The Shell cracker plant that will be built in Beaver Co. is more than 70 miles from Waynesburg, but this region already has the infrastructure and workforce to capitalize on the economic opportunities it will bring. That was the message state DCED Sec. Dennis Davis brought to economic and community leaders in Greene Co. during a roundtable discussion about how the state can help this area can take advantage of what the cracker plant will bring in the form of jobs and development. Shell Chemical Appalachia LLC announced in June it would move forward with an ethane cracker plant near Monaca that will create as many as 6,000 construction jobs over the four years it takes to build the facility and 600 permanent jobs once it begins production. … "We are most excited with what we think will happen after," Davin said. "We think communities that have had a tough go of it lately will have a great opportunity." … "We want more people to hear the story, 'I grew up here and I came back,'" said Amanda Laucher, speaking of her own experience of returning to Greene Co. after growing up in Nemacolin. … "I don't think we've seen an opportunity like this in my lifetime or anyone else's lifetime," said state Rep. Pam Snyder, D-Jefferson. (Observer-Reporter, 9/30/16)
"Pa. is Blessed to Sit Atop" the Marcellus Utica: The report from the U.S. Chamber's Energy Institute's said 's economy would be worse off without the oil and natural gas industry, and described what would happen if certain regulations of the industry would have taken effect since 2009. The state would have lost 117,900 jobs, $13 billion in annual GDP and $7.2 billion of its labor income, the report said. It also said that $69 billion of state GDP and 546,000 jobs would have been at risk. … "The energy renaissance in this country would not have happened without Marcellus and Utica shale, and Pa. is blessed to sit atop the lion's share of those resources," said Gene Barr, CEO of the Pa. Chamber of Business and Industry. … Pa. House Speaker Mike Turzai said the impact of this industry is critical. "Anyone who wants to pull a hot towel out of the dryer or have hot water in the shower needs to understand energy is coming from somewhere, and the world's economy is run on energy," Turzai said. (Business Times, 9/23/16)
Abundant Natural Gas Attracts Manufacturers to Pa.: The production output has been bottlenecked because of the lack of infrastructure to take it away to markets. David Taylor, president of PMA, noted the abundance of natural gas in the state has the potential to attract other manufacturers to the commonwealth because of its low cost. "For some manufacturers, energy is the largest cost input in their product," Taylor said, adding the decision by Shell to build its ethane cracker in Beaver Co. can attract other manufacturers and new jobs to Western Pa.. "Pa. will help make the United States an energy superpower, but all of this depends of increasing the energy infrastructure," he said. (Observer-Reporter, 9/28/16)
Ohio Valley Utica Gas Running in Automobiles, MarkWest Hopeful for Ethane Crackers: Many Ohio motorists are burning fuel drawn from Belmont, Harrison, Jefferson and Monroe counties in their automobile gas tanks in the form of condensate extracted from the Utica Shale, Marathon Petroleum Corp. officials said. Also, during a Thursday tour of Marathon and MarkWest Energy facilities in Eastern Ohio, officials said about 250 people now work at the MarkWest natural gas processing plants in Cadiz and Hopedale, some of whom formerly worked in the steel or mining industries. … Officials said Royal Dutch Shell's Pa. ethane cracker, as well as the planned Dilles Bottom PTT Global Chemical plant, would greatly benefit the entire industry and region. … Dave Ledonne serves as vice president of operations for MarkWest's Utica and Appalachia division. "We're looking forward to Shell and PTT. We've got enough (ethane) in this basin to support them — safe to say," Ledonne said. "The cracker plants are the end game. They are what we really need." (Wheeling Intelligencer, 10/2/16)
GAME-CHANGING PRODUCTION
Natural Gas A Real Game Changer: "Natural gas is an important part of delivering energy, whether you're producing power or other solutions for customers. And so we see power generation, gas generation and we see pipeline infrastructure and Piedmont as being part of what we believe…important solutions for customers," [Duke Energy CEO Lynn Good] said. … Good also said the production of natural gas could be a "real game changer" for the U.S. economy. "We have low cost resources that we can use in a period where we are trying to grow and also decarbonize and natural gas is a lower carbon source of generation. And so I think there's a great opportunity to put that resource to work for the benefit of our economy," she said. (Fox Business, 9/28/16)
Marcellus, Utica pushes U.S. gas production to record high in '15: S. natural gas production reached a record high in 2015 for the fifth consecutive year, and U.S. consumption levels set a new record for the sixth consecutive year, EIA said Friday. … For the third consecutive year, Pa., home of the might Marcellus Shale, saw the largest total gain in annual production, increasing to 13.04 Bcf/d in 2015, compared with 11.56 Bcf/d in 2014 to 13.04 Bcf/d. And production in Ohio, dominated by the Utica Shale, increased the most, percentage-wise, of any state, for the second consecutive year, reaching 2.62 Bcf/d in 2015, doubling from 1.31 Bcf/d in 2014. … EIA previously reported that the world's top producer of petroleum and natural gas hydrocarbons in 2015 was, once again, the United States. (Natural Gas Intelligence, 10/3/16)
Thanks to Shale, "There's a Whole New Feeling in the Trades": [Promising over 2,000 labor jobs, and intending to turn Marcus Hook into an East Coast energy hub] "Sunoco Logistics Mariner East 2 will be built with state of the art technology to ensure the highest regard for safety of the communities it runs through," said Bill Adams, president of the Local 654 branch of the IBEW. … "I worked in the Marcus Hook facility when they were shutting down, I worked at Monroe at the time they shut these places down, I've seen the real-life devastation of people, grown men with well-up tears in the their eyes, because they were told in a firehouse they were shutting down," said Anthony Gallagher, Business Manager for the Plumbers and Steamfitters Local 420. But, the grandiose plans to convert the facility from a petroleum refinery to a massive natural gas hub took shape. I can tell you there's a whole new feeling in the trades, as a lifelong resident of Delaware Co., that we have because of this project," Gallagher said. "It gives us new revitalization, in our spirit too, most importantly." "There's a tremendous amount of opportunity." … Bruce Luebbe, the project manager for Sunoco Logistics at Marcus Hook, said all the men he employs take pride in the job. "They take pride in the fact that they're here to support the rebirth of this area," Luebbe said. "You see it out there, you sense it with the guys, the positive attitude, these guys when break time is over they're right back to work." (Delaware Co. Daily Times, 9/24/16)
Connect with the MSC on Facebook and Twitter and visit our blog to learn more about responsible natural gas development.