"The U.S. is also now the number one producer of natural gas in the world," confirmed U.S. Energy Secretary Ernest Moniz during a congressional hearing today. Thanks to responsible shale development – led largely by producers in the Commonwealth – America is more energy secure, families are realizing significant energy savings, Made in America is a reality again, and our air quality continues to make dramatic improvements.
In fact, Sec. Moniz touted the benefits of domestic energy development (like other top Obama administration officials), telling lawmakers that "increased production of natural gas in the U.S. has … improved global energy security for U.S. neighbors, partners, and allies."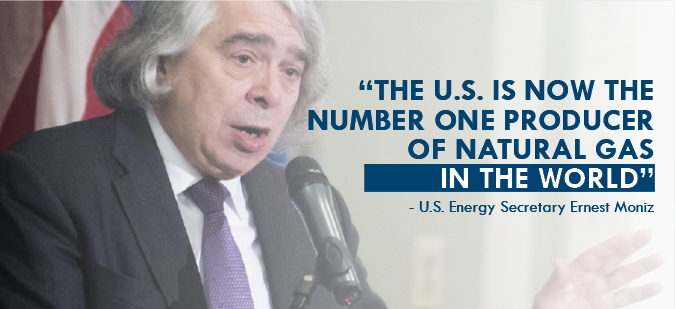 With Pennsylvania continuing to produce record-amounts of clean-burning natural gas, it becomes even more critical that the region's natural gas infrastructure network is modernized and expanded to benefit consumers – as well as manufacturers and power generators – with our abundant supply. As MSC's Dave Spigelmyer wrote recently in a joint op-ed, "natural gas infrastructure modernization and expansion is mission critical."
Here's what they're saying about America's energy abundance and strength:
Setting Stage for Energy Renaissance in Our Region: Our region is blessed with an abundance of natural resources that have supported America's energy needs for generations. … Today, America continues to rely on Appalachia's abundant energy reserves to power our modern 21st century economy. Thanks to our domestic energy revolution — led by record natural gas production right here in the tri-state region — our nation is more energy secure than ever, allowing us to break free from reliance on foreign, often hostile nations to meet our growing energy needs. These uniquely American achievements are well worth celebrating. … Indeed, thanks to natural gas, we don't have to choose between economic growth and improved air quality. We can have both as the greater use and development of clean-burning natural gas has driven America's carbon emissions to 24-year lows and enabled the U.S. to reduce its emissions more than any other nation. But to fully realize shale's economic and environmental benefits, natural gas infrastructure modernization and expansion is mission critical. (Wheeling Intelligencer op-ed, 9/11/16)
Daily Mail Editorial: Pipeline System Growth is Good Economic News: Overall, pipeline companies Dominion, EQT Midstream, Energy Transfer and Columbia Pipeline Group have filed for at least seven large-diameter pipeline projects, proposing investments of more than $16.4 billion. … While pipeline expansion projects don't get the splashy headlines like a Toyota plant expansion or a Procter & Gamble investment does, like those high-profile projects, the long-term impact will be a big economic boost for West Virginia. (Gazette-Mail editorial, 9/14/16)
Sen. Capito: "Innovation, Not Across-the-Board Regulation, Should be Our Focus": The United States is quickly becoming a dominant player in global energy production. In 2013, the United States surpassed Russia and Saudi Arabia as the leading oil and gas producer in the world. By exporting liquefied natural gas to our allies abroad, we can continue to grow jobs in energy producing states. We have the right location, resources and workers necessary to continue powering the nation with affordable, reliable energy. … The only thing standing in our way is a woeful lack of infrastructure and a blanket of overreaching regulations. … Innovation, not across-the-board regulation, should be our focus. (Wheeling Intelligencer op-ed, 9/13/16)
Shale Gas Surge Triggers U.S. Petrochemical Expansion: The upsurge in U.S. shale gas production has triggered waves of expansion projects for manufacturers of petrochemicals, plastics and fertilizer that are expected to create thousands of long-term jobs and many new revenue sources. … Some 268 petrochemical and fertilizer plant projects linked to shale gas, with an estimated investment of $170 billion, are in various stages of study or construction, Kevin Swift, chief economist with the trade group American Chemistry Council. At the end of 2010, less than $10 billion in such projects had been announced. (Bloomberg, 9/14/16)
"Natural Gas Repositioned U.S. as Credible Leader in Global Efforts to Reduce Emissions": As a former member of Congress and political moderate, I thought I'd seen most of the propaganda tactics employed by the political extremes to sway public opinion and achieve political outcomes. However, I am amazed and disappointed at the level of demagoguery employed by the environmental left to twist the facts to suit their narrative of our energy future. … Natural gas remains a foundation fuel for the U.S. energy economy and has been the key to unlocking the most substantial greenhouse gas emissions reductions in the nation's history. Policymakers at every level are trying to figure out how to use more natural gas to meet our economic and environmental needs. … The potential for U.S. natural gas as an important tool in the suite of greenhouse gas emissions reduction options is reflected in the Obama Administration's policies. … Natural gas use will increase as states move to further reduce carbon dioxide emissions from electric power generation. Natural gas has repositioned the U.S. as a credible leader in global efforts to reduce emissions. … Natural gas is necessary for the United States to make progress toward the ambitious emissions reduction target set in Paris. (The Hill column, 9/15/16)
For more facts on safe, responsible natural gas development visit, the our blog and connect with the MSC on Facebook and Twitter.