As some in Harrisburg echo the misleading and oftentimes downright false claims of anti-energy activists, it's critical Pennsylvanians have the facts regarding tightly regulated shale development and its unquestionable environmental and economic benefits.
In today's Tribune-Review, MSC's David Spigelmyer joined regional partners at the Ohio Oil and Gas Association and the West Virginia Oil and Natural Gas Association, to provide readers with the clear-eyed facts regarding shale's historic environmental and economic gains for the region:
"Experts agree: The United States has emerged as the world's leading oil and natural gas producer while reducing its carbon emissions more than any other nation. This significant achievement is thanks to shale development, led largely by producers throughout the Appalachian region. … In fact, greater natural gas production and use have largely driven U.S. CO2 emissions to a 25-year low, according to U.S. Environmental Protection Agency data, helping the United States achieve meaningful climate progress."
Indeed, according to recently released U.S. Department of Energy data, America is leading the world in carbon emission reductions thanks to greater use of locally produced, clean-burning natural gas.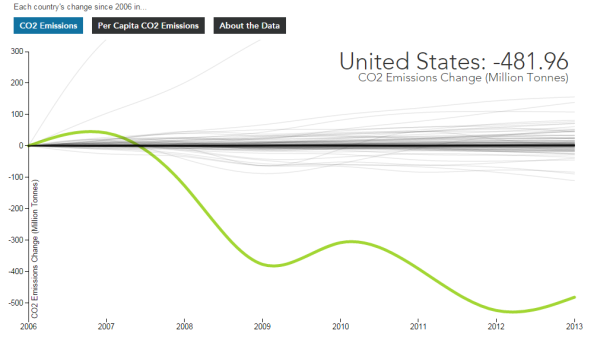 (Source: U.S. DOE, 1/14/16)
And while some continue to make patently false claims here are the facts:
Washington Post – "Fracking…Contributed to a Reduction in National CO2 Emissions": In fact, if we are serious about global warming, we will ignore Mr. Sanders's sloganeering. When burned, natural gas produces about half the carbon dioxide emissions of coal. The recent fracking boom contributed to a reduction in national carbon dioxide emissions over the past several years, as utilities switched from cheap coal to now-cheaper gas." (Editorial, 4/18/16)
USA Today – "Keep on Fracking": Natural gas from fracking [is] significantly reducing U.S. greenhouse gas emissions. … The idea that fracking is too dangerous ignores science and the experience of tens of thousands of fracked wells. A landmark EPA study last year found some cases of groundwater contamination from fracking, but no evidence of widespread problems — proof that fracking can be done safely. (Editorial, 4/18/16)
EPA Admin. McCarthy: "Natural gas has been a game changer with our ability to really move forward with pollution reductions that have been very hard to get our arms around for many decades." (C-SPAN,12/2/13)
Power Sector CO2 Emissions Reach 27-Year Low:"The electric power sector emitted 128 million metric tons of carbon dioxide (MMmt CO2) in April 2015, the lowest for any month since April 1988." (EIA, 8/5/15)
IEA: "The decline in energy-related CO2 emissions in the U.S. in recent years has been one of the bright spots in the global picture," the IEA says in a report. "One of the key reasons has been the increased availability of natural gas, linked to the shale gas revolution." (CNS, 4/14)
Univ. of Colo. Study: A recent study found relatively low emissions of methane from major U.S. gas fields. Specifically for the Marcellus, the study found the lowest rate of methane release – 0.18%, well below the widely accepted threshold of 3.2% for natural gas to maintain its climate benefits. (Journal of Geophysical Research, 2/18/15)
Of course, natural gas development in Pennsylvania is governed by modern, tight-regulations, that in addition to the industry's commitment to best practices, strengthen our environment and protect local communities. In fact, Gov. Rendell and then-DEP Secretary John Hanger wrote it best: "Pennsylvania has the strongest enforcement program of any state with gas drilling. Period.":
"As the two people who enacted four regulatory packages strengthening drilling regulation and led the enforcement of the rules in Pennsylvania until January, we strongly disagree that there is lax regulation and oversight of gas drilling there," former Gov. Rendell and DEP Sec. Hanger wrote in the New York Times. "Pennsylvania has the strongest enforcement program of any state with gas drilling. Period."
Further, the State Review of Oil and Natural Gas Environmental Regulations (STRONGER) – a nonprofit environmental review organization – conducted an in-depth review of DEP's Oil and Gas bureau in 2010 and 2013, concluding that Pa.'s regulatory program is "well-managed, professional and meeting its program objectives." What's more, the industry supported Act 13, a bipartisan law that strengthened a number of Pa.'s energy regulations, some of which are recognized as the nation's most rigorous.
As the energy industry – and the tens-of-thousands of good-paying local jobs it supports – continues to weather this deep and painful downturn, it's a matter of fact that even higher energy taxes and unnecessary, costly regulations will harm small businesses and employment across Pennsylvania. We continue to stand ready to work with policymakers on commonsense solutions that will create more jobs throughout the Commonwealth, especially in our manufacturing sector, by putting more locally produced natural gas to use.
For additional facts on shale development, connect with the MSC on Facebook and Twitter.