As Harrisburg works to finalize Pennsylvania's annual budget, it's never been more clear that there couldn't be a worse time for a massive energy tax hike that'll jeopardize good-paying jobs across the Commonwealth. In fact, the Tribune-Review brought these painful economic realities into light recently under the headline "Bankruptcies, Foreclosures Up in Areas Where Gas, Coal Employees Lost Jobs," underscoring the energy market's downturn which has led to thousands of layoffs and dozens of bankruptcies, forcing many Pennsylvanians into "survival mode" to support their families.
What's more, Pennsylvania's unemployment rate ticked up recently due, in part, to "low natural gas prices [that] have forced energy producers to cut back," the Tribune-Review reports.
Given these challenging economic conditions, the message for lawmakers is clear: massive energy tax increases – such as Gov. Wolf's, which the state's nonpartisan Independent Fiscal Office once again confirmed would make Pennsylvania the highest natural gas taxed state – would exacerbate these difficult economic conditions, impede job-creating investments, and sting Pennsylvania families.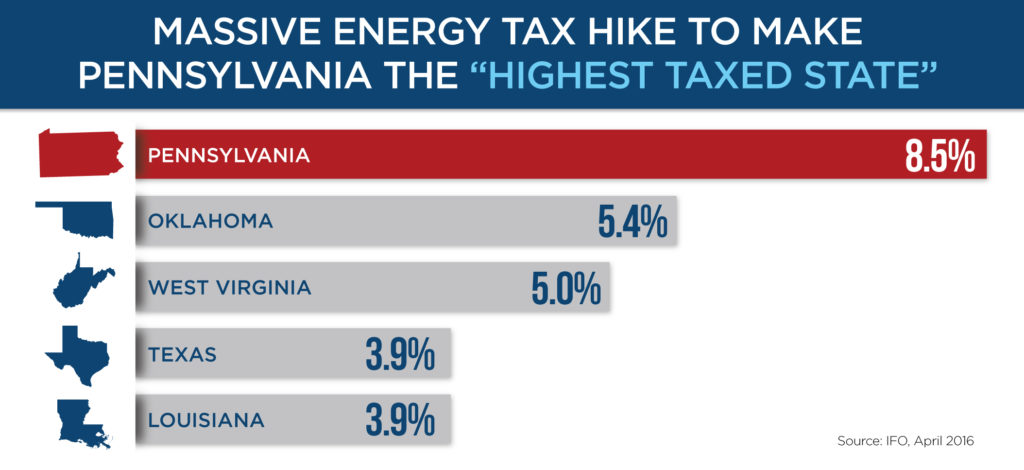 Americans agree, as a Harris Poll released this week overwhelmingly demonstrates that voters support the continued, responsible development of our abundant energy resources and oppose "higher taxes that could decrease investment in energy production and reduce energy development here in the U.S."
The facts remain that Pennsylvania's tax on natural gas development – called an impact fee – is working as designed and has generated more than $1 billion in revenue, most of which has directly benefitted local communities. In fact, a Beaver County Commissioners official said recently that the state's current natural gas impact tax system is "much preferable locally than a severance tax." And the Pa. Association of Twp. Supervisors echoed those sentiments, underscoring the fact that these essential tax revenues "have helped townships upgrade infrastructure and complete public improvement projects that wouldn't be possible otherwise."
Rather than enact "unwise" proposals for even higher energy taxes that are "out of touch with economic reality," as the Williamsport Sun-Gazette writes in an editorial, Harrisburg should focus on policies that encourage greater natural gas use, especially for manufacturing and power generation, that'll spur economic growth and help create more good-paying jobs. Indeed, Sean McGarvey, president of North America's Building Trades Unions, underscored this important point, writing in a column this week that responsible natural gas infrastructure growth will "creat[e] millions of family-sustaining, jobs, along with vast opportunities for career training in the skilled trades."
Here's what else they're saying about job-crushing, misguided proposals for even higher energy taxes:
"Slump Real, Resist a Severance Tax": The bulk of the [impact tax] money, $102 million, will go to county and municipal governments where gas wells are drilled. … Had the money gone directly into state coffers, who knows where it would have been spent given the budget pressures and politics of recent years. We are pretty certain it would not have found its way to the counties and localities most impacted by the gas drilling industry. … The latest numbers carry another message that is extremely relevant as the state government leaders head into another round of difficult budget negotiations. That message is for state leaders, regardless of political stripe, to leave the industry alone rather than inflicting a second layer of taxes, a severance tax, on the energy companies. There are lots of other places where these companies can drill to produce natural gas, including neighboring states. One sure way to push them there is piling on more taxes while the industry is in an energy market-induced slump. (Sun-Gazette editorial, 6/22/16)
"Bankruptcies, Foreclosures Up in Areas Where Gas Employees Lost Jobs": "We're struggling to pay every bill we have," said [Sean] McGrath, 50, of Indiana Co., who is trying to support his wife and four children on about $600 per month in Social Security benefits he gets for an autistic son [after becoming a casualty of the energy collapse.] … A massive slowdown in shale drilling that began with a collapse in oil prices accelerated this past winter when natural gas hit 17-year lows. The downturn has prompted layoffs from producers to service companies, leaving some families struggling to pay their bills … I'm struggling to feed my family," he said. In the second year of the energy sector's pullback, such struggles are becoming common across shale boom regions. A recent analysis by the Federal Reserve showed delinquencies on mortgages and auto loans have increased in counties where oil and gas jobs make up more than 6 percent of employment while holding steady or falling elsewhere. … Some people are struggling because they were laid off. But even those who managed to keep their jobs are feeling pinched because of cutbacks in their hours and overtime pay. … Natural gas prices have risen in recent weeks, but executives and analysts say a sustained recovery and return to heavy drilling are years off. (Tribune-Review, 6/18/16)
"Analysis Says Wolf's Proposed Severance Tax Rate is Among Nation's Highest": A new analysis by the state's IFO ranks 's proposed effective shale gas tax rate the highest among other large producers and neighboring states. Gov. Wolf's current severance tax proposal equates to an 8.5% tax rate over the life of a typical Marcellus Shale well, based on the wellhead price of gas, the IFO said. That's compared to a lifetime effective tax rate of 5.4% in Oklahoma — the next highest among comparison states — and 5% and 1.1%, respectively, in neighboring West Virginia and Ohio. … The MSC said the IFO report "demonstrates that Gov. Wolf's energy tax increase proposal would make Pa. the highest natural gas taxed state in the country, with a tax rate at a whopping 54% higher than top gas producing states Texas and Louisiana." (Post-Gazette, 5/3/16)
Pa. Small Businesses Cut Jobs, Scale Back Amid Historic Downturn: Five years ago, the Marcellus Shale bonanza attracted 115 drilling rigs to the state, each requiring a battalion of suppliers, trucks, earthmovers, equipment manufacturers, and support services. This month, the rig count fell to 16, a number not experienced since 2007. Last year's energy-price plunge undercut the business across the nation. [Gas producers] cut operations and sold assets to stay solvent. Some went bankrupt. Those financially strong enough to survive are hunkered down. "We're going through a historic downturn," said David Spigelmyer. "We lost maybe $10 billion in capital spending in 2015, and are heading the same way in 2016 with the rig count." … Still, the downturn has depressed local economies. The traffic that energized and disrupted rural life has subsided. Sales of clothing, food, and vehicles are down. Skilled welders have taken jobs at Walmart. Unemployed workers stay home and don't spend. "Just the sheer volume of people in restaurants, hotels, even at some charity events, they're definitely not there anymore," said Stan Foster, chief operating officer of Superior Energy Resources, a Brockway, Pa., gas field-services company. … At midday recently, it was practically empty at the Mountain Inn in Clermont, McKean Co., a bar and restaurant where once it was not uncommon for rig crews to order takeout of 30 hamburgers at a time. … "Usually, we'd have a full bar now," said Brenda Walker, the inn's owner. She has cut hours and reduced her staff from nine full-time employees to four part-timers. "The past year has been horrible," Walker said. (Phila. Inquirer, 4/24/16)
"Everybody is Suffering" from Energy Market Downturn: With the number of rigs drilling for oil and gas falling to all-time lows across the nation last week, Patel and other residents and business owners in Pa.'s vast Marcellus Shale gas field are adjusting to life after the boom — while hoping for the eventual return of an industry that pumped billions of dollars into the economy. … Towanda's story is playing out everywhere the drillers are leaving or have left, places like Gillette, Wyoming, and Oklahoma City, where there have been massive job layoffs at energy company headquarters and the downturn has blown a billion-dollar hole in the state budget, leading to funding cuts to schools, prisons and other services. … Only 16 rigs are actively exploring in Pa., down from a high of 115 in 2011 and the fewest since December 2007, according to Baker Hughes. Energy firms and the businesses that directly cater to them are laying off thousands of workers in Pa., with 1 in 5 jobs disappearing in a single year. Unemployment is rising in nearly all of Pa.'s top drilling counties while generally falling in the rest of the state. "I don't think anybody saw it coming, to this deep of a decline that quickly," said MSC's David Spigelmyer. (AP, 4/19/16)
Small Businesses "Feeling the Pressure" from Drilling Slowdown: The slowdown in the gas fields has hit Main Street in Marcellus Shale country. … Nearly every company that's active in the shale play has reduced jobs, has reduced capital allocation by as significant margin," said David Spigelmyer, of the Marcellus Coalition. "The real gut punch is the supply chain jobs and there are thousands and thousands of those across this region and they're feeling the pressure as well," said Spigelmyer.(KDKA-TV, 2/10/16)
For more facts, visit the MSC's blog and connect with the MSC on Facebook, Twitter and LinkedIn.