Shell's recent decision to move forward with building an ethane cracker plant, which will generate significant economic benefits including nearly 6,000 construction jobs, brings into focus shale's larger role in driving a regional manufacturing renaissance.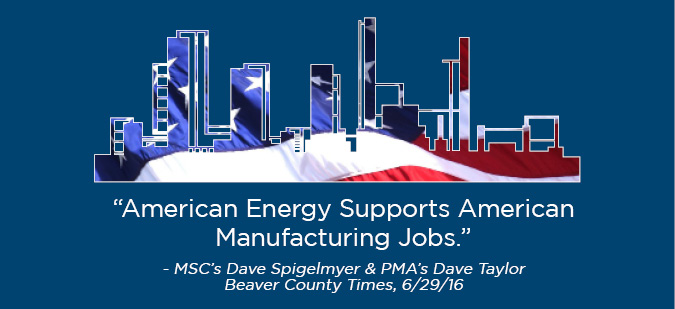 In fact, MSC president Dave Spigelmyer and Pa. Manufacturers' Association president David Taylor highlighted this shale-driven manufacturing comeback in a joint Beaver County Times column this week:
"The story of manufacturing's comeback is the crown jewel of natural gas development. But for shale development, this facility – the first domestic project of its type to be constructed north of the Gulf Coast in more than two decades – would not have been possible. And while this plant is a significant win for the commonwealth and our region's economy, Shell's investment paired with continued, responsible development of our natural gas resources will drive even more supply chain businesses and manufacturers to expand and locate throughout the Appalachian region."
Pennsylvania is still in the early stages of fulling realizing shale's game-changing manufacturing benefits. That's why policymakers must focus on commonsense solutions rather than even higher energy taxes and additional regulations that'll jeopardize these positive gains.
Here's what they're saying:
Natural Gas Driving America's Manufacturing Renaissance
Regional Shale Source of "Competitive Advantage": Shell's decision to build a multibillion-dollar petrochemical plant in Beaver Co. came down to three key considerations: location, location and tax incentives. … "We're sitting here in a world-class resource base at the door of the customer," [Shell Vice President Ate] Visser said during a discussion of natural gas liquids such as ethane, a product of many of the Marcellus and Utica shale wells in this region. "This will give us long-term, sustainable, competitive advantage." … Officials said the plant will employ 6,000 construction workers, create 600 good jobs for operation and attract related manufacturers to build additional facilities. … "The best thing you can do for production is have the demand right at home, right in the basin," said Steve Woodward, a senior vice president at Antero, the top ethane supplier for the plant. "It creates jobs. It creates a number of synergistic possibilities all around." (Tribune-Review, 6/28/16)
"We are Sitting Here on a World Class Resource": [Shell vice president Ate] Visser outlined why Shell is willing to spend billions of dollars to build the plant, which is expected to create a whole host of other chemical production not just in Pa., but also in nearby Ohio and W.Va. … "You ask the question, why Pa., why here. The answer is very simple: We are sitting here on a world-class resource base at the doorstep of the customer," Visser said. … "This means the customers will have shorter supply chains, will have more reliable supply chains, will have working capital savings, and will have lower costs," Visser said. (Pittsburgh Business Times, 6/28/16)
"We're Trying to Build an Industry": "We're not trying to build a facility anymore. We're trying to build an industry," [executive director of the W.Va. Development Office Keith Burdette] told several hundred people Monday at a petrochemical conference in Pittsburgh. … Contractors are working directly with union locals to plan for increased demand for welders and other craftsmen, said Sam Lyon, a manager at Bechtel, which did engineering and design work for the Shell plant. "There will be demand in excess of local union" membership, said Lyon. (Tribune-Review, 6/27/16)
Cooperation is "the Name of the Game in the Next Stage": "We don't believe its stops at Pa.'s borders," said Dennis Davin, secretary of Pa.'s DCED. Davin said the 6,000 construction jobs and the 600 permanent jobs at the Shell ethane cracker were going to come not only from Pa., but also W.Va. and Ohio, which are close to the Beaver Co. site. … Tri-state collaboration is going to be crucial for the success of everyone, the speakers said. … "I think it will be what makes us successful in this area," said Scott Rotruck, director of energy and transportation services at Spilman Thomas & Battle. "Our competition in many ways is with the Gulf. We have to work regionally. We have to cooperate so we can truly compete." (Pittsburgh Business Times, 6/27/16)
Cracker Plant Spurs Jobs for Local Union Members: With dozens of announced and proposed chemical projects in this corner of Appalachia, an estimate by Bechtel Corp. shows the region will need up to 15,000 more craft laborers than it currently has. … "These are the types of challenges that we live for," said Sam Lyon, global workforce services manager for Bechtel. … "For skilled labor, wages are going to go up," predicted Jeff Burd, founder of the construction industry analysis outfit Tall Timber Group. … The local boilermakers unions have about 1,500 workers, said Mark Angle, president of the Boilermakers Local 154 in Pittsburgh, who estimates that Shell alone will need about 400 at its peak. The steamfitters will see the biggest demand, he projected, with about 2,500 needed to staff the project at its peak. (Post-Gazette, 6/29/16)
"This is the 'Aha'" Moment: On a road overlooking the Ohio River, Michael McDonald gazes out over swarms of backhoes, bulldozers and piledrivers. He points to a large patch of bare ground. "That's where the actual cracker units will be," he says. … McDonald was breathing a sigh of relief when Shell announced it would be building the new plant. His union will supply many of the workers to build it. McDonald thinks this single plant could breathe life back into his union—and bring industry back to the river in Beaver Co. … "I feel like this is the 'aha' that folks will realize in western Pa.," MSC president David Spigelmyer says. … "I would tell you that both the manufacturing investment that'll occur here, the supply chain jobs that'll be created here are enormous for our region." (WESA, 6/23/16)
Natural gas is driving a regional manufacturing renaissance, creating good-paying jobs and boosting the Commonwealth's economy. For more facts, visit our blog and connect with the MSC on Facebook, Twitter, and LinkedIn.