American natural gas development is spurring investment and job growth across the chemical manufacturing sector, representing a "stunning reversal of fortune from just a few years ago," according to new American Chemistry Council (ACC) analysis. In the update to ACC's 2013 study, the new research makes clear that U.S. chemical industry investment linked to affordable natural gas from shale has reached $164 billion and can support hundreds of thousands of good-paying American jobs.
In fact, this report – among many – further confirms what President Obama stated in 2014: "Our 100-year supply of natural gas is a big factor in drawing jobs back to our shores. Many are in manufacturing – the quintessential middle-class job."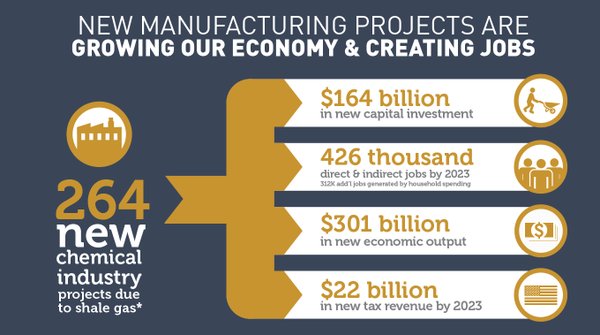 Key Takeaways
Shale-driven manufacturing benefits: U.S. chemical industry investment linked to plentiful and affordable natural gas and natural gas liquids (NGLs) from shale formations has reached $164 billion.
Investment growth: New investments represent significant growth from 2013, when $71.7 billion was tied to shale development.
American jobs: 264 chemical manufacturing projects and $164 billion in investment could support 738,000 permanent new jobs across the U.S. economy by 2023.
ACC's report comes on the heels of the first export of ethane – a natural gas byproduct and key feedstock in the chemical manufacturing process – from Delaware Co.'s Marcus Hook processing facility, reflecting the fact that shale is a boon to both domestic manufacturers and America's allies abroad.
Here's what they're saying:
Marcellus Shale Gives Marcus Hook "a New Lease on Life": This week the boss at Phila. Energy Solutions, you know, what used to be Sunoco, turned up the heat in the push for a huge expansion of energy-related industries along the Delaware River. … Sunoco Logistics is breathing new life into the shuttered icon of Delco industrial might hard on the banks of the Delaware River. And if Rinaldi gets his way, the plant that literally breathed life into the lower end of Delaware Co., will once again be bustling, having received a new lease on life courtesy of the state's Marcellus Shale gas industry. … The idea is to use Sunoco's vast network of pipelines to bring Marcellus Shale products such as ethane and propane to the Marcus Hook facility, where it will be loaded onto ships and sent around the globe. The talk is that Marcus Hook could be the epicenter of an "energy hub" for the entire Northeast part of the country. (Delaware Co. Daily Times editorial, 3/30/16)
"Hydraulic Fracturing has Transformed [America] from an Importer to an Exporter of Natural Gas": Natural gas has a lot going for it. It burns cleaner than other fossil fuels, producing about half the carbon dioxide of coal. Thanks to new discoveries and the U.S. shale boom, it's cheap and plentiful. … LNG can be loaded on ships and transported around the world. This high-tech process has transformed natural gas into a more freely traded commodity with the potential to reshape the politics of global energy. … The biggest turnaround has come in the U.S., where hydraulic fracturing, or fracking, has transformed the country from an importer to an exporter of natural gas. … More nations have shifted to LNG as a way to reduce greenhouse gas emissions. (Bloomberg View, 4/5/16)
Energy Hub Would Create "Thousands of New Jobs and Billions of Dollars in Economic Activity": The campaign to build a massive natural-gas pipeline to Phila. to fuel development of an energy hub is about to kick into a higher gear. … "If the three states in the greater Phila. region work together to create an energy hub, thousands of new jobs and billions of dollars in economic activity will be created," the report states. … [Energy-hub organizers] add that some existing industries would commit to billion-dollar projects on the condition that a new pipeline would deliver gas. (Phila. Inquirer, 3/31/16)
With policies that encourage greater natural gas production and use, Pennsylvania is well-positioned to continue to benefit from shale's opportunities.
For more shale facts, connect with the MSC on Facebook, Twitter, and LinkedIn.