With shale development's benefits extending throughout the Commonwealth, it was a natural fit for Philadelphia to host SHALE INSIGHT™ 2015 – a leading annual industry conference. Through continued natural gas infrastructure development, Philadelphia is in the midst of an energy hub transformation that will create important and long-term consumer and manufacturing benefits.
Throughout the two-day conference – which attracted more than 1,300 attendees – the expert panels, keynote speakers, and engaging discussions covered topics ranging from consumer energy savings to cleaner air and American energy security.
As MSC president Dave Spigelmyer writes in today's Philadelphia Inquirer: "This week's dialogue at Shale Insight 2015, rooted in facts and science, was laser-focused on ensuring that the economic equation is right for our state and its citizens to maximize the broad-based benefits tied to this once-in-a-lifetime opportunity."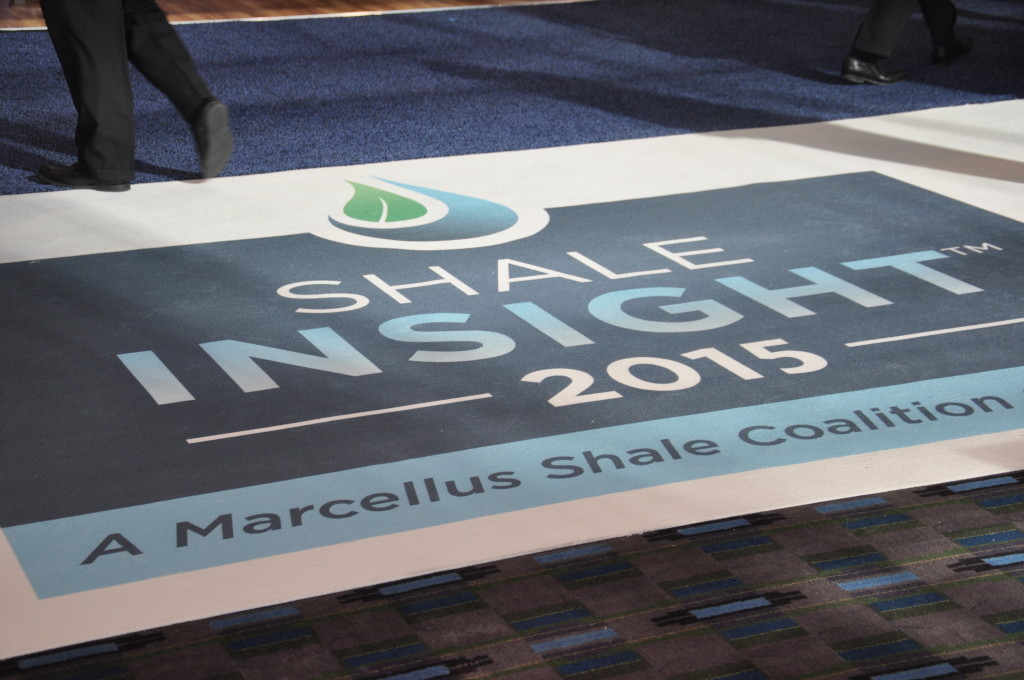 Here's what they're saying:
SHALE DRIVES MANUFACTURING GROWTH
Shale Leads to Revival of Del. Co.'s Marcus Hook: Betting big on predictions of inexpensive and plentiful natural gas liquids in the Marcellus Shale, the facility that once made Marcus Hook an oil town is turning its attention to gas. Close to 200 permanent jobs have returned. A floundering economy – slowly – is forging ahead. … After purchasing the Sunoco refinery in early 2013 for $60 million, Sunoco Logistics began moving forward with a plan, called Mariner East 1, to use existing pipeline to transport natural gas liquids from Western Pa. to Marcus Hook. Construction crews were brought in and – gradually – the facility, renamed the Marcus Hook Industrial Complex, began to see vitality that resembled the once-booming oil empire. … The Phila.-based company is currently acquiring approvals for another pipeline, called Mariner East 2. … The company is considering adding another pipeline to the plan, and eventually, it hopes to build a propane cracker. … In total, the $3 billion projects could add as many as 440 permanent jobs and have a one-time economic impact of $4.2 billion, according to a study by Econsult Solutions. Annually, ongoing operations could generate as much as $150 million. (Phila. Inq., 9/14/15)
Emerging Phila. Energy Hub to Create, Sustain Jobs: The Shale Insight 2015 conference at the Convention Center, sponsored by the MSC, is placing an emphasis on the industry's ties to the Phila. region as a potential energy hub, if the pipelines to deliver shale-gas products can be built. "We're trying to shed a light on the skin in the game that Phila. has with shale," said David Spigelmyer, the coalition's president. … The coalition has enlisted support from area labor unions, whose members are building pipelines or constructing the Sunoco Logistics terminal in Marcus Hook. (Phila. Inq., 9/15/15)
Affordable Energy Attracts Businesses to Pa.: At the annual Shale Insight conference of the state's gas industry leaders, officials urged a sharp increase in pipeline capacity, which they said would enable the creation of a so-called "energy hub" in Phila. where an influx of cheap, plentiful gas would attract manufacturers and spark an economic resurgence in the region. Speakers also called on manufacturers and other heavy energy users to consider Phila. as a location where a newly plentiful supply of gas would be available in addition to a skilled workforce, brownfield sites, good transportation links to the Northeast, and port access to export markets. … Some 85% of PECO's gas now comes from the Marcellus Shale, up from almost none only five years ago, and low prices resulting from Pa.'s huge reserves of shale gas have saved the typical customer $1,000 a year. … James O'Toole, an attorney who is heading a needs assessment as part of the team's effort, said the energy hub is based on the idea that low energy prices will attract businesses to Phila. (StateImpact, 9/16/15)
An "Ideal Energy Terminal": Representatives of industry, labor, and government said Pa.'s natural gas production could represent a tremendous economic opportunity for Phila. at the end of the pipeline. … Energy-hub advocates say Phila.'s proximity to northeastern U.S. and European markets, and an abundance of vacant industrial land tied into rail and port facilities, make it an ideal location as an energy terminal, and also for energy-intensive manufacturing. "You need new consumption, and the place to do that is in Phila.," said Philip Rinaldi, chief executive of Phila. Energy Solutions. "You have a long history of manufacturing, and an inventory of brownfield sites that are just dying to convert themselves into value-added businesses." (Phila. Inq., 9/16/15)
PIPELINES DELIVER SHALE'S BROAD BENEFITS
Infrastructure Growth Delivers "Low-Cost and Plentiful Marcellus Gas": The new focus for the shale region is getting that cheap gas to market and making new markets for gas and liquids where none exist. … State and local officials, union leaders, chambers of commerce and end users that have bet big on Phila. — Sunoco Logistics; Phila. Energy Solutions; the plastics maker Braskem SA; and utilities such as UGI Corp. and PECO Energy Co., will be talking up a future of using low-cost and plentiful Marcellus gas and liquids to make value-added products such as plastics, fertilizer, custom fuels, steel, concrete and glass. (SNL, 9/15/15)
Pipelines "Ensure Continuous Access to Low-Cost Energy": The buildout of pipelines needed to move natural gas from Pa.'s shale fields to markets could last another 20 years, the head of one of the state's largest utilities said Wednesday. "That's probably a two-decade period to put the infrastructure in place to ensure continuous access to low-cost energy," UGI Corp. CEO John Walsh told several hundred energy industry leaders during an annual conference. … A revived energy hub that has developed here at the end of crude oil rail lines and natural gas liquid pipelines "is basically a taste of what is yet to come," said Philip Rinaldi, CEO of Phila. Energy Solutions. "This is a region that already is acting as a funnel for energy products." (Tribune-Review, 9/16/15)
Pipelines Connect Abundant Natural Gas Resources with Consumers, Manufacturers: If one word was mentioned more than any other during this year's Shale Insight gas industry conference this week it was pipelines. Speeches and sessions over two days here in the Pa. Convention Center revolved around where, how and mostly why to build the pipes necessary to connect the still-growing number of shale wells to consumers. … Randy Nickerson, executive vice president at MarkWest Energy Partners [spent] about 30 minutes outlining efforts to process and move NGLs such as ethane and propane through its plants. Many of the speakers and panelists that preceded Nickerson talked up the region's role in this charge. Sunoco Logistics is set to accept at its Marcus Hook terminal many of the NGLs MarkWest is processing in the shale fields. "We need to make sure that happens," state Chamber of Business and Industry head Gene Barr said about adding to the site with manufacturers and other big users. (Tribune-Review, 9/17/15)
SHALE STRENGTHENS AMERICA'S NATIONAL SECURITY
NYC Mayor Giuliani: Shale Essential to Strengthening America: Delivering the keynote at the 2015 Shale Insight conference, [fmr. NYC mayor Rudy] Giuliani contended that natural gas development was essential both to growing the domestic economy and improving the country's geopolitical standing. … He said that the shale boom, which was benefiting Pa. drillers all the way to the New York border, could provide a considerable number of jobs. … He stressed that the success of the industry was critical not just for the domestic economy, but for the country's stature abroad. He called for President Obama to sign an executive order easing the export of natural gas, saying that opening the spigots would take away Russia's ability to "threaten and extort" the U.S., as well as change the balance of power with Iran. (Law360, 9/16/15)
For more SHALE INSIGHT™ 2015 coverage and highlights, click HERE.