Our region's building trade and construction unions have unquestionably established themselves as a critical shale industry supply chain partner.
From infrastructure development to power generation construction projects, shale development is creating "family-supporting pay and good benefits" as well as "long-term middle-class job opportunities" for the region's talented and hardworking union and building trades.
And top labor unions leaders agree: Harrisburg needs to focus on commonsense policies that ensure we maximize these middle-class benefits and encourage job growth.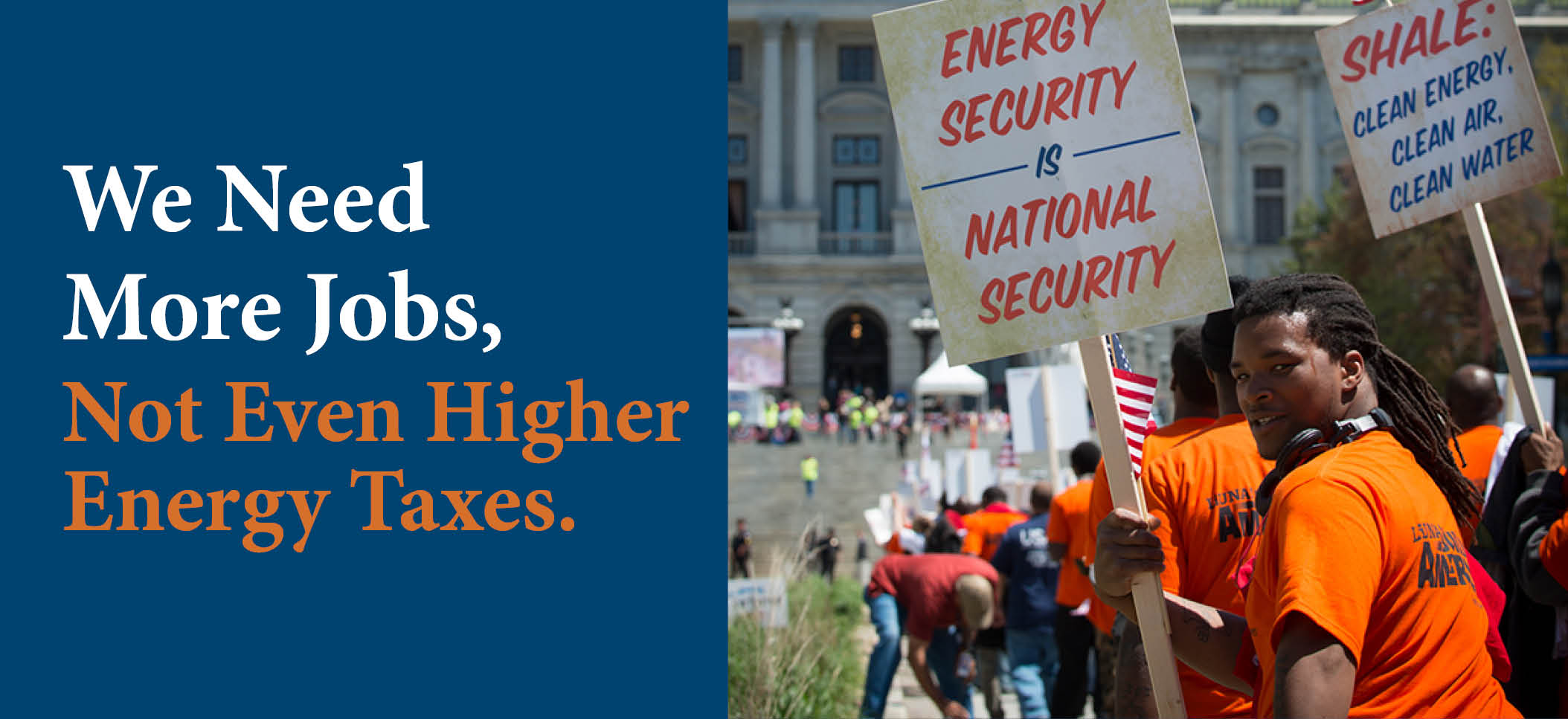 Here's what they're saying about shale development, which is a powerful "economic engine" for the Commonwealth and working-class families:
International Union of Operating Engineers Local 66
– Jim Kunz, Business Manager
(Post-Gazette op-ed, 7/27/15)
"The natural-gas industry has been a godsend, helping to boost jobs with family-supporting pay and good benefits."
"Our hardworking and proud union members are very fortunate for the opportunities afforded by shale as well as the manufacturing and consumer-savings benefits tied to this historic energy revolution."
"When we needed jobs most – during a generational crisis — shale delivered."
"Shale development across Appalachia has created more than 45,000 good-paying union jobs over the past several years."
"Political agendas and differences aside, there could not be a worse time for an excessively higher energy tax."
Laborers' International Union of North America
– Dennis Martire, Vice President
(Delaware County Times op-ed, 7/19/15)
"Across Pa., development of the shale industry has become a new economic engine for our state."
"New [shale] projects generate the kind of jobs that put our state back to work — good family-wage jobs that represent the economic future for many communities across Pa."
"These projects are not just pipelines. They are also a lifeline to family-supporting jobs."
"Only sound governmental policies will encourage the industry to continue to invest and produce at consistent levels that are vital to local communities, and which create long-term middle-class job opportunities."
North America's Building Trades Unions
– Sean McGarvey, President
(Huffington Post, 6/1/15)
"Our leaders must continue to support domestic energy exploration, which is proving our nation's strongest job-growth engine."
"In the Marcellus Shale domestic energy production created more than 45,000 construction jobs from 2008 to 2013 — a period when the U.S. construction market was mired in a deep depression."
"From 2008 to 2013, construction workers in the Marcellus Shale region logged over 72 million hours of direct and indirect construction labor on projects related to the region's natural gas development."
"The economic impact of the 72 million work hours created through Marcellus Shale development is $2.7 billion."
"American domestic energy development enables [our union] to provide structured career-training opportunities in the skilled trades to historically neglected populations, including urban young people, women, communities of color and our nation's military veterans."
Builders Guild of Western Pa.
– Jason Fincke, Executive Director
(Tribune-Review op-ed, 8/4/15)

"For many of the region's 17 building trades unions — all represented by the Builders Guild of Western Pa. — shale has presented an opportunity for good jobs that pay family-supporting wages. And for the commonwealth's economy — especially the small businesses still struggling to recover from the Great Recession — locally produced natural resources have been a driving force behind our region's growth."
"Shale development's economic benefits and gains are now uncertain should energy taxes be increased to the point where, according to the Independent Fiscal Office, Pennsylvania would become the 'highest taxed state.'"
"All families are realizing shale's benefits through lower-cost energy and community improvements funded by natural gas impact taxes. Since 2012, our state's impact tax has generated more than $850 million for all 67 counties ­— including $58 million for Washington County and its municipal governments."
"While shale has delivered enormous opportunity for our region, efforts to pass significantly higher energy taxes could threaten this progress."
"Harrisburg must focus on policies that encourage infrastructure development using local labor, small business growth and manufacturing — not significantly higher energy taxes that could slam the door on shale's clear benefits."
Become a United Shale Advocate today and join the thousands of fellow Pennsylvanians strongly urging Harrisburg to focus on creating jobs, not higher energy taxes.