Pennsylvanians and Americans "overwhelmingly support" the safe and proven use of hydraulic fracturing to produce clean-burning natural gas, according to a national survey by Robert Morris University's Polling Institute.
Here are key poll takeaways:
Support for fracing has also increased significantly – moving from 42.3% in 2013 to 55.9% majority today.
Additionally, support for fracing in Americans' own hometowns has also seen increased support.  Today, 49.2% would support (strongly or somewhat) fracing in their own hometowns – up from 40.0% in late 2013.
Other important findings include:

Fracing can help the U.S. economy – 73.3% agree
Fracing will help the U.S. move to energy independence – 68.9% agree
The U.S. should begin exporting some of the resulting natural gas – 51.6% agree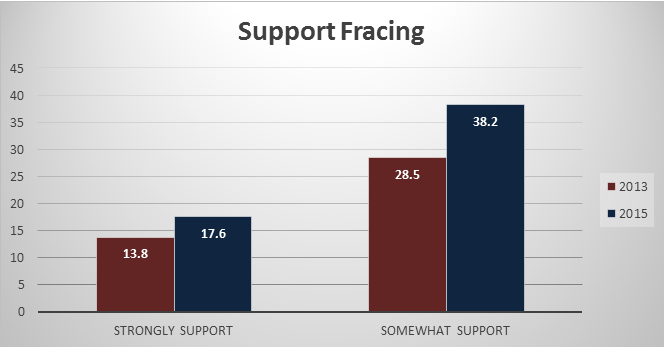 This from RMU's release:
A poll by The Robert Morris University Polling Institute shows 57.1% of Pennsylvanians in support of hydraulic fracturing. … Nationally, the figures showed 55.9% of Americans hold the same view. … Among those surveyed in Pa., 74.3% said fracking has the potential to help the U.S. economy. … Among Pennsylvanians polled, 69.9% said new drilling technologies that allow fracking "will help move the U.S. to energy independence. … The poll was conducted before the release of a recent report by the EPA that found fracking has not had much impact on drinking water. Once again mirroring national results, more Pennsylvanians said they would favor fracking in their own hometowns than the percentage opposed — 48.2% to 43.3%.
Here is what the media is reporting:
Become a United Shale Advocate today and join the thousands of other Pennsylvanians who support new jobs, not even higher energy taxes.