Thanks to the safe development of America's abundant shale resources, the United States extended its lead as the world's top producer of oil and natural gas, according to recently released data from the U.S. Energy Information Administration (EIA). With Pennsylvania's Marcellus Shale accounting for 36% of the United States' natural gas production, America's position of global strength, and our nation's energy security, continues to expand.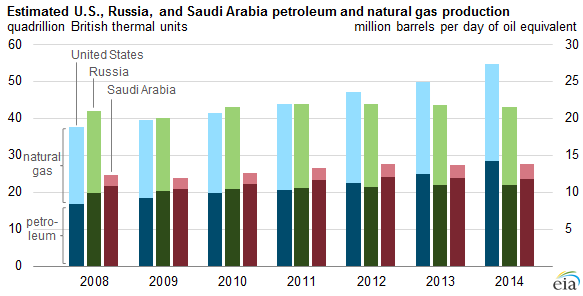 From EIA's report:
The United States remained the world's top producer of petroleum and natural gas hydrocarbons in 2014. … U.S. hydrocarbon production continues to exceed that of both Russia and Saudi Arabia, the second- and third-largest producers, respectively. … With the increase in U.S. production, the United States produced nearly twice the petroleum and natural gas hydrocarbons as produced by Saudi Arabia in 2014.
Here's what they're saying:
EIA's new report underscores the clear fact that higher energy taxes put America's energy security and shale's countless benefits in jeopardy. As Dennis Martire of the Laborers' International Union of North America recently said: "If you excessively tax the shale industry, you risk hurting employers, workers and communities across this state."
In addition, the Williamsport Sun-Gazette writes this in an editorial this week: "It makes no economic sense for the industry to remain in Pennsylvania and pay such punitive taxes." Local government officials are also deeply concerned about the negative economic consequences of higher energy taxes.
Become a United Shale Advocate today and join the thousands of fellow Pennsylvanians strongly urging Harrisburg to focus on creating jobs, not higher energy taxes.