MSC president Dave Spigelmyer highlighted the economic and environmental benefits of responsible shale development on PCN this week. In the interview and call-in segments, Spigelmyer also underscored the fact that higher energy taxes risk thousands of good-paying jobs and threaten our economic opportunity for the Commonwealth.
Here's more from the interview:
On Pennsylvania's manufacturing rebirth, job creation, and consumer savings tied to natural gas:  
"We've gone from 25 percent of Pennsylvania's supply to 20 percent of America's supply out of Pennsylvania – an extraordinary feat in a very short period of time. Natural gas utility rates in Pennsylvania are half of what they were in 2008. … We've talked about our obituary in manufacturing for the past three decades. We have the ability today through affordable and abundant natural gas to basically do a birth announcement for Pennsylvania's manufacturing industry that can create real jobs for real Pennsylvanians. We've put 240,000 Pennsylvanians to work and we continue to create jobs today."
On the negative impact that higher energy taxes would have on the Commonwealth:
"It's the wrong time. Frankly, the 5 percent proposal is far from a 5 percent proposal based upon gas sales in Pennsylvania – it's more like a 10-plus percent model that makes us uncompetitive. … When you set a $2.97 price floor and a billion dollar tax revenue projection, you set an effective tax rate at upwards of 20 percent and you will drive capital away from Pennsylvania. To say the industry will not move capital elsewhere is a total misunderstanding of how business works. … Folks have already walked with their capital. We've seen $9 billion in reduced capital this year. Folks can go to Louisiana, Ohio, Arkansas, Texas and the Bakken in North Dakota. We also now know there are active shale plays abroad and folks move their capital pretty freely to those areas where they can get a greater return on those investments. So we need to make sure we have the capital environment to grow jobs. You put a severance tax on top of an impact fee tax and you can destroy the economics pretty quickly."
On local communities benefitting from Pennsylvania's natural gas impact tax:
"We pay all of the same taxes that every other Pennsylvania company pays. During the governor's budget address, he named the business tax climate in Pennsylvania as 'appalling' and it needs to be rectified. Pennsylvania natural gas producers pay all those same taxes plus a one of a kind impact fee that has raised $830 million for all 67 counties over less than four years. … The impact fee funds have been used by local and county governments to create opportunities for Pennsylvanians. … These funding mechanisms…have been game-changing."
On enhanced air quality enabled by clean-burning natural gas:
"Our air is cleaner than it's ever been from a carbon dioxide standpoint because we are burning natural gas in electric power generation facilities more than we ever have. The EPA made the comment that we're at more than a 20-year low in carbon dioxide emissions. I think that's a benefit to consumers. It's a benefit to Pennsylvania. … You can have natural gas production and environmental compliance."
On Pennsylvania's robust regulatory framework and the industry's commitment to safety:
"I think we have one of the most robust regulatory frameworks of any shale-producing region in the country. … Act 13 was full of new regulations and new statutory provisions that require drillers to perform. … There's no industry in Pennsylvania that's under the kind of microscope that the natural gas industry is…. All of us that are active in this industry don't want to leave a scar for our kids. We like to hike and bike and hunt and fish and camp and do all the things that other Pennsylvanians like to do. We want to make sure that it's safe and that there's an opportunity for our kids to have jobs here in Pa. in the future. …  I think we've got a robust framework that's been developed under both Republican and Democratic Governors that's working well. …
I'm an avid outdoorsman, part of the conservation community, and if I felt this industry was damaging our environment, I wouldn't be a part of it. This industry is one of the most well-regulated and aggressively-regulated industries in Pennsylvania."
On technological advancements and America's abundant natural gas resources:
"We have generations of natural gas ahead. Today those potential resource estimates are double what they were in 1986. Why? Because of technology. We have technology today to be able to turn a drill bit horizontally that's enabled us to open vast supplies of natural gas."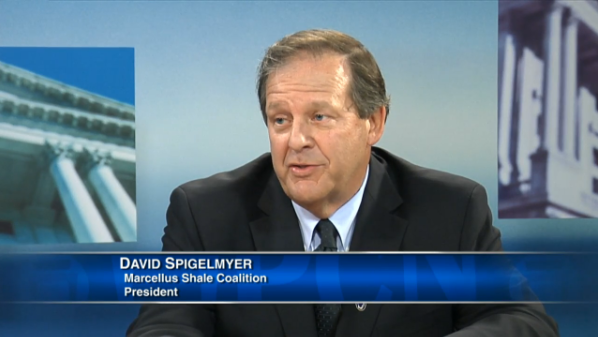 Click HERE to watch the full interview.