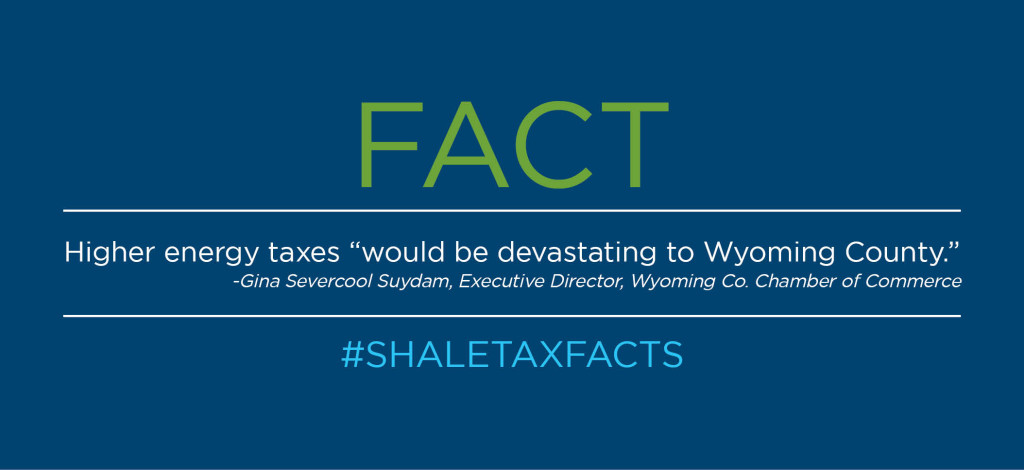 County and municipal government officials across the Commonwealth continue to speak out in broad opposition to higher energy taxes which threaten critical natural gas revenues that directly benefit communities. It's abundantly clear that higher energy tax math doesn't add up; higher energy taxes jeopardize jobs; and higher energy taxes will be devastating for labor and building trades as well as small businesses.
As MSC president Dave Spigelmyer recently said on PCN-TV: "The impact tax funds have been used by local and county governments to create opportunities for Pennsylvanians. … These funding mechanisms…have been game-changing."
Here's what else they're saying.
HIGHER ENERGY TAXES THREATEN LOCAL BENEFITS
State Assoc. of Twp. Supervisors: An organization of Pa.'s municipalities is joining counties in opposing Gov. Tom Wolf's proposal to replace a variable fee on Marcellus Shale natural gas wells with a flat annual payment to local governments in drilling areas. Tim Horner, president of the Pennsylvania State Association of Township Supervisors, said today that Mr. Wolf's plan doesn't let the fee grow as drilling grows.(Associated Press, 4/23/15)
Washington Twp. Supervisor: [Washington Twp. Supervisor Gary] Rowan said supervisors must encourage the state to foster Marcellus shale natural gas production. … Rowan and [Supervisor candidate Richard] Hill are concerned about [Wolf's energy] plan. "Marcellus wells have helped us to hold down taxes," Rowan said. "If that money goes away, the township will have to find other money to keep services at current levels." Hill said the township is very fortunate to have the wells within its boundaries. "It's been a windfall," Hill said. Supervisors used the revenue to buy equipment and offset other expenses.(Pittsburgh Tribune-Review, 4/20/15)
HIGHER ENERGY TAXES THREATEN ECONOMIC GROWTH
Chamber of Business and Industry: Mr. Wolf also wants to put another severance tax on the natural gas industry. Right now, Pennsylvania has a very competitive tax in place — an impact tax which has filtered more than $630 million into local communities statewide. Raising this rate to 5 percent as he proposes would drive our state's fastest-growing industry to other states in the Marcellus Shale play and lead to a loss of core and supply chain jobs that help our middle class thrive. It would also take much of that critical local funding and put it into a general fund for Harrisburg to spend instead. (Scranton Times-Tribune op-ed, 4/19/15)
Shale's been a "Boon for Pa.'s Otherwise Stagnant Economy": Marcellus shale formation has been a boon for Pa.'s otherwise stagnant economy. It currently supports 250,000 Pa. jobs; wages in affected industries like natural gas extraction are nearly double our state's industrial average. These higher wages have poured back into local economies, spurring the economic growth that our state so desperately needs. Which makes Gov. Wolf's new energy tax proposal all the more baffling. … An energy tax will result in less business investment in Pa., fewer good-paying jobs and a higher cost of living for millions of Pennsylvanians already struggling to get by. (Pittsburgh Tribune-Review op-ed, 4/18/15)
Wyoming Co. Chamber of Commerce: Wolf's proposed severance tax would be devastating to Wyoming County, which has witnessed impressive economic growth from the natural gas industry. Wyoming County has experienced a tremendous revitalization as a result of natural gas. … The biggest threat to the industry now is the proposed severance tax. It would be a serious additional cost burden in maintaining the competitiveness of Pa. gas, consuming any advantage our producers currently have over gas from other areas. Worse, the governor's proposal to set an arbitrary floor to that tax would make it impossible to recover the costs from other consumers. … His proposed severance tax is a Wyoming County economy killer. (Scranton Times-Tribune letter, 4/24/15)
Become a United Shale Advocate today and join the thousands of other Pennsylvanians who support new jobs, not even higher energy taxes.