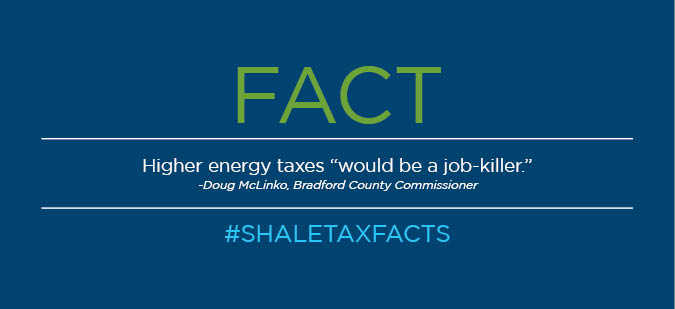 Even higher energy taxes will have a chilling effect on our region's economy, including for Pennsylvania consumers and those on fixed-incomes who continue to realize huge shale-related benefits in the form of more affordable and stable energy costs. In fact, according to Pennsylvania's Independent Fiscal Office, Gov. Wolf's massive energy tax increase proposal "would be passed onto consumers in the form of higher electricity and heating bills."
Shale continues to be an economic driver for our nation's economy and regional small businesses. Higher energy taxes, however, jeopardize these broad-based economic and environmental benefits for families and communities across the entire Commonwealth.
Here's what they're saying:
Wolf "Planning to Double-Tax" Natural Gas: [Gov. Wolf] is planning to double-tax the natural gas industry and expecting them to remain in Pennsylvania, at a time when gas prices are down, the industry appears to have slowed, and other states are offering alternative locations. … By double-taxing the industry, he would be forcing its leaders to compare the costs of doing business in Pennsylvania with the costs of doing business in Ohio, West Virginia, Texas and North Dakota, other natural gas hotbeds. The comparison would not be flattering to Pennsylvania. If he likes the industry as much as he says, the governor has a strange way of showing it. At the very least we would hope the governor would sit down with industry leaders and, with an open mind, listen to the business parameters they are working under before leveling a second tax on the companies. (Williamsport Sun-Gazette editorial, 4/21/15)
Higher Energy Taxes "Would be a Job-Killer": Bradford County Commissioner Doug McLinko … worries that a new extraction tax will cost the community. "It would be a job-killer," he said. "You are going to see the unemployment rate go through the roof." … With a new extraction tax, he added, "Everything is going to grind to a halt. It would be a death blow." … Sen. Gene Yaw said Wolf's plan to raise $1 billion involves an artificial floor that would treat tax gas companies as though they're getting higher prices than the market actually provides. Yaw, who is chairman of the Senate Energy and Environmental Resources Committee, said the new tax and potentially tougher rules are a toxic combination. The point is echoed by the Marcellus Shale Coalition, an industry group. … "In no uncertain terms, however, higher energy taxes will discourage rather than encourage drilling activity, job growth and manufacturing opportunities," the group said. (Sunbury Daily Item, 4/27/15)
Shale "Opened the Door to an Economic Boom in Our Area": True politicians focused on their constituents' needs repel extreme ideologues and effectively cross party lines to enact sensible legislation. Allegheny County Chief Executive Rich Fitzgerald (D) and Councilman Ed Kress (R) worked together, bringing natural gas drilling to Deer Lakes Park, demanding reasonable environmental safeguards. This opened the door to an economic boom in our area. (Pittsburgh Tribune-Review letter, 4/24/15)
Higher Energy Taxes "Will Raise the Cost of Living for Millions of Pennsylvanians": An energy tax will result in less business investment in our state, fewer good-paying jobs and a higher cost of living for millions of Pennsylvanians already struggling to get by. … The governor's energy tax will also raise the cost of living for millions of Pennsylvanians. … First are higher electricity bills. … By raising the cost of natural gas through higher taxes, Gov. Wolf's plan is all but guaranteed to raise our utility bills. The second effect will be higher prices for many everyday goods we buy. From groceries to clothing to school supplies, natural gas is frequently used to turn raw materials into the finished good. By raising the cost of production of these products, we'll end up paying more for them at the store. … All told, Pennsylvania natural gas producers face the 10th highest total state and local tax burden in the country. Charging them even more would only further harm their ability to create jobs, grow wages and help our state's economy. (York Dispatch letter, 4/23/15)
Become a United Shale Advocate today and join thousands of others who support new jobs and a brighter future for generations to come as well as common sense, expanded opportunity-focused polices– not even higher energy taxes.