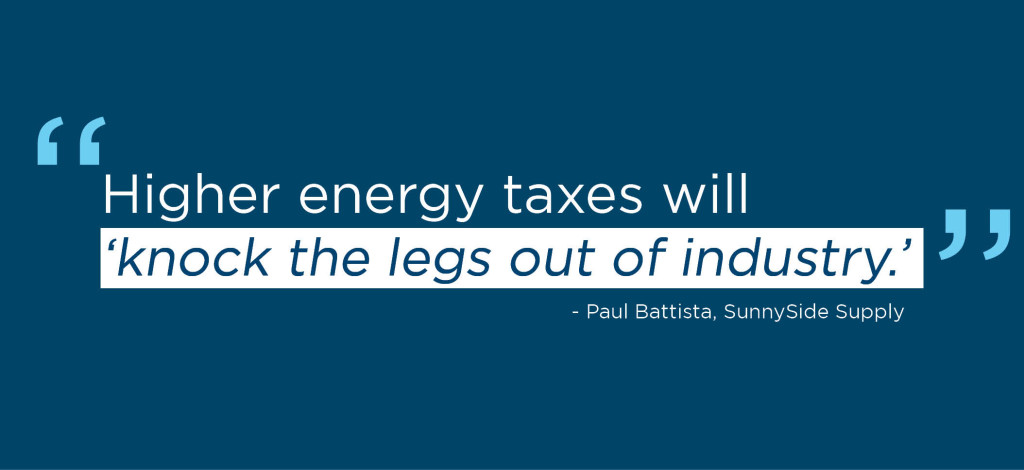 Community leaders, small businesses, and Pennsylvanians across the political spectrum continue their vocal opposition to Harrisburg's plan for higher energy taxes that threaten the thousands of good-paying jobs and our region's manufacturing potential.
Make no mistake, higher energy taxes will hit hard the countless small businesses across the Commonwealth that support the robust shale development supply chain. One of those small business owners, Paul Battista of SunnySide Supply, told lawmakers Friday that higher energy taxes "scare me" and those job-crushing proposals "could knock the legs out of industry."
Higher energy taxes will also risk a source of critical tax revenue for all 67 Pennsylvania counties. Fearing this loss, local leaders are telling Harrisburg not to "ditch" the shale impact taxes that are on track to provide nearly $830 million by April for local infrastructure and community-focused projects.
Echoing the concerns of local government officials from both political parties across the Commonwealth, the Williamsport Sun-Gazette writes this in a recent editorial: "We hope the Legislature can get past the politics of the severance tax proposal and leave the impact fee program alone."
Here's what they're saying about job-crushing higher energy taxes:
THREATEN PA JOBS, SMALL BUSINESSES, MANUFACTURING
Higher Energy Taxes Will "Knock the Legs Out of Industry": Many believe that if that tax is enacted, it would imperil the impact fee program created by Act 13 in 2012, which provides funding to counties and municipalities where drilling occurs. "

The severance tax scares me

," said Paul Battista, business development manager for SunnySide Supply, a Slovan-based supplier of gas and oil services. "

Our company plans well, but how are our clients planning? This could knock the legs out of industry, knock the legs out of companies that wouldn't be able to pay bills

." (Observer-Reporter, 3/27/15)
Higher Energy Taxes Threaten Pa. Growth, Jobs: House Speaker Mike Turzai convened an energy forum with some of his colleagues at the Pittsburgh Technical Institute on Friday morning. The goal? "Broadening the Pennsylvania natural gas energy industry," said Turzai.

The Speaker said expanding natural gas drilling would yield great benefits for this region. "We can grow this economy. We can continue to put family sustaining jobs on the ground. We can continue to develop our energy independence with the development of natural gas

," he said. Turzai, the top Republican in the state House, opposes Gov. Tom Wolf's proposed five percent tax on shale drilling to increase funding for public schools. "

The governor's approach is penal in nature. It's punitive,"

says Turzai.

"I think it's designed ultimately to shut down the industry particularly as it is already facing downward pressures

." (KDKA-TV, 3/27/15)
Supply Chain Businesses "Express Wariness Over" Higher Energy Taxes: Gov. Tom. Wolf's proposed

natural gas severance tax is, by a factor of two, the highest such tax in the U.S.

, Allegheny Conference on Community Development CEO Dennis Yablonsky said Friday. … "

I believe, at that rate, we would see further capital investment reductions and further layoffs

," he said. "I don't think any of us want that." … Participating in the panel discussion were several supply chain businesses who said development of the shale fields has presented new opportunities.

They expressed wariness over a severance tax

. Mark Caskey, president of Steel Nation Buildings, which builds compressor stations, said now isn't the right time for such a tax because the industry is still maturing. "We're in our infancy," he said. "Let's do the right thing." … Dr. Anusha Kothandaraman, director of strategy for Braskem, said

growth in natural gas production is stabilizing prices and keeping them low, giving U.S. manufacturing an advantage relative to other countries

, where energy prices account for a greater share of the cost of production. (Pittsburgh Business Times, 3/27/15)
Higher Energy Taxes Put Small Business Expansion "On Hold": [Frank] Puskarich, who started his barbecue business in Washington in 2007, said he has five locations and had "

planned to open two more, but put that on hold" because of the severance proposal

. "I want to see what will transpire with the new system." (Observer-Reporter, 3/27/15)
LOCAL OFFICIALS FEAR LOSS 
Westmoreland Co. Officials "Fear Loss" of Impact Tax Revenues: Westmoreland County commissioners aren't sure what to expect from Gov. Tom Wolf's proposal to enact a severance tax on Marcellus shale gas well drillers. … "The biggest concern I have in Westmoreland County is the way Act 13 is set up, everyone would benefit. Money goes back to the municipalities and the county," Commissioner Tyler Courtney said. "

If it goes to a severance tax, the money goes to Harrisburg and the general fund

." … Commissioner Charles Anderson said he opposes Gov. Wolf's severance tax plan because

it will hurt business

. "

Any time you put a tax on an industry, you slow it down,"

Anderson said.

"I'm opposed to any kind of tax. If he is going to replace Act 13 with any other scheme, I'm not in favor of it

." (Tribune-Review, 3/27/15)
Lawmakers Must "Leave the Impact Fee Program Alone": The County Commissioners Association of Pennsylvania heard Wolf out at its meeting but has made retention of the impact fees its second highest priority. The reason is the one Wolf already stated it gives most of Pennsylvania a stake in the industry. Beyond that, the fee structure is based on reality, not politics.

The majority of the impact fees go where gas wells are being drilled

. …

The impact fee program works and is one of the few state programs that is based on the realities of each year, with a clear formula for fair distribution

. The county commissioners of Pennsylvania know what they have and we understand their position.

We hope the Legislature can get past the politics of the severance tax proposal and leave the impact fee program alone

. (Williamsport Sun-Gazette, 3/29/15)
"Don't Ditch Act 13": In Butler County, the Act 13 natural gas impact tax is working as planned. Numerous projects benefiting the community have already been funded with this tax that is paid for by the energy companies. …

While the Local Impact Tax is often used to pay for projects that offset the impact of natural gas operations, such as road and bridge repairs, impact taxes are also being spent to benefit Butler County communities more broadly

. For example, the county used money received through the legacy fund to improve Alameda Park and to support the Glade Run Lake restoration project. Evans City reduced its property tax rate for 2015 largely due to the borough's natural gas revenues. Wolf has said he wants Pennsylvania to adopt a severance tax.

But he should first take time to see the benefits provided by the current local impact taxes

. A thorough understanding of how Pennsylvania's existing energy taxes are helping our communities ought to be a prerequisite to making any

changes that could ultimately hurt our local municipalities and their residents

. (Butler Eagle op-ed, 3/26/15)
Local Communities Concerned About Higher Energy Taxes: Tom Wolf is pushing forward with his plan to replace the impact fee with a 5 percent severance tax,

prompting some township officials to reconsider their future spending plans

. … Mt. Pleasant Township's municipal authority is moving forward with plans to use impact fee money to construct a sewage plant that would service about 650 homes. … Assuming that the impact fee is eliminated, allocations over the next year or two could be just enough to cover the cost of project designs, authority Chairman Paul Batista said. "

If there's one portion out of the Act 13 legislation that was correct, it was the impact fees that go to the impacted communities

," Batista said. "…

Everyone across the state gets a portion of it, but the people who were impacted the most get the bigger portion. It couldn't be any fairer

." … West Finley Township took a unique approach, and some of its impact fee money is going back into residents' pockets this year. … David Martin, chairman of the board of supervisors,

said supervisors felt it was important to keep taxes among the lowest in Washington County, and he said they plan to continue lowering taxes as long as the impact fee keeps flowing

. Supervisors also were able to upgrade several pieces of township equipment – "

projects that we probably would have had to do over five, six, seven years, as opposed to being able to do them over a two-year period

," Martin said. (Observer-Reporter, 3/15/15)
PA'S HISTORIC OPPORTUNITY
Must Remain an Energy Leader: "With our sizable reserves of natural gas, our manufacturing base and the number of small businesses involved,

Pennsylvania has the opportunity to not only be a national energy leader, but an international leader

," said Speaker Turzai.

"We need to develop energy in Pennsylvania and use it here."

… "You don't go anywhere in Pennsylvania where people haven't been positively impacted by natural gas," [Turzai] said. Then pointing to the foursome, he added emphatically, "

These are some employers who have benefited from natural gas, and there are many more. These are Pennsylvania jobs

." (Observer-Reporter, 3/27/15)
Pa.'s Future Bright with Right Energy Policies: [Dawn] Fuchs' company, based in Carnegie, provides environmental services – many trucking-related – year-round and around the clock. Weavertown [Environmental] has felt a positive impact from the development of oil and gas in Western Pennsylvania. "

We want to keep this in Pennsylvania

," she said. "

The future is bright, but we have to be careful

." (Observer-Reporter, 3/27/15)
As Speaker Turzai said Friday, with the right policies in place "Pennsylvania has the opportunity to not only be a national energy leader, but an international leader." Become a United Shale Advocate today and join the thousands of fellow Pennsylvanians strongly urging Harrisburg to focus on creating jobs, not higher energy taxes.