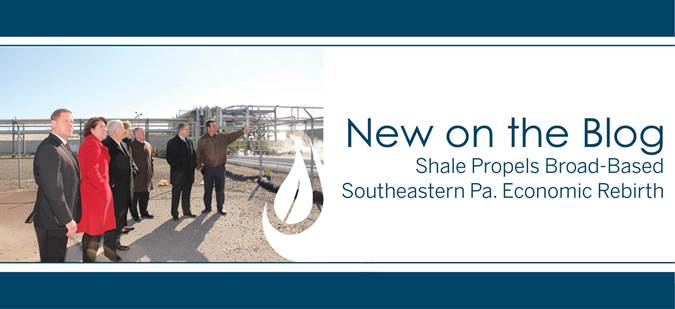 America's abundant supplies of clean-burning natural gas continue to fuel an economic rebirth across southeastern Pennsylvania, especially in Delaware County's Marcus Hook. Yesterday, Delaware County Commissioners built upon this positive economic momentum by announcing more research aimed at identifying additional business and job growth opportunities tied to the region's natural gas infrastructure.
Responsible natural gas development – largely from the Marcellus Shale – has driven the conversion of Sunoco's Marcus Hook facility into a "true regional asset" for good-paying union jobs and economic opportunity. These efforts have helped save or create hundreds of regional jobs; propelled the economic revitalization of Delaware County's waterfront; and attracted multi-billion dollar local investments, all benefitting a diverse set of industries as well as consumers.
 Marcus Hook Redevelopment a "Win-Win" for the Community: "

Sunoco invested $3 billion

. That's a lot of money in this economy and in this project in Pennsylvania," county council Chairman Mario Civera said regarding the progress of the second phase of construction at the former refinery. "This investment in the future of Marcus Hook and in our county, the project will solidify the facility's role as a hub for distribution and process for commercial markets."  … [Delaware Co. Commission John McBlain] said this development is a

step toward future economic growth

in the waterfront borough. "

It's a win-win for everyone in this county

," he said. Marcus Hook Mayor Gene Taylor said

the refinery's progress and job creation would cause a "trickle-down effect in and around the borough

." … More than 150 people currently hold permanent positions at the Marcus Hook facility. The project employes about

400 construction workers per day and it could lead to 700 construction workers by mid-year

. (Del. Co. Daily Times, 2/3/15)
Local Project will "Solidify the Area as an Energy Hub": "

We are excited and literally energized by Sunoco's Mariner East projects

and what this means for the Delaware waterfront," said Mario J. Civera Jr., chairman of the five-member council. … The new study would identify business that could benefit from the propane, butane, and ethane that Sunoco is receiving in Marcus Hook through Mariner East. McBlain said the study will guide the county to recruit businesses "to

solidify the area as an energy hub for the East Coast

." … Sunoco Logistics in November announced plans for a second $2.5 billion Mariner East pipeline that would deliver 275,000 more barrels per day of natural gas liquids to Marcus Hook. The company is also developing a unit in Marcus Hook to manufacture propylene from propane. … Sunoco public affairs manager Joseph McGinn announced that the company had

30 job openings in Marcus Hook

, ranging from salaried engineers to hourly operators. "

We're growing, we're hiring

," McGinn said. (Philadelphia Inquirer, 2/4/15)
The first-phase of the county's Economic Opportunity Study, released in mid-2012, identified solutions aimed at rebuilding and sustaining the Marcus Hook site, and noted that "the East Coast is advantaged in that it lays adjacent to the Marcellus Shale development." Regional and Sunoco leaders hailed the passage of the second-phase study as vital to the county's and the region's redevelopment:
 Delaware Co. Council Chairman Mario Civera: "The rebirth of the Sunoco Logistics site

not only means growth in Marcus Hook, but for all of Delaware County

. Marcus Hook is positioned to make

Delaware County a beneficiary of the opportunities already available in the western part of Pennsylvania because of the Marcellus

and Utica shales. We know there is an

emerging global interest in the marketplace for clean, abundant and affordable energy

, and Delaware County will be a major player. This is a

huge step in the revitalization

of our waterfront." (Release, 2/3/15)
Sunoco Logistics Joseph McGinn: "The ongoing development and future plans for the Marcus Hook Industrial Complex will not only benefit Marcus Hook and the region, but will

position Delaware County as the home of the natural gas industry on the Eastern Seaboard

. Our commitment to Marcus Hook and Delaware County has never wavered. We are

thrilled at the progress made-to-date

at our facility and

look forward to a bright future

." (Release, 2/3/15)
Find more information related to shale development on our blog, and be sure to follow us on Twitter and like us on Facebook.