The Thanksgiving holiday is a time for families, friends and loved ones to take important and well-deserved time away from our busy schedules for reflection on our blessings and to help others in need. As it relates to America's energy security and ability to compete in the global marketplace, our nation's outlook is strong and growing stronger by the day – which is something that we should all, indeed, be deeply thankful for.
And while the U.S. Energy Information Administration (EIA) reports today that in 2013 "Pennsylvania became the second-largest shale gas producing state in 2013, producing 8 Bcf/d, with almost all the growth coming from the Marcellus play," the shared and broad-based benefits tied to responsible shale development – outlined in detail below – could be unnecessarily limited if policymakers in Harrisburg pass massive new energy taxes that could cripple the Commonwealth's competitive advantage.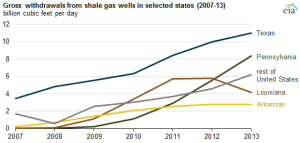 In a recent interview with SNL Financial, the MSC lays out these clear facts and consequences tied to new energy taxes, especially as it relates to the basin's price differentials:
"You're selling gas in Pennsylvania in many locations — at Dominion, at Southpoint, at Leidy, at Transco Zone 4, at the major interconnects — at [prices that are $1.50/Mcf to $2.30/Mcf below Henry Hub pricing]," said David Spigelmyer, president of the Pittsburgh-based MSC, citing data from an Oct. 15 note by EIA. "Many folks who do the calculations are looking at production numbers, and they're using Henry Hub prices. No one in Appalachia is getting Henry Hub pricing for natural gas. So as a result [of basis differentials and transport costs], you're getting a quarter of the Henry Hub pricing for gas and they're coming up with these outlandish numbers. It's a myth," he said.

Spigelmyer said the imposition of a 5% severance tax would be likely to lead to a reduction in capital spending and rig counts. … "We will see capital erosion. We'll see lesser rig count. And when you start to think about 400 jobs in 150 different professions to keep a rig operating in Pennsylvania and you start losing rig count, you can clearly see pretty quickly why you'd lose jobs," he said.

"We've learned early on that capital moves like water. If we don't get the competitive equation right…capital will leave quickly. We need to make sure that we get that equation correct," he said.

Here are just some of the many benefits tied to safe shale development that are being realized across our region and the nation – benefits that we should all be thankful for and benefits that shouldn't be risked with new energy taxes:
Shale the "Commonwealth's 'Savior' During the Recession":

More natural gas extraction in Pennsylvania could mean more business and industry for the commonwealth

, which has already seen its economic benefits in municipalities large and small. … "

The gas companies have been instrumental in civic projects

," Sen. Gene Yaw, said. "

Municipalities have the resources to do things that they haven't had budgets for in the past

– building roads and bridges for example." … Yaw said that

the natural gas industry was the commonwealth's "savior" during the recent recession

. Sen. John Yudichak has also seen tremendous new development as a result of natural gas extraction. "Those in

the building trades and the labor unions are seeing an expansion of man hours and employment opportunities due to natural gas

extraction," Yudichak said. … Vince Matteo, the CEO and president of the Williamsport-Lycoming Chamber of Commerce, has seen a tremendous positive impact from natural gas extraction in his area. "

Businesses have been created to serve the industry

," Matteo said. "Some of our local industry has even expanded outside of Pennsylvania and are opening facilities in other states.

Job opportunities in the natural gas and service industries have increased

." (Pa. Business Daily, 11/25/14)
Shale Boosting Pa.'s Manufacturing Base: Cabot does plenty of business locally, and its tenacious outreach and charitable efforts — including a $2.5 million donation to Lackawanna College — are solidifying its local presence and possibly developing new markets for its product. When Kelleher, Stark and desRosiers think about the business opportunities dedicated natural gas service presents the Lackawanna and Wyoming valleys, they're thinking of people like Joe Shea.

Shea is president of North American Manufacturing Inc. on Barring Avenue in Scranton

. His plant

employs about 50 people making cots and backpacks for the U.S. military

. He's been in business since 1976.

Natural gas heats his 80,000-square-foot facility and fuels the bake ovens on his powder coating line

, he said. He's a UGI customer and estimates

he saves about 65 percent on his gas bills since the shale gas boom

. "It's so low from what it used to be 10 years ago," he said. "It's like nothing now." UGI Energy Services is always seeking to connect natural gas to large-scale customers, such as manufacturers, who can get rates lower than residential customers, Kelleher said. Stark pointed out the assets Scranton and Wilkes-Barre can use to attract more Joe Sheas and larger manufacturers.

One is a large, blue-collar work force

. Another is its proximity to transportation, including the rail line that runs down the cities' spines and the interstate systems that weave together in the region.

Cheap energy is the most recent development

. "

That was the missing piece

," he said. (Citizens Voice, 11/22/14)
America Now The World's Top Natural Gas Producer: Competitively the United States is now in a unique global position. …

America is now the largest producer of natural gas in the world

. Natural gas is crucial in competitive heavy industrial manufacturing and

it is now substantially cheaper to purchase natural gas in America than in Europe or Asia

. American gas sells for about $4 per million BTU, compared with about $10 in Europe and $18 in Asia.

According to the IMF, this has lead to a 6% average increase in America's manufactured export because of greater competitiveness

. (Huffington Post op-ed, 11/23/14)
Top Union Official: Shale Responsible For Creating Thousands of Good Jobs: Parts of West Virginia are seeing a "modern-day gold rush," according to the West Virginia State Building and Construction Trades Council. Director Steve White said drilling the shale isn't the only part of the process that's creating jobs — it's also pipelines and processing facilities. Over the past three years, White said, he's seen a number of workers employed, with good pay and benefits, in West Virginia thanks to shale. "

It's great news

for West Virginia.

People are working a lot of hours and making a lot of overtime

." … "

This has really been a lifeline for folks who were out of jobs

." … White said he conservatively estimates 2,000 pipeline workers have been employed in the past three years and 2,000 in processing plants. "

As far as we can see, there is no end to it

." He said the potential for future growth in the state is huge, as the Marcellus shale region in the north of the state is the second-largest gas field in the world: "

We are the Saudi Arabia of natural gas

." (Register-Herald, 11/24/14)
"Shale Saved The Farm":

Utica Shale saved the farm

. In early 2010, Ballard Jenkins and his wife, Sharon, were preparing to sell the family's 233 acres in Carroll County's Washington Township and 70 cows at auction to pay off creditors. It was a tough time to be a dairy farmer. "

We were dying a little day by day

," he said. Then landmen came into Ohio, bringing with them sweet financial offers for leasing mineral rights. What transpired dramatically changed eastern Ohio — to the benefit of the Jenkinses and, with some exceptions, many others as well. The Jenkins family sold its dairy cows, but the farm auction was postponed to see what a shale deal might provide. … When the offer jumped to $1,200 an acre, Jenkins, for one, did not believe it. It seemed too good to be true. The Jenkinses became part of a landowners' group that in 2011 negotiated a $40 million agreement on 12,000 acres with Pa.-based Rex Energy Corp. … "

It's like a fairy tale come true

," Jenkins said. Of all Ohio counties, Carroll and its 29,000 residents have been affected most profoundly from shale drilling over the past four years. It might be home to as many as 550 new shale millionaires.

The local economy is booming

.

Dozens of new businesses have sprung up or moved in

. … For Ballard Jenkins and his family, the 2011 deal produced a hefty bonus check.

The family paid off farm debt

. Jenkins retired and turned over the farm's corn and soybean operations to his sons. They constructed a $250,000 shop building big enough to hold a combine and other equipment. (AP/Akron Beacon Journal, 11/23/14)
It's "Sunny In Philadelphia" Thanks to Shale:

A CNBC report declares the city "a potential energy hub that some believe can rival Houston."

What's fueling this revolution?

The answer is fracking

and commercial railroads.

Pennsylvania's embrace of shale fracking has sparked an economic boom that extends far beyond jobs in the natural-gas industry alone

. And its bustling rail system makes it a transit point for oil. We don't begrudge Philadelphia its success. After all, it's within our reach, too. For example, New York could be benefiting from the same Marcellus Shale formation Pennsylvania is exploiting — provided our governor would OK fracking. (New York Post editorial, 11/23/14)
Marcellus Gas Heating Northeastern Pa. Homes, Businesses:

When temperatures dipped and Scranton residents switched on their natural gas heat this week, that fuel came straight from Susquehanna County

. UGI Energy Services Inc. recently completed its Union Dale Pipeline project, about six miles of 12-inch diameter pipeline that

connects Marcellus Shale gas from Clifford Township to the UGI Penn Natural Gas system in Union Dale

. The new pipe can deliver up to 100 million cubic feet per day to the UGI Penn system. That's

enough to serve almost 518,000 homes

, according to use estimates by the American Gas Association. …

UGI Utilities now draws 80 percent of their supply from shale gas

.

This has allowed them to charge rates consistently 30 percent lower than in 2008

. Over five years, they've added 45,000 new customers, he said. Those converting from fuel oil

save roughly $1,500 a year

, he said. (Citizens Voice, 11/22/14)
Please be sure to follow us on Twitter and like us on Facebook for the latest information on safe, job-creating shale development. We are wishing you and your families a safe and happy Thanksgiving!