Regional shale gas development and the major impacts it has made globally in just a short amount of time dominated the discussion Thursday during Energy Symposium 2014 at Butler County Community College.
About 70 residents, municipal officials and business representatives spent the morning in Founders Hall listening and learning from a handful of experts, including Marcellus Shale Coalition president and Cranberry Township resident Dave Spigelmyer.
The Butler County Chamber of Commerce, in conjunction with the coalition, BC3, the Butler County Tourism and Convention Bureau, the Community Development Corporation of Butler County, EdgeMarc Energy and Northwest Savings Bank presented the event, which in years past had been held in three separate sessions.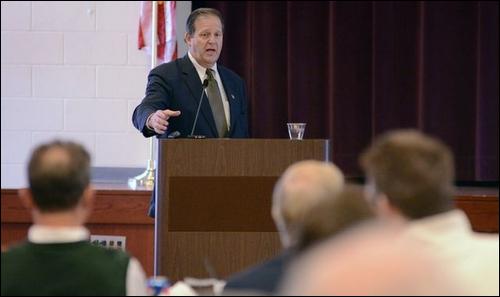 Spigelmyer, who has worked in the energy industry for about 30 years, said the past five years have been an "economic game changer."
He explained that as the technology and processes to drill for gas horizontally have improved, so has the production — drastically.
In 2008, which he referred to as the turning point for development in Pennsylvania, producers drilled about 4,000 wells in the state that yielded about 182 billion cubic feet of gas — or about one-quarter of the 850 billion cubic feet burned in Pennsylvania.
Today, 182 billion cubic feet of gas is produced per day in the entire Marcellus Shale region. That translates to about 5 trillion cubic feet of gas per year, which is about 20 percent of the national supply.
"We're the second-largest energy-producing region in the world now," he said. "It's a pretty incredible place we've gone in a pretty quick period of time."
Spigelmyer stressed the energy market is global and most of the money being invested here to harvest gas is coming from around the world.
He also said by producing energy domestically, the United States can become more energy independent.
"So this is a historic opportunity for Pennsylvania and for our nation to be able to produce a product here at home, to not have to have folks wearing helmets abroad to protect the free flow supply of oil. (They) can wear helmets or hard hats here at home to produce a domestic energy," he said.
In 2008, he said the U.S. was 57 percent dependent on foreign oil.
"Today, we're at 42 percent and dropping rapidly as a result of shale gas development across this country," he said.
Horizontal, or unconventional, drilling also has drastically reduced the industry's surface impact.
For example, an average well site that occupies about 5 acres while active can harvest gas from about 640 acres of shale rock thousands of feet beneath the surface. In the past, it would take 36 conventional wells to harvest the same amount of gas, he said.
"The average well in Pennsylvania produces enough gas to fuel 28,000 homes annually," he said.
The coalition, based in North Fayette Township, Allegheny County, formed in 2008 to represent companies active in shale gas development throughout the Appalachian region and to establish and promote guidelines for safe development.
Spigelmyer said the group is accomplishing its goals in that respect.
The industry has worked with the Pennsylvania Department of Environmental Protection to raise well permit fees from $100 to $5,000.
This has allowed the DEP to expand its compliance and inspection staff from about 60 people in 2008 to a little more than 200 today. That makes Pennsylvania second only to Texas in the number of oversight officials regularly visiting well sites.
Spigelmyer also said the industry has worked with the state to establish impact fees through Act 13 of 2012, which has resulted in about $406 million in additional revenue for the state, counties and individual municipalities.
While other portions of Act 13 were struck down by the state Supreme Court in December, he said the state "got it right" with the impact fees because the revenue is distributed to the areas of the state in which the most development is taking place.
"It took the job losses and economic losses of rural Pennsylvania and pumped money back into those communities in a fairly big way," he said.
However, Spigelmyer said some of the statutes struck from Act 13, such as a uniform set of rules to follow, will add a layer of uncertainty to producers doing business in the commonwealth.
He equated each municipality being allowed to set its own rules to a person having to carry a different driver's license for each municipality.
Still, he said the coalition will continue to work closely with local governments.
"We need to do a better job at communicating," he said.
During the symposium, speakers addressed other topics and answered questions.
Water issues, both about possible contamination and overall use, were some of the biggest concerns.
Callum Streeter, a petroleum engineer and operations manager for EdgeMarc, said the entire drilling process is monitored closely.
Along with multiple layers of steel pipe and cement casing, drillers follow predetermined well plans and conduct surveys every 30 feet.
He said the work companies like EdgeMarc do is very transparent, with all their reports posted to the DEP's website. There also is a website, www.fracfocus.org, in which drilling companies voluntarily disclose the composition of the fluid they use during the hydraulic fracturing process.
Spigelmyer added about 99.5 percent of the fracking fluid is comprised of water and sand, with the remaining 0.5 percent being agents that are commonly used in cleaning and lubrication.
NOTE: Click HERE to view this article online.