Pittsburgh, Pa. – On the heels of last week's announcement by the Pennsylvania Public Utility Commission (PUC) that a historic influx of revenue is flowing to counties and municipalities across the Commonwealth thanks to a new impact fee paid by natural gas producers, the Marcellus Shale Coalition (MSC) and its member companies are continuing a series of meetings and forums across the state highlighting projects supported by this new funding stream.
Signed into law on February 14, 2012, Pennsylvania's Act 13 established a dedicated influx of revenue for local governments in all 67 counties across the Commonwealth. Throughout 2013, the MSC is bringing together officials from many of those governments with its member companies and other stakeholders to highlight the projects made possible by the more than $400 million in impact fee revenue and continue an ongoing dialogue on responsible shale gas development in the region. Recently, the MSC participated in forums in Indiana County in western Pennsylvania and Wyoming County in northeastern Pennsylvania as part of this effort.
Indiana County Commissioners organized a Natural Gas Task Force in 2011 to prepare for the development of the Marcellus Shale. The Commissioners worked closely with a wide variety of stakeholders and the Office of Planning & Development to better understand community impacts and infrastructure needs, positioning the county to invest wisely, educate residents, and identify community needs. The MSC met recently with the Task Force to discuss its $900,000 in impact fee revenue that will flow to the County and its municipalities. Among the projects supported by the new funds are emergency management agency programs, enhanced delivery of social services, stormwater management programs, and upgrades to county-owned parks and trails.
A key member of the Task Force, longtime President of the Indiana County Chamber of Commerce Dana Henry, helped organize the business community years ago to meet the needs of the energy companies moving into the county. At the recent Task Force meeting, the MSC recognized Mr. Henry's efforts, presenting him with a plaque acknowledging his contribution to the economic climate for area businesses and residents.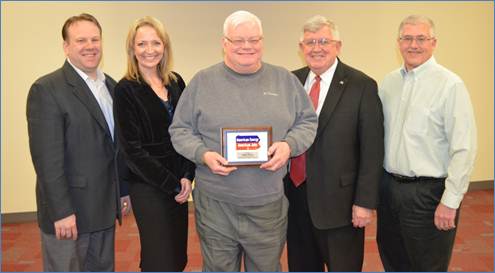 Pictured left to right: Byron G. Stauffer, Jr., Indiana County Office of Planning & Development;
Joy Ruff, AICP, Marcellus Shale Coalition; Dana Henry; Rod Ruddock, Indiana County Commissioner;
Craig Neal, MSC Executive Board member company CONSOL Energy
The MSC and Executive Board member company Chesapeake Energy also participated in a similar forum with the Wyoming County Housing & Redevelopment Authority regarding the agency's plans to utilize impact fee dollars to rehabilitate low-income housing in the county. Future impact fee forums are planned in Lycoming, Lackawanna, and Montgomery counties, with activities continuing throughout the year to underscore and explore this historic influx of revenue into every square inch of the Commonwealth
For impact fee-related updates, follow the MSC (@MarcellusGas) on Twitter; and please be sure to visit LearnAboutShale.org for more information about safe, job-creating natural gas development.