As the region's expanding natural gas industry continues to create more jobs, safely produce more clean-burning American energy for consumers, and works to ensure that our environment is safeguarded, Marcellus Shale Coalition (MSC) representatives joined labor, manufacturing and economic development officials, as well as members of the General Assembly, on Monday of this week to underscore this positive progress at an "American Energy, American Jobs" rally in Harrisburg. Participants included:
Katie Klaber, President, MSC
Mike Narcavage, Co-Chair, MSC Workforce Committee
Abe Amoros, Pa. Legislative Director, Laborers' International Union of North America
Sen. Tim Solobay, 46th District, Pa. Senate
Kristi Cellitti, Recruitment Specialist, Halliburton Energy Services
Mark Laurellio, President & COO, RETTEW
Rep. Jim Christiana, 15th District, Pa. House of Representatives
Dave Spigelmyer, Chair, MSC
Here's some media coverage from the event. And for those interested in joining the natural gas industry's growing workforce, please visit our Job Portal to search for opportunities.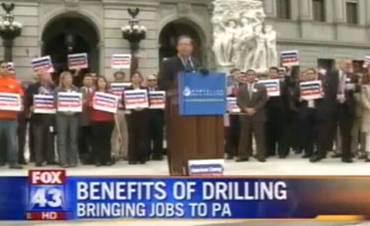 Click HERE to view this segment online.
Photos of Monday's rally available on Twitter (@MarcellusGas).
Marcellus Shale Coalition touts industry's success in Pennsylvania at Capitol rally
Published: Monday, May 21, 2012
By DONALD GILLILAND, The Patriot-News
With natural gas prices slightly more than half of what they were a year ago and drilling rigs moving out of the state to more lucrative plays, the Marcellus Shale Coalition is touting job growth for Pennsylvanians.
At a rally on the Capitol steps Monday, the industry group attempted to counter two of the most persistent criticisms leveled at its jobs claims: that the jobs are temporary, nonunion work and too often go to out-of-state workers from places such as Texas and Oklahoma.
Workers with the Laborers' International Union of North America provided Marcellus Shale Coalition President Katie Klaber a blaze-orange backdrop.
They cheered as their union's legislative director, Abe Amoros, described the expansion of union job opportunities as a result of the shale boom.
"Marcellus Shale has been a tremendous boost for our members," Amoros said. "We're glad these jobs are here to stay and will be around for at least a generation."
Mike Narcavage, an executive with Chesapeake Energy, a company drilling for gas in Pennsylvania, spoke of a brain-drain "boomerang." People who had left Pennsylvania for work are returning because of opportunities that have opened up in the Marcellus Shale industries, he said.
Increasingly, he said, Pennsylvanians are being hired for drilling industry jobs.
Kristi Cellitti, a 24-year-old mother of two, took the rostrum and said she "didn't think twice" about leaving her state job at CareerLink for a position in Halliburton's Muncy office.
In 2010, she said, the Halliburton office had 40 employees. Today, it has close to 500.
She acknowledged not all of them are from Pennsylvania.
"We have several, several locals," she said.
A recent survey of the Marcellus Shale coalition's membership showed "seven out of 10 new hires were from Pennsylvania," Narcavage said.
"We are definitely hiring local," he said.
Statistics from the Department of Labor and Industry support Narcavage's claim.
Sue Mukherjee, director of workforce development for Labor and Industry, said 74 percent of new hires come from within the state.
That's in the core drilling industries.
Those statistics are for last year, which saw the core industries add more than 10,000 jobs in the state.
NOTE: Full Patriot-News story available HERE.
# # #
MORE INFO: