Canonsburg, Pa. – The economic, energy security and environmental benefits associated with the responsible development of the Marcellus Shale's clean-burning, abundant natural gas reserves represents a historic opportunity for the region and for the nation. And it's an opportunity that must be done right.
To further reinforce the industry's promise the region, the communities where we operate and to our local workforce, Gov. Tom Ridge – a Marcellus Shale Coalition (MSC) strategic advisor – joined the MSC's leadership last week in formally unveiling the organization's "Guiding Principles."
"As a coalition it's our responsibility to develop this resource the right way. Our core values include the safety of our employees, our landowners and the communities where we work, environmental stewardship, transparency, and a commitment to best practices. Most importantly, while this is complex technology, we need to keep things simple – we must, and are committed to doing things right," said MSC chairman and Range Resources senior vice-president, Ray N. Walker, Jr.
MSC president and executive director Kathryn Klaber adds, "The MSC's 'Commitment to the Community' underscores the industry's steadfastness to ensuring that this generational opportunity 'is done right,' so that the nearly 12 million Pennsylvanians, and beyond, realize its overwhelmingly benefits."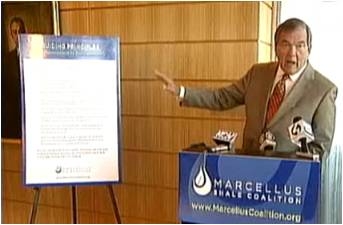 Click HERE to view WTAE-TV's press conference coverage.
And in a Sunday Pittsburgh Post-Gazette column, Gov. Ridge underscores the industry's long-term commitment to the community, writing this about the MSC's guiding principles:
We will protect our environment while creating tens of thousands of family-sustaining jobs. We will continue to work to strengthen local communities and see to their needs while we create sustainable, long-term economic- and energy-security benefits for every Pennsylvanian. We will focus on developing new demand for natural gas while we improve our efforts to conserve energy.

These principles guide our work. They are the core of our mutual mission to responsibly realize the promise of the Marcellus Shale on behalf of 12 million Pennsylvanians as we transform the commonwealth into a vibrant hub of clean-energy development and job creation.
What They're Saying About the MSC's 'Commitment to the Community'
"Pa. gas coalition unveils drillers' 'principles' …

Former Gov. Tom Ridge joined the heads of the Marcellus Shale Coalition to unveil the seven principles, which range from workplace safety, environmental protection and "transparency" to cooperation with communities where the drilling occurs and efforts to hire more local workers

. "I like the notion that perhaps 10 years from now people will come to Pennsylvania and say,

'You know what? They did it right. They didn't just do it, they did it right

, they were smart, they were responsible,'" Ridge said. The opportunity for the Marcellus Shale industry to add 100,000 to 200,000 jobs to Pennsylvania's economy is unprecedented, he said. (Associated Press, 10/1/10)
Gov. Ridge Takes the MSC's Principles to the Airwaves: "Pennsylvania is a very special place, it's a very special place in my heart, and I thought as we try to build a coalition of support we could do so if we

embedded certain principles into everything

, everybody associated with Marcellus Shale does every day. We have to talk about workplace safety, so

we pledged to provide the work the safest possible workplace safety but also the work safety in the communities

. We need

state of the art environmental protection

, we need to continue to use

best practices

, and frankly

we need to attract and retain a talented Pennsylvania workforce

. (KDKA Radio, 10/1/10)
"Marcellus Shale Players Make Promise To Pennsylvanians …

The Marcellus Shale drilling industry made a promise on Friday that it will work to be a good neighbor to Pennsylvanians

. Marcellus Shale Coalition adviser Tom Ridge, the state's former governor, said work site safety and environmental protection will be among a

set of guiding principles called "Commitment to the Community."

"I like the notion that, perhaps 10 years from now, people come to Pennsylvania and say, 'You know what? They did it right. They didn't just do it — they did it right,'" said Ridge, speaking at Reed Smith in downtown Pittsburgh. Trying to hire local workers is another one of the industry's principles. … "It's not cost-effective to be bringing people from out of town.

Its cost-effective to hire folks and have them next door and living here with their families

," said Kathryn Klaber, of the Marcellus Shale Coalition. (WTAE-TV, 10/1/10)
Our 'Commitment to the Community' in Action
"Taking responsibility": "Chief Oil & Gas, Anadarko Petroleum Corp. and Range Resources led a tour [state Fish and Boat commissioners] of sites in Mifflin, Watson and Cummings townships, where the shale is in various stages of extraction. … Adams said

once Chief is done with the impoundment site, it plans to allow another gas company to use it

. … Range officials also talked about some of the company's safety practices, which it hopes

will prevent any environmental hazards

. Two spill-response kits are on site, and the site also has designated

"limits of disturbance."

… "We had our first

neighborhood engagement

right up here on this pad," said Mary B. Wolf, Anadarko government relations adviser. … "We try to be

connected with our neighborhoods where activity will occur

," said Wolf, adding that the company worked closely with a family across the street from the site by helping them move their underground fence and set up posts to keep trucks from parking on their property. (Williamsport Sun-Gazette, 10/4/10)
"It's definitely been a lot of jobs, that's for sure"; "The biggest thing in Pennsylvania in a century": "

We"re seeing an awful lot of jobs from surveyors and engineers to roughnecks and workers on the rigs

, and a lot of truck drivers. In fact

they can't hire enough licensed and certified truck drivers to handle the demand for all the work up here

.

The good thing is there's a lot of jobs

. … Millikan is a big advocate of developing the Marcellus Shale — the rock formation that contains natural gas. He says each new drill site brings lots of work.

There's 25 people probably working on this rig, and they make anywhere from $60,000 to $100,000 to $130,000 a year depending on their job and they're going to have a job as long as they want to do it

. …

This is the biggest thing in Pennsylvania in a century

. In the end I think the gas industry will be more beneficial in terms of revenue and economics and jobs and benefits to the state than coal was.

Millikan's students include a 24-year-old waitress, a laid off draftsman and a few soldiers who recently returned from war. They're all locals he says

, and with their two-year degree they'll start at $40,000 a year — a significant wage for this area. … Owner Don Lockhart says

the industry has turned his failing business into a goldmine

. …

The economic benefits are spreading

. Hotels are booked months in advance,

a local construction company says it has doubled its workforce

to keep up with the demand for new pipelines. (WHYY, 9/28/10)
Rebuilding the Region's Infrastructure: "Road work is expected to begin Wednesday on state Route 1058 (Litchfield Road) in Litchfield Township, Bradford County, as

Chesapeake Energy pays a contractor to upgrade another road

so it can withstand heavy truck traffic. Chesapeake Energy is one of the energy companies involved in the extraction of natural gas from the Marcellus Shale. …

The gas company's road contractor will reclaim the existing roadway and roadway base material

, which involves grinding of the roadway to a depth of approximately 15 inches, adding cement to the soil, mixing it and compacting it. (Star-Gazette, 10/5/10)
Preparing First Responders: "The Pennsylvania Fire Academy has begun teaching first responders in the Marcellus Shale region how to deal with emergencies at gas well sites. … "We're recognizing and honoring the forethought and progress of Lycoming County and the (county) Department of Public Safety," said Gary Fulton, an adjunct instructor with the academy. … Those in attendance represented 20 fire companies from Lycoming and Sullivan counties and staff from Susquehanna Health and the county Department of Public Safety, said Craig Konkel, county Department of Public Safety operations and training supervisor. … Armed with that knowledge,

the county partnered with the academy and the safety committees of the Marcellus Shale Coalition and Pennsylvania Independent Oil and Gas Association to develop a curriculum for the course

, he said.

The joining of the industry and the academy proved to be a good match

, Konkel said. "The industry knows the information, but they're not set up to go out and teach," he said. "The academy had the teaching knowledge." …

The two gas industry safety committees were indispensible in the process, Konkel said

. (Williamsport Sun-Gazette, 9/29/10)