Once-in-a-generation opportunity to create thousands of jobs, billions in economic development in jeopardy as Harrisburg debates massive new energy tax
As Governor Rendell and legislative leaders in Harrisburg continue to debate the future of the natural gas industry in Pennsylvania, all parties involved have one opportunity to get it right. The actions taken over the next two weeks will dictate the pace of development and capital investment in the Commonwealth for decades to come.
Viewing this debate in isolation to fill a hole in the state budget is the wrong approach and one with multiple unintended consequences. The implementation of a regulatory and tax framework that will stimulate capital investment and job creation – not one that is uncompetitive and will discourage economic growth – should be atop the agenda as the future of Marcellus development is debated. A fair, competitive and updated regulatory framework and tax structure has been, and continues to be the position of the Marcellus Shale Coalition – a position the industry has conveyed to both the executive and legislative branches of our state government.
Keeping Pennsylvania's economy and workforce ahead of the curve in the increasingly competitive global economy requires common sense solutions that encourage capital investment in the Commonwealth.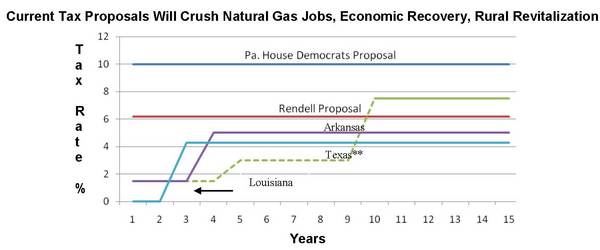 As this chart shows, current tax proposals under consideration in Pennsylvania, if enacted, would make Pennsylvania the least competitive of shale gas producing states.
As outlined above, a massive, misguided and unprecedented tax would drive critical capital investment to other energy-producing states, dramatically undercutting efforts that are helping to lower energy costs for Pennsylvania consumers and creating jobs. Policymakers should consider, and take these consequences associated with a massive tax into consideration as severance tax proposals are debated in the House of Representatives this week.
Pennsylvania can stake a claim to many firsts in the nation. We drilled the first oil well and built the first public zoo (1859), are home to the first daily newspaper (1784) and commercial radio station (1920) along with a host of other milestones that make Pennsylvanians proud. We now have an opportunity to make Pennsylvania number one in natural gas production – a "first" that will afford thousands of Pennsylvanians a good paying job, spur billions in economic development and provide America with the energy security she so desperately desires.
Let's add another first to this list – the first place energy companies want to invest their capital. Let's Get this Right, Pennsylvania.